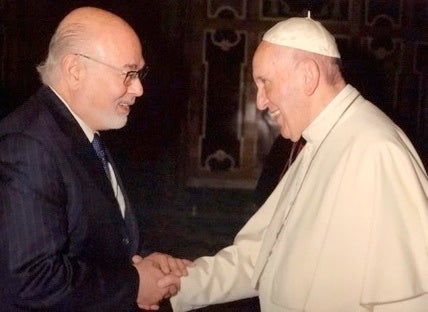 This Thanksgiving season, we should all be grateful for the leadership of Pope Francis. On November 10, 2017, he made clear that the Church condemns both the use of nuclear weapons and the immorality of their possession at a conference entitled "Perspectives for a World Free from Nuclear Weapons and for Integral Development." His inspiring address to over 300 participants gathered at the Vatican is a milestone of enormous importance.
At the 1982 UN Special Session on Disarmament, St. John Paul II indicated a limited acceptance of the legitimacy of nuclear deterrence theory and practice. In 1983, the US Conference of Bishops in their Pastoral Letter underscored this qualified legitimization, which was based on the promise of the nuclear weapons states to fulfill their legal obligation to negotiate the universal legally verifiable elimination of nuclear weapons. This duty is embodied in Article VI of the Nuclear Nonproliferation Treaty. Appropriate disarmament progress has not been forthcoming. In fact, none of the nuclear weapons states joined the 120 nations, which voted in support of the Treaty to Prohibit Nuclear Weapons this past July at the United Nations.
The arms race and modernization of nuclear arsenals is an unwarranted expense that places "real priorities facing our human family, such as the promotion of peace, the undertaking of educational, ecological and health care projects, and the development of human rights in second place."
The "catastrophic humanitarian and environmental effects of any employment of nuclear devices" and "the risk of an accidental detonation as a result of error of any kind" leads to the conclusion that "the threat of their use, as well as their very possession, is to be firmly condemned."
Pope Francis is not the only religious leader addressing nuclear disarmament this season. In October 2017, the Dalai Lama sent a letter of congratulations to this year's Nobel Peace Prize recipient, the International Campaign to Abolish Nuclear Weapons (ICAN), and said, "I pray that there will be concerted and vigorous efforts to achieve a world without nuclear weapons."
The commitment to such efforts of Pope Francis was evident in his personal greeting to the hundreds of conference participants. It was not only an exercise of stamina. It was truly an expression of love.
In Laudato Si On Care of Our Common Home, Pope Francis challenges us all to urgently and responsibly cooperate to stop the destruction of the planet. This Encyclical on the humanity's relationship to the environment and the Creator might be the most important document of this century. It speaks with the music of truth resonating with both scientific and spiritual insight.
Nuclear deterrence rests upon the credible threat to use nuclear weapons and thus cause horrific environmental destruction and annihilate millions, if not billions, of innocent people and possibly civilization itself. This expensive arrogant assertion of power by nine nations is not only a vulgar theft of trillions of dollars that could be used to eliminate poverty and protect the environment but represents an opportunity cost of immeasurable proportions by building an apartheid wall between the haves and have-nots and between those states pointing nuclear weapons at one another.
How can we expect the needed cooperation to protect the oceans, the forests, and the climate to be achieved by countries threatening mutual destruction daily? An Encyclical on the Imperative to Eliminate Nuclear Weapons is needed to realize the call of the Encyclical Laudato Si.
Until nuclear weapons are eliminated they must be made taboo, stigmatized, and understood as abhorrent and unacceptable. Imagine if the Biological Weapons Convention said that no nation may use small pox or polio as a weapon but nine nations can use the plague as a weapon to maintain strategic stability and peace and security in the world. The proposition would be considered absurd. The immorality of the plague as a weapon is readily understood today. It is stigmatized and abhorrent. But, it was not always the case. For thousand of years, this disease was used as a weapon.
Nuclear weapons are far worse and should be similarly made abhorrent and unusable. This moral message needs to be expressed with urgency, force, and impact.
Pope Francis has made our moral obligation clear. Let each of us have the courage and vigor to respond.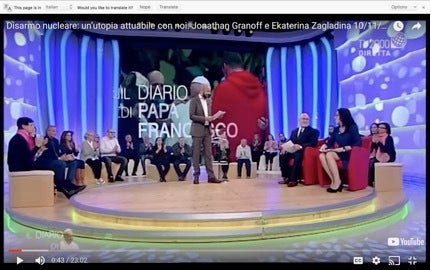 Calling all HuffPost superfans!
Sign up for membership to become a founding member and help shape HuffPost's next chapter
This post was published on the now-closed HuffPost Contributor platform. Contributors control their own work and posted freely to our site. If you need to flag this entry as abusive,
send us an email
.