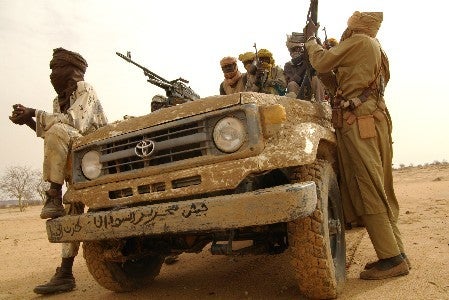 The moment Phil Cox crossed the border from Chad into Sudan, there was a price on the British journalist's head. Cox's mission was to investigate the Khartoum regime's alleged use of chemical weapons against its own civilians in Darfur. His hazardous journey was prompted by an Amnesty report on more than 30 chemical attacks in the Jebel Marra region of Darfur, where the Islamist Sudanese regime has been ethnically cleansing its non-Arab minority since 2003.
Cox knew it would be futile applying for a visa, so he slipped into Darfur illegally. Along the way he was betrayed, and thousands of Sudanese soldiers were mobilized to prevent him unveiling the truth about the regime's use of chemical weapons. He was seized by the regime's Rapid Support Force militia, sold to the Sudanese security services, and flown to the capital, Khartoum. Along the way, he was subjected to a mock execution. Once in Khartoum he was imprisoned without charge, beaten, interrogated, and tortured repeatedly. He was refused access to lawyers or the UK embassy. The report on his ordeal can be viewed here.
Phil Cox is white; his producer, Daoud Hari, is Sudanese. If this had been Hari's story alone, there would have been no media interest in him, because torture and detention without charge is standard practice in Sudan.
Beating and intimidating local journalists is commonplace in the repressive Khartoum regime, which is given the worst possible ranking by the impartial NGO Freedom House. Thousands of young women each year are publicly whipped for daring to go to school and university, although their ostensible crime is indecency, (wearing jeans or showing a centimetre of ankle).
While in jail, Cox heard the stories of his fellow detainees. Many were being tortured and held without trial because they had dared to try to organize a soccer game. Evidently, this show of initiative was considered so threatening to the government's grip on power that those trying to pull together a practice session have been incarcerated indefinitely.
The National Islamic Front regime (rebranded as the National Congress Party) maintains its grip on power through fear, intimidation, violence and by suffocating any dissent or free speech. For the last five years, it has been bombing the non-Arab ethnic minorities in Blue Nile and South Kordofan states. In Darfur, the ethnic cleansing of non-Arabs continues in a media vacuum. No Western reporters or human rights groups are allowed unfettered access, so we hear little of the daily suffering of Sudan's unwanted millions.
Sudan has been sanitizing its reputation with great success. In January President Obama dropped sanctions, and the European Union is handing Khartoum millions of Euros to prevent African migrants reaching the Mediterranean. Meanwhile, the UK has given its stamp of approval to trade missions, averting its eyes from the continuing misery caused by President Omar Bashir, the world's only sitting head of state indicted for genocide.
The Sudanese authorities claim Phil Cox is a desperate, opportunistic hack, fabricating his story as part of an international conspiracy against the cruelly misunderstood generals in Khartoum. I met Cox a week after he was released, which was thanks, in large part, to former US Secretary of State John Kerry, the unsung hero in this story.
Cox is a quiet, sincere and diffident man; he is a far cry from the macho war reporter one expects. He wanted to get home to his young son in London; but he also wanted to uncover the truth about the agonizing deaths endured by other people's young sons in Darfur.
What of the chemical weapons attacks which Cox and Hari wanted to investigate? The Organization for the Prohibition of Chemical Weapons recently elected a representative of the Sudan regime as its vice-chair. How likely is it that they will conduct an impartial investigation? Will President Trump take action against Sudan, as he has against Syria, for the same crime? With no "white skin in the game," not very likely.
Related
Popular in the Community