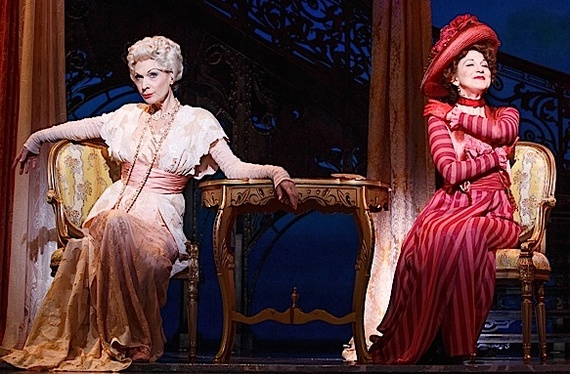 I've been away -- I mean psychically, mourning a friend; an employee at my bookstore who died very tragically two weeks ago. Her name was Cindi DiMarzo. You can read about Cindi HERE, if you'd care to; a remembrance of her that I sent out to our customers.
Cindi was an invaluable member of my little store's even littler supporting cast. Her death set me thinking about supporting cast members who are so marvelous at playing their parts, they wind up stars of the show, without ever stepping out of character.
This is hardly a new thought but it has lately hit me with the force of revelation. I first found myself gnawing on it weeks ago, as I sat benumbed by the benumbing new production of Lerner & Loewe's Gigi starring Disneydom's Vanessa Hudgens. "Thank Heaven for Little Girls"? The only performers on that stage I remotely wanted to thank heaven for were two very grownup ladies -- Hudgens framers, in the scheme of things -- Dee Hoty and Victoria Clark, who delivered a master class, for anyone who cared to notice, in the art of Broadway musical performance.
Both have played far greater starring roles in their long careers. Watching them, I realized that I'd actually grown up with these ladies. I first saw Dee Hoty in City of Angels in 1990. She made quite an impression as two femme fatales, one in and one out of the movie in the head of the show's protagonist, a gumshoe mystery writer. I ultimately caught Ms. Hoty in two of her three Tony nominated performances -- each time for Best Leading Actress in a Musical -- in The Will Rogers Follies (1991) and The Best Little Whorehouse Goes Public (1994). I did not see her in Footloose (1999). Even I have limits.
As Great Aunt Alicia, the aged courtesan who educates Gigi in the man-pleasing arts, Dee Hoty is so vividly, acidly ancient that I barely recognized her. The penetrating musical sheen of her singing, however, the zest of her characterization and just the essential life force unbottled on that stage, the life force of a tenacious survivor, rang true as the work of an actress I well remember.
Anything I might say about Victoria Clark has already, eminently, been said by a great many about her epic performance as Margaret Johnson, the mother in The Light in the Piazza, for which she deservedly won a Best Leading Actress in a Musical Tony Award in 2005. As Gigi's grandmother, "Mamita," Ms. Clark does far less than Hermione Gingold did in the Oscar winning Gigi film -- which works beautifully here. Where Gingold exuded heartfelt comic anxiety and eccentricity, Clark exudes wisdom and love. She and Ms. Hoty have been handed Gigi's most vexing anthem, "Thank Heaven for Little Girls," in an attempt at repurposing this male paen to the feminine succulence of the under-aged. The two old girls almost pull it off. When Ms. Clark at last takes center stage to sing Lerner & Loewe's glorious "Say A Prayer" in the second act, she stops the show cold with a rendition that only a lifetime of experience could create. Her nomination this time around for a Tony as Best Featured Actress doesn't even begin to cover it. Thank heaven indeed.
I could write a dissertation about the great supporting actresses and actors who have stolen shows away from their stars in the annals of the Broadway musical. Just now, however, my mind lingers on current ladies. The spotlight seems to find them wherever I look. In a previous piece about An American in Paris, I've already saluted Veanne Cox . Heidi Blickenstaff jumped out at me from the guy-centric thicket of codpiece jokes that threaten to overwhelm Something Rotten! (or perhaps I should say, underwhelm it.) Ms. Blickenstaff is a nifty straight man (if you'll pardon the expression) for all the guys in Something Rotten! but she also gets plenty of solid laughs on her own (sometimes dressed as a guy) and ultimately nails her one big vocal number, "Righthand Man," including a second act reprise. Something Rotten! is a non-stop parade of stupid, proudly and slickly overdone. Ms. Blickenstaff's work in it is nuanced and really smart. Thank heaven once more.
I coud go on. But I'll stop at The King and I. My kids, Lea and Sara, were blown away by the really big ship that sailed right at them as the curtain rose. You can't argue with a really big ship. It reassured them that The King and I onstage would not be a diminishment, after the grandeur of the movie version they so adore. Both of them literally gave me a thumbs up the moment Kelli O'Hara opened her mouth to sing. They laughed affectionately at Ken Wattanabe's Brynner-ish king, even as they asked me again and again what it was that he had just said (sometimes I had to ask them). I do believe their most rapt attention, however, was commanded by Ruthie Ann Miles; since nominated for a Best Featured Actress Tony Award as Lady Thiang, the King's chief wife. I certainly have never seen a production of The King and I that felt as if it was driven by Lady Thiang. This one does. With an all-seeing stage presence that director Bart Sher surely sanctioned, Ms. Miles grabbed my kids attention away from the King and Mrs. Anna. That is saying something.
~
One late word about Misia, my new musical. Playbill.com yesterday anounced the CD's official release date: June 16. The online announcement also features a special advance preview of one song form the CD: "My Heart and I," sung by Marin MaZzie. You can hear it HERE.
~
REAL LIFE. REAL NEWS. REAL VOICES.
Help us tell more of the stories that matter from voices that too often remain unheard.