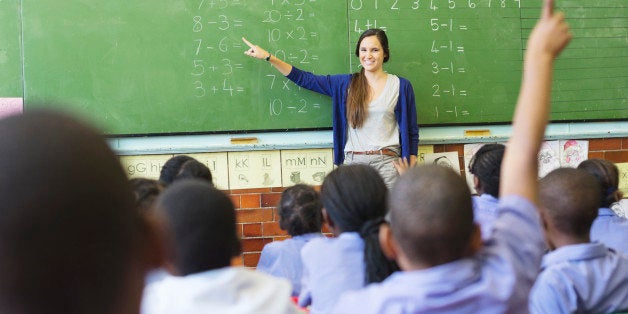 This week is Teacher Appreciation Week. Whether you're a former student or a parent, I hope you'll take some time to appreciate teachers everywhere who work so hard to level the playing field for all students -- by making educational equity a reality. This week, I'd like to express my gratitude to my colleagues at Revere Public Schools, who continue to fight for this goal despite overwhelming obstacles.
Almost 80 percent of students in my district receive free or reduced lunch, meaning they live at or below the poverty level. My students' lives are starkly different from the children of my wealthier friends, who attend expensive summer programs at UPenn and Harvard and enroll in costly SAT prep courses. How are my students supposed to compete academically with kids who attend museums, plays, and ballets, and don't need to work to support their families?
I'm far from the only teacher who believes that poverty is the most important issue in public education today. Want to hear something incredible? The U.S. has the second-highest percentage of children living in poverty when compared with the more economically developed countries in the world. We have enormous wealth -- and enormous disparity. Research shows a direct correlation between poverty and low academic performance -- yet until we lift children out of dire poverty, no education reform will ever help them.
Poverty impacts students in nearly every facet of their lives, but its effects are most evident in the classroom. According to a 2013 Educational Testing Service report, children who live in poverty have higher absentee rates than their peers and are more likely to drop out of school. Teachers often observe that children from impoverished families are not ready for elementary school, which sets the tone for future academic success (or setbacks). Children who live in poverty are also less likely to enroll in a four-year university and graduate, which means they tend to work lower-paying jobs than college graduates.
Teachers in low-income schools face enormous obstacles in meeting their students' needs: including limited resources, rigid school structures, and disagreements about the impact of poverty on education. But we also have determination, creativity, and leadership skills that we use every day to narrow the achievement gap a little more. As educators in a low-income, urban school, my colleagues and I are examples of what teacher leaders can do to positively impact students' lives and reduce the academic and social gaps caused by poverty.
In just a few years, our high school has gone from a Level 3 to a Level 1 rating. Our dedicated staff has instituted programs that ease the transition from middle school to high school, along with advisory classes that give students the chance to discuss their academic performance with a caring adult. We offer Advanced Placement classes, challenging electives, and co-curricular activities that capitalize on our students' strengths and interests. We have intervention programs to support our many English Language Learners. Most importantly, we work as a team and a family to help our students.
But teachers alone cannot carry the burden of poverty. Low-income schools need more funding and freedom to target resources towards the children who need them the most. Teachers are doing their best to meet students' needs, but those efforts only go so far. If we are to ameliorate the damaging effects of poverty, we must provide strong preschool and kindergarten programs, smaller class sizes, and highly effective teachers who demand rigor throughout all years of children's education.
The issue of poverty is complex and far reaching. But it's clear to me how it affects my students' lives and academic success. All of us -- parents, teachers, administrators, policymakers, citizens -- must do more to resolve this crisis.
This week, I want to show my appreciation to my colleagues across this nation who continue to fight for fair and equitable education for all students.
Calling all HuffPost superfans!
Sign up for membership to become a founding member and help shape HuffPost's next chapter