This is not a race report, but rather a thank you. Ever since I started running I've made it a point to say "thank you" to every course marshal that points me in the right direction, volunteer that hands me a glass of cool water, spectator that cheers for me, and police officer that allows me safe passage through an intersection. Yesterday, at the 118th Boston Marathon this is something that simply was impossible to do without spending the entirety of the race screaming "thank you" out loud.
As a matter of fact, more than once I heard people thanking me.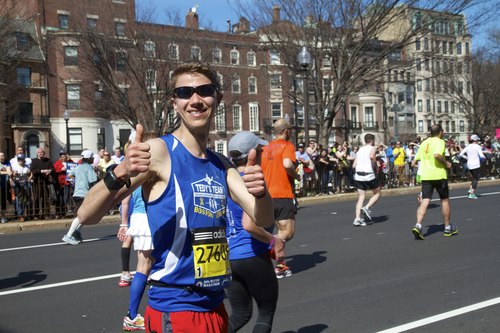 Me Somewhere around mile 25.
In Ashland as I grabbed my first cup of water and thanked the volunteer for handing it to me she responded "Thank you for running, and good luck!"
From Hopkinton all the way to Boston I saw handwritten signs being held proudly over the crowd saying "Thank you runners." "Thank you for taking our city back."
So this is not a race report, but a thank you.
To the bus driver who shook my hand as I boarded his bus on Tremont street in Boston and wished me good luck, thank you.
To the woman from Alabama who's name I didn't catch but handed me a wad of toilet paper and told me to head to the corner line because it was shorter, thank you.
To the thousands of volunteers who stood in the hot sun and passed out water and Gatorade to the 37,000 runners who passed by, thank you.
To all the parents who brought their children, and all the children who held their hands out and gave me a high five, thank you. A high five is worth more energy than any Gu or Gel can provide.
To the girls of Wellesley, thank you. Your screaming tunnel of NSFW signs, and pecks on the cheek kept me moving when I wanted to stop.
To the boys (and girls) of B.C who pounded drums, chugged beer, and chanted my number as I struggled up Heartbreak Hill, thank you.
To the law enforcement that not only lined the streets clapping and cheering, but also kept the 37,000 runners and estimated 1 million spectators safe, thank you.
And to the crowds that lined the streets 2-3-4 people deep screaming all the way from Hopkinton to Boylston Street, thank you. You created a wall of noise and inspiration that was awe inspiring. For just under four hours, you made me feel like a professional athlete. You also stayed out all day long, only growing in numbers as the day went on cheering the charity runners with the same passion and zeal as the Elites... maybe even more, thank you. You all truly understand what the Marathon is about.
And on a personal level, thank you to Tedy's Team for taking me and my family in. And thank you to everybody who donated towards the 2014 Tedy's Team Boston Marathon team. Together we raised $557,000 towards stroke awareness and prevention.
And most importantly, thank you, Dad. This one was for you. The city of Boston and yourself have a lot in common. Grit, spirit, optimism, and a true golden soul.
Thank You.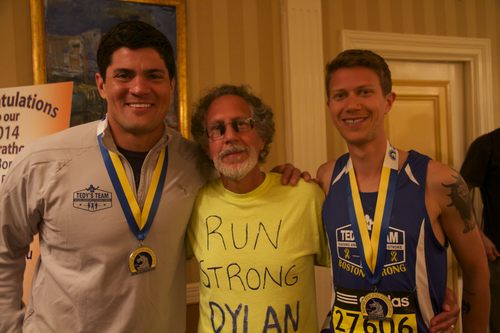 My Father, Tedy Bruschi, and myself at the finish of the 2014 Boston Marathon.
REAL LIFE. REAL NEWS. REAL VOICES.
Help us tell more of the stories that matter from voices that too often remain unheard.