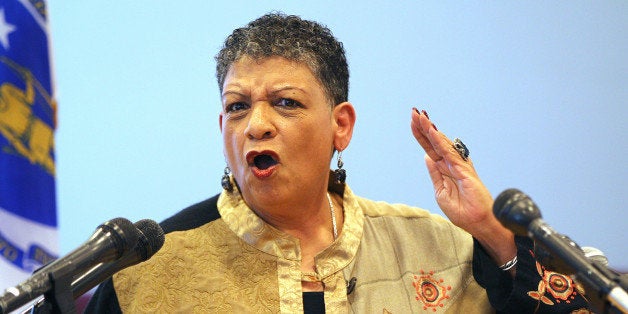 You've heard of the glass ceiling for women? Perhaps you're less familiar with the well-documented idea of the glass cliff, where women just happen to be placed in charge of systems on the brink of collapse where, shockingly, they are most likely to fail.
Enter Dr. Beverly Scott, brought up from Atlanta to fix what ails us here in Boston. With a historic blizzard bringing the city to a halt, her head is now the first on the chopping block. She is being unfairly blamed for our failure to invest in our public transportation system, as though she has brought the whole system crashing down in her short tenure. It doesn't help that she's a Black woman from the South brought in to fix a city that still hasn't integrated its schools.
Boston. My adopted hometown since 2008, where I have never felt more enraged and frustrated than I do today, sitting here under six feet of snow. We're a blue state that hates to spend money on education or infrastructure. We love to talk about our great schools, not mentioning that they are private and prohibitively expensive, much like the cost of getting to work during a snowstorm when an underfunded public transportation system crumbles.
It doesn't help either that we have two rookie administrations in Governor Baker and Mayor Walsh. I don't have any particular axe to grind with either man, except perhaps that unlike Dr. Scott, they seem detached from this crisis. A major metropolitan area of the United States is in stasis, a fact of life that will only become more common with accelerating climate change, and they dither as Rome freezes.
So Dr. Scott holds a press conference, where she reveals that she hasn't even spoken with the Governor yet. Let that detail sink in for a moment. Is she supposed to be the one calling him? And then she channels her righteous anger and lets loose on the media pelting her with questions about her own job instead of the real issues at hand.
Good for her. I won't pretend to be an expert on how to fix our transportation woes (the short answer: more investment, when the governor is instead proposing cuts), but I do know the code words for when a woman is too "emotional". Dr. Scott is "unprofessional" and "unhinged" and a lot of other words that most women in power have directed at them.
So I applaud Dr. Scott for sharing our anger and our frustration as citizens in a room full of disconnected "adults." Our elected representatives have been holding lackadaisical press conferences, and finally someone gets out there and says how we are all really feeling. Maybe she didn't dress it up in careful political language, but I would vote for her. I commend her for standing up at that podium when the city is looking for a convenient scapegoat and, not coincidentally, turning to the only public face on the news that isn't a white guy.
Leave Dr. Scott alone, and show up and vote in your local elections if you actually care about fixing the MBTA. The voters have let the state legislature stagnate, and now we are reaping the consequences of our fatal disinterest.
Popular in the Community