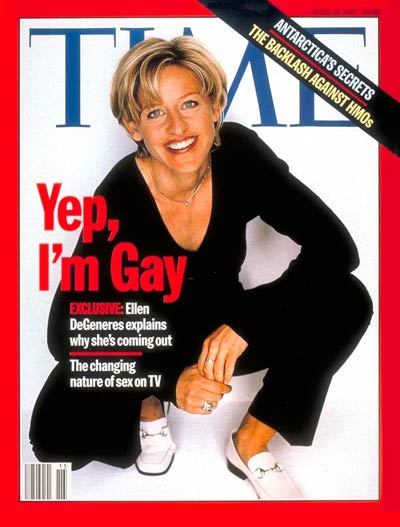 Twenty years ago this week, I was tucked away at a back-corner table, in my Catholic high school library, reading Ellen DeGeneres' coming out interview in TIME Magazine. Being reasonably certain I might like other guys, I so admired Ellen's courage to speak a truth I couldn't.
Ellen's coming out interview was complementary to the big reveal, the character Ellen Morgan's disclosure on the sitcom Ellen. This was a time when more than a few television stations were refusing to air the episode. When advertisers pulled out. This was a time when Roseanne shared a same-sex kiss with Mariel Hemingway and Doug Savant did the same with a date on Melrose Place.
This was a time when the balance of the country still felt, at least to a high schooler growing up in Pittsburgh, as if it wasn't "okay" to be out.
Her coming out in 1997 started a national discussion about living one's truth. And, while it was a discussion not without fallback (Ellen was attacked, ridiculed, and some even thought her career was over; perhaps Ellen even did), Will & Grace wasn't too far behind (soo looking forward to the reboot!). Things started to change. LGBTQ individuals were represented, on an increasing basis, as we are: ordinary folks trying to live our truth and our lives the best way we know how.
When I was fortunate enough to meet Oprah Winfrey during her Life You Want Tour in 2014, I had so many things I'd wanted to tell her running through my head: how much of an inspiration she'd been, how I quit smoking the day I saw her show in 2007 and never looked back, and how I would watch her show every day with my grandmother when my grandmother was sick. But what I told her was what meant the most to me: that when she, playing Ellen Morgan's therapist on the coming out episode of Ellen, told Ellen "Good for you. You're gay," she wasn't just saying that to Ellen. She was saying it to me.
Ellen, thank you for blazing the trail for me and for so many others. We still look to you for hope and inspiration, especially in these times where hate rhetoric and crimes are on the rise.
Good for you. You're gay.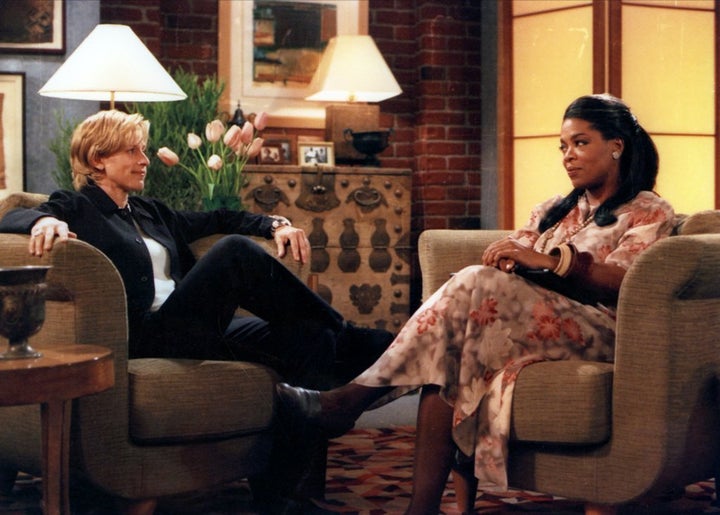 Calling all HuffPost superfans!
Sign up for membership to become a founding member and help shape HuffPost's next chapter