This past weekend, thanks to the inspiration of a new friend, I took the opportunity to attend what I have called my own church, for the first time in months. My church has no walls. My church has no crucifix. My church is in the form of a "hill" larger than the mountain it stands next to. A beautiful, ass-kicking hill that people go to for an extreme work out; the beauty of the hill makes it very easy to forget that you are in fact working out.
Tumamoc Hill sits right behind "A" Mountain, in Tucson, AZ. It's only three miles round trip, but with steep inclines taking you 700 feet up in elevation, my church also doesn't let you forget about any burdens you may be carrying along the way.
The first straight away is a fairly easy walk, until you get about halfway and realize what you have gotten yourself into. When you make it to the top of the first incline, you can turn back and see your first real glimpse of the view of both the mountain and the city. If you are lucky, you may even encounter a mule deer or other desert wildlife. You always will see the beauty in the desert that the majority of America is missing out on.
As you make your first switchback, the scenery is almost overwhelming. This switchback is fairly short and allows you to forget about how much your legs were burning just a few minutes ago. As you come around the corner of the top you reach what most of us call the halfway point. That is the spot the research of the hill happens. The University of Arizona has a lab that studies the ecology, archeology and even does conservation efforts, you can't miss the beautiful old greenhouse as you see North to the Catalina Mountains.
That's where the easy part ends. The rest of this walk includes three more switchbacks. The first one is pretty calm, until you come around the corner and see what I call the hill from hell. The incline makes you feel like you are walking with your face directly to the pavement. It was at this point I met Eugene.
I had "pulled over" at one of the lookout points along the way to take some pictures and when I walked back onto the trail there he stood. Not a small man, drenched in sweat, breathing very heavily. I made eye contact, smiled, took out my ear bud and said, "Hey there". He looked back with pain in his eyes and said "I'm going to give."
In that exact moment I realized I had stood in his shoes. I had let self-doubt and the burdens of my life take over me before. Be it medical issues, emotional issues or just plain letting the lazy we all get take over; I had given up before reaching the top before, and I was determined to not let this man I just met not see the top of this hill. It took me all of about three seconds to look at him and say, "No, you aren't going to give. I'll walk to the top with you, and don't worry, I stop a lot to take pictures. I will take it easy on you. If you want to see the top, today is the day it will happen."
He was shocked as he looked at me and asked if I would really go to the top with him. I guess this is the part where I should say that I was actually on my way back down when I had stopped at that lookout. He knew I was on my way back down, and was bewildered that I would go back up just to make sure he made it.
We walked up that hill from hell, taking several breaks. Some breaks even just 10 feet apart. I could see him struggling and I didn't want him to put himself in physical harm. We talked about where we were from, him from Atlanta, me from Iowa. We talked about our kids and parenting. We talked about the physical limitations we each had throughout our lives that had gotten us both into the out of shape conditions we are in. We talked and laughed through those last three switchbacks and before we knew it, we were on the top of the hill. We both high-fived and were left speechless by the beauty that can only be found on top of that hill.
What Eugene didn't know, is that I had "pulled over" into that look out because I hadn't unloaded all of my burdens on the hill yet. Even after reaching the top and coming back down, I was still carrying them and I had to stop at that look out point to cry them out. I don't even know what I was crying about. Love and loss, hope and dreams that are yet to come true, missing the laughter of my once beautiful babies who are no longer babies but beautiful young women. There are times where my life is just overwhelming. I try my hardest to put on a brave face and just keep moving forward but just like everyone out there, sometimes the burdens are too heavy to carry.
When I stepped out of that look out and saw this man standing there ready to give up, as I once had been, the look he gave me saved me. The look was I don't really want to give up, this is just HARD. With him allowing me to help him, he helped allow me leave the rest of the burdens I was carrying behind up on that hill.
So to you Eugene, thank you for your courage. Thank you for looking at me in a way that said, "I will help you, if you help me" and not even knowing that is what your eyes said. Thank you for having the faith in yourself to know that you could do it if you just pushed. Your inspiration is what I needed to push through, and now after that hike, I know I can reach my goals. I hope to see you on the hill again so I can thank you in person.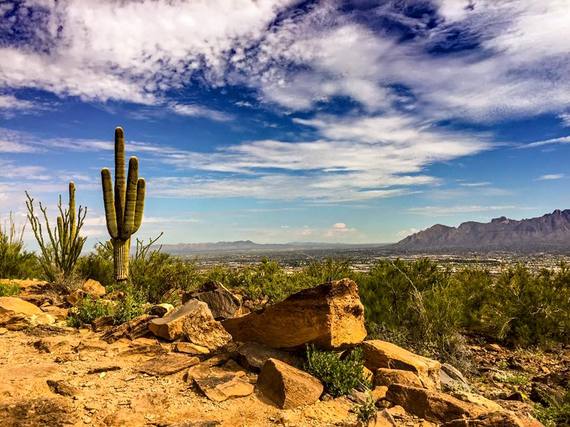 REAL LIFE. REAL NEWS. REAL VOICES.
Help us tell more of the stories that matter from voices that too often remain unheard.