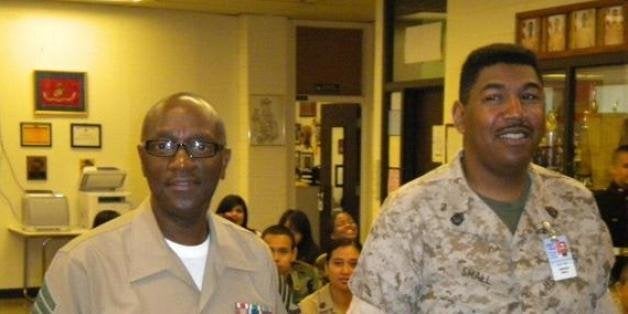 I would like to talk about two teachers today. They are like the dynamic duo. When I began high school, I wasn't the most confident kid, but they saw something in me that I didn't. They are my JROTC instructors First Sergeant Westbrook (left) and Gunnery Sergeant Small (right).
I am a first generation Mexican-American who did not believe that she could attend college. I did well in school and participated in many after-school activities. I was able to become the Cadet Commanding Officer in JROTC and take up many leadership roles in my four years there.

Many teens that age go through a lot of things during their high school years, and I wasn't an exception. They guided me through so many difficult aspects of my life and made sure that I always stayed positive. The time came to apply to college and I did not have any interest on it. Many people have the negative perception that when you are in JROTC in high school that your instructors push you towards the military path. That was not the case for mine. They encouraged me to obtain a degree. But I didn't think that I was smart enough to attend a four-year university. Because they saw something in me, they encouraged me to try. Once I had applied, I thought that I could not afford it. Once I made the decision to attend DePauw, they supported me 100%.

While I was gone for my first semester at DePauw, I experienced a lot of racism and culture shock. When I would come home for break, I would go visit my instructors at the school.They were always willing to listen, take time out of their schedule and provided me with a space to vent and talk about my experiences with them They always gave me the best advice that they could. Perhaps they do not realize it, but by providing me with a space to tell my experiences and vent, they were helping me heal. Every word of encouragement stuck with me. I knew that they believed in me, and I did not want to let them down.

If it wasn't for them, I would not be graduating from DePauw University in 18 days. While in high school, they offered me so much guidance in my academic life, but even more impactful was the guidance they offered in my personal life. They became my mentors at a time where I needed them the most. Their guidance and advice has played an important part in the shaping of who I am today. They believed in me so much that I started to believe in myself. They became father figures in my life. It is because of teachers like them that students gain confidence. It is because of teachers like them that students such as myself continue their education. It is because of teachers like them that I gained some confidence. The teachers who go above and beyond for their students are the ones that deserve to be acknowledged.
So, thank you, First Sergeant Westbrook and Gunnery Sergeant Small, for being some of the most amazing mentors I have had. Keep inspiring youth the way that you have inspired and motivated me.
Become part of the conversation and tell us about your own favorite teacher using the hashtag #HPHeartsTeachers on Twitter and Facebook.
Calling all HuffPost superfans!
Sign up for membership to become a founding member and help shape HuffPost's next chapter