It was back in August 12, 2013 when it had occurred to me how much my life had changed. I was this 17-year-old pseudo-journalist contributing for the Philippine Daily Inquirer as a student correspondent. I had written two or maybe three articles so far. I was just getting into this whole world of writing. But it was a special day -- my first press conference. And this wasn't simply just any press conference, it was a press conference with Kobe Bryant, a player I had grown up looking up to, watching his highlights with my father who would shout, "Kobe! Kobe! Kobe!" whenever it was the playoffs. 
My father was such a big fan that I was fortunate enough to get the opportunity to watch Kobe live twice, once in Seattle and once in Staples. I didn't know how special these moments would be back then, but as I reminisce upon them today, all I can say is, those were pretty special moments.
As I entered the press conference, I was left in awe. There were hundreds of people crowding the press table excited to see this guy who had flown 7,332 miles from the US to the Philippines. Two hours later and he finally came out, and I even got to ask him a question. It was that same moment that would inspire me to continue writing up until today, over two years later.
It's crazy how players like Kobe Bryant are able to bring people together even half-way across the globe. I'll admit that I'm not the biggest Kobe or Laker fan (at least not as big as my dad is) but every time I read about Kobe, I am inspired to get better at my craft; it's hard not to be. 
Watching Kobe highlights and videos, and reading his stories about him being up in the gym at 4am during the 2012 Olympics before everybody else showed me that nothing beats hard work; To be the best, you have to work harder than the rest. 
Kobe showed me that you need to be willing to sacrifice other things and dedicate yourself to your craft if you want to leave a legacy in the field you're in. It's not easy. Kobe didn't become Kobe overnight. Behind those game-winning shots and 81 point games are countless of hours in the gym, alone, late at night, shooting shot after shot.Kobe showed me that you can always get better, that you should never be satisfied.
Back when I was in high school, I wanted to become a basketball player just like Kobe. But no matter how hard I work, it seemed as though it just wasn't meant to be. I would end up tearing my ACL the summer before my senior year in high school and boom, I wasn't sure what would happen next.
But Kobe showed me that when the world falls on you, and you hit rock bottom, you don't give up. You fight back. You improve. You bounce right back even higher because every failure is an opportunity to rise. Thank you Kobe.
Kobe had been a big part of my childhood and my growth. I had followed him since I was introduced to basketball and will continue to wherever he may go next. I have feeling he won't be settling anytime soon. He is the Black Mamba.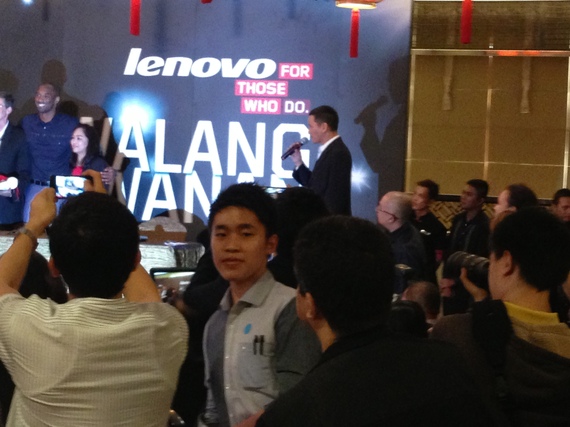 My writing career was kickstarted back in 2013 with a press conference with Kobe -- I wouldn't have had it any other way
Here's my short little tribute and thank you response to Kobe's post in The Player's Tribune. 
From the moment 
My dad introduced me to basketball 
You were the first player 
He told me stories about
In between your highlight reels 
And game-winning shots
I knew one thing was real:
You were the player I read up on.
You were the player I watched on Youtube.
You were the player I tried to be on court.
As a 12-year-old boy 
Deeply inspired by you
I never saw the end of the tunnel.
I only saw myself 
Working as hard as you.
And so I ran.
I ran up and down every court. 
I practiced day after day
Rain or shine.
I saw you work hard.
So I tried working even harder.
I continued playing basketball
Because of stories I read about you.
I wasn't the best 
And didn't become the best.
But I have no regrets
Because I had found the thing
That made me feel alive.
A few years later
I still look up to you.
In everything that I do,
I still try to work 
As hard as you do.
And we both know, no matter what you do next
You'll always be the guy
That never gave up.
You may be on your way out
But as long as there's time
5 ... 4 ... 3 ... 2 ... 1
There will be somewhere else to go.
--- About the author ---

David Ongchoco is a student entrepreneur and avid storyteller from the Philippines studying at the University of Pennsylvania majoring in what he likes to call, LIFE. He is currently working on expanding his for-purpose organization YouthHack. It's David's goal to make an impact in the lives of as many people possible while constantly learning new things every single day. If you have any interesting startup stories, David can be reached via Twitter @DOitChoco. You can also email him at david@youthhack.net.
Calling all HuffPost superfans!
Sign up for membership to become a founding member and help shape HuffPost's next chapter