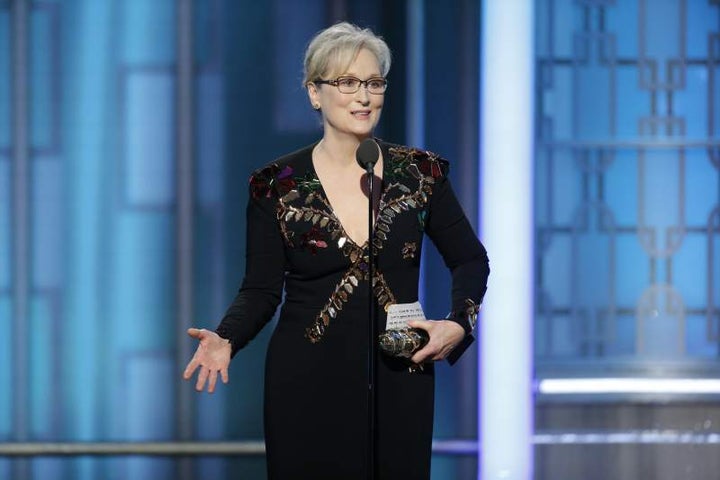 There's nothing like living inside the Hollywood bubble where money never runs out, the lights are always on, and stars always shine brightly. I was able to peek inside this bubble when my first book was optioned by a Hollywood Studio Executive and his wife during some fun and good times: First class travel, parties, meetings at glitzy restaurants, and more.
As a writer, I've also been trampled on by Hollywood celebrities, but I'll spare readers the gory details of those sad encounters. Hollywood, like the rest of the world, is a mixed bag. They're some beautiful and caring celebrities, like the couple that I worked with for two years, and there are the others...
But never before have I been more proud to be near Hollywood than I was on Sunday night when Viola stood and accepted her award in that yellow canary dress. And then Meryl Streep spoke! I had to pinch myself. She was a glowing example of truth, light, and love and won me over when she said the word disabled.
Because I'm the mother of a 31-year-old autistic son, I had to choke back tears. There is nothing that has defined me more as a woman than being the mother of a child with special needs. In fact, I discovered my creative gifts while suffering from depression and accepting the truth that he would never achieve all that I wanted him to achieve. That he would never live apart from me. That he would suffer scorn and mockery by others, just like the disabled journalist Serge F. Kovaleski endured.
Meryl was speaking to me, a mother of a child who has never fit in, who had to stay home when his younger brothers went out to play because others were so mean to him. She was speaking to me as I wash his clothes, make his bed, schedule doctor's appointments, and take him to dental exams. As I talk with his therapist to make sure his medication is at the right level.
And, I believe, she saw him as he paces the floor, back and forth, when his transportation to his day program is late, and then, finally, announces, after running out of patience, that he's taking the public bus. Autistic people like strict routines. I write this piece as I worry and pray that he will make it to his program on time. He has one more transfer to make, he said when he called a few minutes ago.
Viola said in her introduction of Meryl that she leans her head back and stares a long time before she speaks. That she sees other people. She, surely, did see me and my son. She saw journalist Serge F. Kovaleski, whose name we should always say. Meryl Streep stood, grandly, with poise, before she walked, slowly and gracefully, to the microphone and shared that she saw everyone in the room and all the baggage that they've carried to Hollywood from other places.
She said, "Viola [Davis] was born in a share cropper's cabin in South Carolina, and grew up in Central Falls, Rhode Island. Sarah Paulson was raised by a single mom in Brooklyn. Sarah Jessica Parker was one of seven or eight kids from Ohio. Amy Adams was born in Italy. Natalie Portman was born in Jerusalem. Where are their birth certificates? And the beautiful Ruth Negga was born in Ethiopia, raised in ― no, in Ireland, I do believe. And she's here nominated for playing a small-town girl from Virginia. Ryan Gosling, like all the nicest people, is Canadian. And Dev Patel was born in Kenya, raised in London, is here for playing an Indian raised in Tasmania." She described the America that I love.
Her speech was brilliant and she's right: There is a trickle-down effect from the top, and what's trickling down now is toxic and dark and mean-spirited, so much so that I've decided to only share stories of love, racial harmony, acceptance, and forgiveness here. I don't want to be a part of it.
Many of us were lulled into a comforting blanket of hope with the Obamas. His steady hand, the strength and beauty of Michelle, and the gracefulness of the girls, rocked our big hearts to sleep for the last eight years. We needed to be awaken from our slumber by loud, screaming, and angry noises, I guess.
We needed to look into the mirror of our reflections after gazing, endlessly, at our cell phones; after trying to capture headlines on Facebook and Twitter; after judging others instead of giving them the benefit of the doubt and a little bit of our precious time to connect soul-to-soul. We're all guilty of the toxic stuff that's trickling down. In some ways and to some degree, we've gotten what we are! Although I think God could have, surely, held back some.
For those of us who have more days behind us than ahead of us, it's time to "Be Woke" so says the Black Live Matter Community Organizers, who are brilliant young people who transformed their broken hearts into a movement. Everything begins with us.
Like Meryl Streep did, we all have to gracefully bring the light and love to our lives. As Martin Luther King, Jr., said, "Darkness can't drive out darkness, only light can do that. Hate can't drive out hate, only love can do that." We all basked in Meryl's light and love. From Van Jones' Love Army, to Meryl Streep's speech, to Black Lives Matter being woke, it is time for all of us to rise up.
I have done what Meryl said Prince Leia told her to do: I have taken my broken heart and made it into art. I'm reading from my first Novel, On Edge , the one I wrote in London while I was depressed about my son and depressed about the Los Angeles riots, with Writers Resist, an exciting new movement, on Sunday in Venice, California. An excerpt of their press release is below:
"On January 15, 2017, the birthday of Dr. Martin Luther King, Jr., writers across the United States and in Europe will come together for Writers Resist, a "re- inauguration" of our shared commitment to the spirit of compassion, equality, free speech.
Organizers of the event are asking for donations to the ACLU.
Thank you, Meryl, for seeing me and my autistic son! Thank you, Viola, for shining brightly and making me proud to be a Black woman. And a big thanks to anyone reading this post for taking the time to read it.
Calling all HuffPost superfans!
Sign up for membership to become a founding member and help shape HuffPost's next chapter