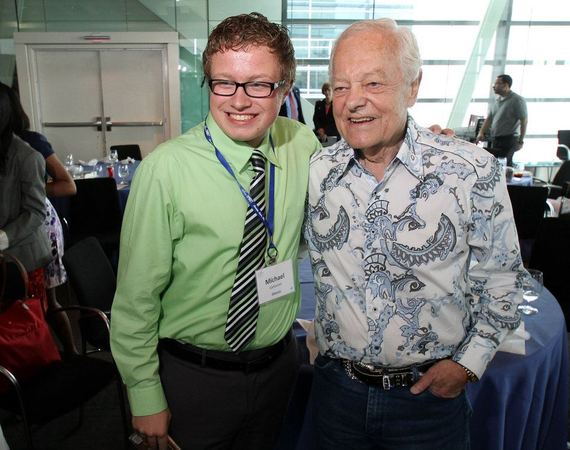 I was washing my hands in the bathroom at the Newseum in Washington D.C. when I met CBS News' Bob Schieffer. I was so awkward and nervous. A broadcasting legend was next to me (an aspiring journalist) washing his hands and I had the opportunity to talk with him.
Do I talk to him? Or just pretend he isn't even there? I don't recall a bathroom etiquette lesson for this situation.
But, before I could even get out a word, Schieffer started talking to me.
I am proud to say I had a nice conversation in the bathroom with Bob Schieffer of CBS's Face the Nation and formally the anchor of CBS Evening News.

Posted by Michael Geheren on Monday, July 16, 2012
Then, he completely shocked me by performing in his band, "Honky Tonk Confidential." Who knew Mr. Schieffer was an musician too?
AUDIO: One of the other students at the conference recorded some audio of Schieffer performing with "Honky Tonk Confidential."
It was that experience in 2012 that gave me even more respect for a journalist I have respected for many years.
This Sunday, Schieffer will sign off as the moderator of Face the Nation.
His grace in that show and ability to interview politicians is like no other. He has brought his folksy ability to TV that just resonates with viewers. He doesn't come off as one of Washington's elite. Schieffer appears as a regular American, just looking for answers to improve this country.
I hope I can someday be half the journalist Schieffer is. He will be greatly missed from television.
I know I am one of the few in my generation who still tuned in on Sunday mornings for Schieffer's program. But, I think any j-student should go watch some of the archives of his interviews.
"I suppose every generation thinks that the kids younger than them aren't as good as they were and screwed it up in some way," Schieffer said in an Associated Press interview. "I try not to sound like an old goat, but the fact is there will always be a need for reporters, whether they are doing it on television or a website or for a newspaper that is not on paper anymore."
In my experiences, not all journalists are like this. I have met far too many who often shrug off myself and other j-students. Not Schieffer. He told stories at the conference about his early days in Dallas covering the Kennedy assassination and gave us advice from his many years of experiences.
The memory of having that short conversation, just like any other normal conversation, with Schieffer will remain one of the best moments of my life.
Mr. Schieffer, you will be missed on the airwaves each Sunday morning. It's been an honor to be a viewer and to have met you. I hope this isn't goodbye. Selfishly, I hope you spend part of your retirement still contributing to CBS News by asking those tough questions and providing your beloved commentary from time to time. Best of luck.
Related
Popular in the Community