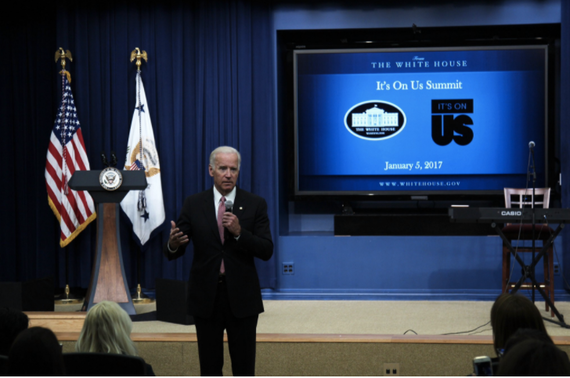 My first days at the University of Missouri were, in some ways, the perfect picture of the American college experience. They overflowed with school spirit and block parties, new friends and exciting opportunities - but another side quickly darkened the dream.
1 in 5 women and 1 in 16 men are sexually assaulted during their time in college. By October of my freshman year, I knew several of them personally, but this was in 2012. None of these students knew where to turn. The conversations on campus surrounding assault felt ambiguous at best. Too often speaking up meant facing painful and accusatory reactions from school administration or other students. When I first began a career in student government, sexual assault prevention, for most people, was simply not a priority.
And then, in September of 2014, Vice President Joseph Biden launched It's On Us.
It's On Us is a campaign founded on the idea that ending sexual assault on college campuses requires everyone to make a personal commitment to do something, big or small, to change the culture of sexual assault. The initiative is a natural extension of Vice President Biden's ongoing fight to end violence against women and has had a profound impact on how American universities respond to sexual assault. In the last three years, over 500 schools have hosted nearly 2,000 It's On Us events in 49 states. As of today, over 400,000 students, professors and campus administrators have signed the pledge to end violence. Celebrities, Olympic athletes, politicians, and campus and community leaders have banded together with students to help make our college campuses safer and to build a more supportive community for survivors.
In launching It's On Us and supporting it so fiercely, Vice President Biden did something remarkable. He, as a man occupying one of the most prominent platforms in the world, said the words that have so long eluded so many survivors:
I believe you. I support you. This was not your fault. We will fight together.
I was one of the first students to become involved with It's On Us. I helped launch the campaign at Mizzou in 2014. I served on the national Student Advisory Council in 2015, and I am currently the Regional Adviser for the Great Plains. For over three years, I have seen and felt the impact of Biden's words on a daily basis.
I watched the school that I love begin to fight for its students. I heard people from every community on campus engage in real, painful, but necessary conversations about rape culture. I spoke with students from across the country about their experiences, and I have been inspired by the young people who work to make our campuses safer
Today, we embark on a new chapter in our country with a new administration. There is plenty to say about that and plenty that should be said, particularly by advocates of assault prevention - but today, I want to say thank you.
Thank you to the Vice President who has done so much to support young people. Thank you to the man who helped so many of my friends speak up and speak out, and who created a community of brave, bold , and powerful advocates. Thank you to the politician who showed me personally where so much of my own strength lies.
And so to Vice President Joe Biden, on behalf of the student advocates that you helped nurture and inspire - we cannot give you a Presidential Medal of Freedom, but we are forever grateful that President Obama did.
You have spent your life making the world safer and better, and the world is infinitely better because it has you in it. You taught hundreds of thousands of students that it's on us to end sexual assault. You gave us a platform to amplify our voices. Perhaps more importantly, you gave so many of students the courage to confront what happened to them and demand something more. Your time in office may be over, but you inspired so many of us to reach higher, push harder, and fight for what we believe in. We know that you will continue to do wonderful things, but we hope you know that whatever good we achieve will be part of your legacy.
The work to end sexual violence on our campuses and in our country will continue, no matter which party holds office. It's On Us, as a campaign and a movement, will continue. We, the young people who owe Vice President Biden so much, will continue to fight - and from the very bottom of my heart, I hope we make him proud.
To the young people who have faced sexual assault, who feel alone and who need someone to fight beside:
We believe you. This was not your fault. We will continue to fight together.
Join the movement by taking the pledge at ItsOnUs.org. For more information about It's On Us and the great work that students are doing on campus follow us @ItsOnUs. The 2017 Spring Week of Action will take place April 2-8.
Photo: Vice President Biden speaking at the final White House It's On Us summit, provided by It's On Us

Calling all HuffPost superfans!
Sign up for membership to become a founding member and help shape HuffPost's next chapter