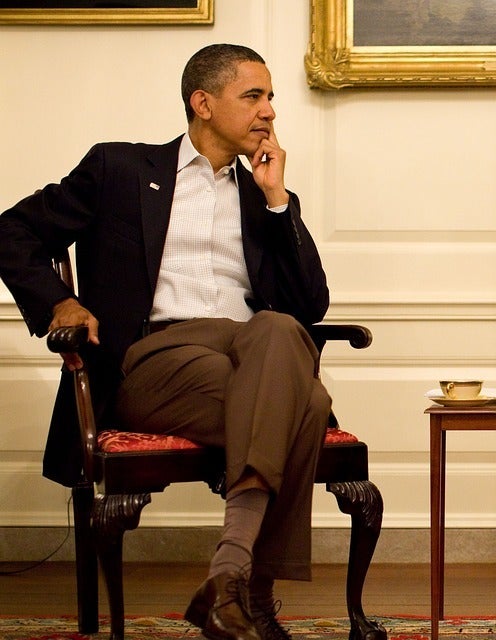 He ended his tenure as president just as it had begun – on a platform in Chicago, preaching a message of relentless optimism, and hope for a brighter future.
On Tuesday night, President Barack Obama delivered his final major speech to the American public, signaling the unofficial ending of his eight-year role as Commander-in-chief. In front of a packed house at Chicago's McCormick Place, President Obama appeared on stage displaying his ever-comforting demeanor, amid the crowd's sometimes deafening cheers, and harmonic chants echoing "four more years."
But it wasn't merely a time to say goodbye. During the nearly hour-long address, Obama expressed appreciation. He thanked his wife, first lady Michelle Obama, for being his best friend for the past 25 years. To his daughters, Malia and Sasha, he commended their ability to mature under admittedly strange circumstances, and reassured them of his fatherly love. To his countrymen, he expressed gratitude for what they have allowed him to do: serve every day for the last eight years in the highest office in the land.
But the gratitude, in this case, is reciprocated. During last night's address, just as he has done throughout his presidency, Obama did not waver in his belief of a more perfect union, and he gave me hope that our country's best has yet to come because the future of our nation belongs to the young idealists of today. And for that, I thank him.
Outlining what he framed as threats to our democracy, Obama spoke openly about the challenges he's faced during his time in office, notably, the continued challenge of bridging divides between more than 300 million Americans from different walks of life.
"There's a second threat to our democracy – one as old as our nation itself," Obama said, following a call for a new social compact to protect the ever-changing American public. "After my election, there was talk of a post-racial America. Such a vision, however well-intended, was never realistic. For race remains a potent and often divisive force in our society. I've lived long enough to know that race relations are better than they were 10, or 20, or 30 years ago – you can see it not just in statistics, but in the attitudes of young Americans across the political spectrum."
It's the latter part of that segment that gives me hope going into the future.
Because I am among those "young Americans" of which he speaks, and I'd be remiss if I failed to recognize what his farewell address meant to a young, black man seeking to make sense of a society increasingly defined by racial, political, and even geographic differences.
On November 4, 2008 – just eight, short years ago – I sat on my parent's couch and watched in awe as a man who looked like he could be my neighbor delivered an acceptance speech to America on a brisk Chicago night. I, like my parents and grandparents, had never seen an African-American person deliver this sort of presentation. My limited political lens at the time was filled with images the likes of George W. Bush and Bill Clinton; there's Ronald Reagan, Jimmy Carter, and the many before.
But I vividly remember feeling a sense of optimism for my future. In the speech's opening moments, President Obama states, "If there is anyone out there who still doubts that America is a place where all things are possible, who still wonders if the dream of our founders is alive in our time, who still questions the power of our democracy, tonight is your answer."
And in those moments I was convinced that I was witnessing a colossal shift in American history. Not only because history was literally being made, in that a black person had been elected President of the United States, but because I understood that millions of Americans, from varying racial and religious backgrounds, came together to elect Barack Hussein Obama – a young man out of Chicago, and born in Hawaii – to lead the free world.
Last night's final address conjured the same feeling of optimism that I had felt years ago. Yes, even recognizing the continued police brutality facing black Americans, the discrimination experienced by members of the LGBT community, and the feelings of not belonging that other minority groups struggle with, I remain hopeful that, together, we can become stronger. Despite the efforts over the past few months to create a further divide between portions of the American public, I've seen America become a more inclusive nation, led by young people in every region of the country.
Just in the recent election, young voters (ages 18-29) voted overwhelmingly in favor of Hillary Clinton, the more progressive candidate with a vision of inclusiveness, not divisiveness. Over the past five years, I've seen my peers sow grassroots organizations such as Black Lives Matter to combat the issues that matter most to them, standing up for the rights of citizens ranging from Flint, Michigan to the Standing Rock Reservation in the Dakotas. I recognize that one day individuals in this demographic will go on to be even greater leaders in their communities and in our country, and with them they will carry an attitude of hopefulness and the self-mandate to make this country a better place, for everyone.
So, President Obama, thank you for reminding me of the promise of the future that weeks ago I feared. Thank you for giving me the same sense of hope that you gave me in 2008, and again in 2012, that despite the seemingly chaotic social and political climate surrounding us, all is not lost. The future belongs to the same young, world-changers who are making a difference today, and for that reason I will remain hopeful.
For everything, thank you.
Calling all HuffPost superfans!
Sign up for membership to become a founding member and help shape HuffPost's next chapter