Robert Kennedy once said, "There are those who look at things the way they are, and ask why. I dream of things that never were, and ask why not."
Another such dreamer is the fabulous fantasy writer, Ray Bradbury. I just finished his 1957 novel Dandelion Wine. What possible relevance, you might reasonably be asking, can this book have for readers living in 2010?
Well, all we have to do is turn on the TV news, pick up a newspaper or magazine, or look at any online news source to be bombarded with the interminable horrors of the modern world: the wars in Iraq and Afghanistan, possible pandemics, AIDS in Africa, political and corporate fraud, global terrorism, etc. This is the way things are; and sure, it's important for us to be aware of it. But what about the second part of Kennedy's remark, the part about dreaming of things that never were?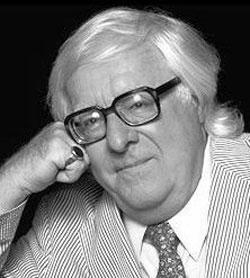 That's where people like Ray Bradbury kick in with wonderful potions like Dandelion Wine. Every so often, we need a good-sized gulp of this brand of elixir -- to drink deeply, to feel it pass through our throats, settle into our stomachs, permeate every vein, artery, and capillary: to, if only briefly, replenish our souls and ease our troubled minds.
With Dandelion Wine, I pause every so often, close my eyes, and -- with a sublime ache -- let myself melt and, like a child, drift into the stream of Ray's magical words. I want to crawl inside the book and join the folks of Green Town, Illinois, to smell the victuals in Grandma's kitchen, to join the brothers Doug and Tom in their quest to liberate the Tarot Witch. Because Bradbury's world is a better one than the vale of tears that we inhabit, it sometimes hurts to close the book and be snapped back to contemporary reality.
That's not to say that Dandelion Wine is without its purveyors of pain and evil. There is sickness in Green Town, a serial killer called the Lonely One is on the loose, and women and children must forever cross the dank and forbidding "ravine." To combat these nemeses, one of the characters labors to create a "happiness machine." But I smile to realize that I have the real happiness machine right in my hands: Ray's book. What more can a person ask for than a little joy-inducing contraption made only of paper, light enough and small enough to fit snugly in a jacket pocket, and that costs only a few bucks?
Thank you, Ray Bradbury, for making my job fun. I teach English at two community colleges in the San Francisco Bay Area, a few hundred miles up the coast from where you live. My students have been assigned to read six of the stories in your collection I Sing the Body Electric! Some of these students like the stories, some don't, and some, I think, don't even read them. These last could be lazy, have a fear of books, or find reading very difficult. But I am trying my best to get them enthusiastic about jumping inside a good story and seeing that a different, wider world can open up for them. I chose your stories because they are fun to read, and they encourage a childlike wonder and awe of the world that people shouldn't lose as they enter adulthood.
In your story "Any Friend of Nicholas Nickleby's Is a Friend of Mine," you make it clear how reading can help us become the people we want to be. The other day I came across something that Jack Kerouac wrote that addresses this very idea: "I hope it is true that a man can die and yet not only live in others but give them life, and not only life but that great consciousness of life." In your story, the stranger from the train has Charles Dickens living inside of him, and he in turn passes on a new world of romance and adventure to young Pip: "I been everywhere this afternoon," says Ralph Spaulding in waves of excitement. "The Dover Coach on the Dover Road. Paris! Traveled so much I got writer's cramp!" Ah, the joyous pain of writer's cramp -- almost unknown anymore in this computer age. And, Ray, I also appreciate the way you speak lovingly of the tools of writing, being specific about the "Iron-Face Indian Ring-Back Notepad Number 12" and the "yellow Ticonderoga Number 2 [pencil]." You can almost smell the graphite and the wooden shavings after a sharpening.
My hope is that your stories -- and those of other great writers too, of course -- will do for some of my students what the songs of Bob Dylan and others did for me when I was floundering in school in my late teens. I wasn't much of a reader as a kid (so I can in some ways identify with my students), but when I started listening to the work of Dylan, the Doors, the Beatles, and other literate songwriters of the day, I was introduced to all kinds of fiction and poetry through references in their songs. Through Dylan I met Ezra Pound, T.S. Eliot, and F. Scott Fitzgerald. John Lennon reintroduced me to Alice's Adventures in Wonderland and Through the Looking-Glass. Jim Morrison inspired me to explore the French Symbolist poets Charles Baudelaire and Arthur Rimbaud. Little by little -- for, to be sure, it is a gradual process -- I became an avid reader. I even try my hand at writing once in a while.

Popular in the Community