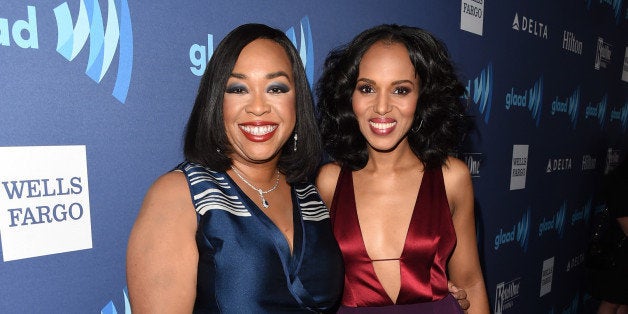 And not just the normal dabbing-your-eyes with the edge of your sleeve. You make me heave heavy sobs, locked in my room, clutching a my teddy bear to my chest.
But you don't make me sad. Not at all.
I've admired you for a really long time... probably since I started sneaking in on my mom when she was watching Grey's Anatomy (and that was almost 10 years ago). To me, you are a fairytale. I never thought that someone like you could exist. I didn't think that a black woman could tell the stories of so many different people on one of the most watched channels in the country.
I know you've heard lots of stories. I know that they all probably sound just like mine. But somehow, I still feel the need to tell it.
Maybe it's because, no matter what I do, I can't shake this feeling of loneliness. I could be surrounded by friends or family and still feel alone. I, too, am often the only black girl in my class. I'm not gay, but I'm not straight, either -- somewhere in between. I've never felt like I belonged.
I often wondered why I was even here, if I didn't fit anywhere. I'd always thought that everyone had their place. Everyone was meant to do something, to be something. But I wasn't anything.
I was a black girl with big boobs and hair that would never be as pretty as the other girls. I was a girl who got crushes on both boys and girls, who wrote stories upon stories and studied films instead of playing sports. A "chubby, not so cute, nerdy, shy and in pain" young black girl, if you will.
Like you, I think of characters. I sit in corners and write until I'm no longer in this world -- I'm in my own. It used to be the only reason why I'd stay.
When I read your speech, I was happy. It's still a new feeling for me, to be honest (and quite dramatic.) I had been happy for several weeks.
It's still something that I'm remembering every day -- that I'm not alone. Thank you for reminding me.
PHOTO GALLERY
Empowering Shonda Rhimes Quotes
REAL LIFE. REAL NEWS. REAL VOICES.
Help us tell more of the stories that matter from voices that too often remain unheard.