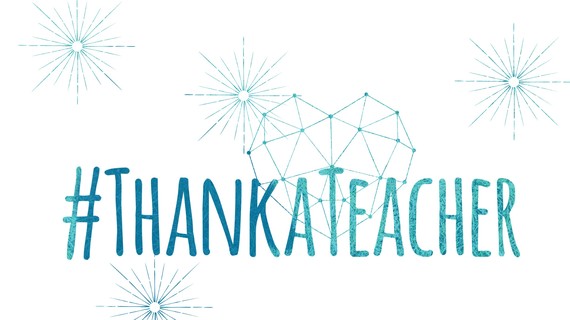 There are people who come into our lives at pivotal moments and offer new perspectives, inspire us and help us see ourselves differently. During Teacher Appreciation Week, let's celebrate all the teachers who have left us with a lasting impression.

Girl Meets (Business) World
I was an awkward high school senior in 1999, and like a lot of girls back then - and probably many today - I lacked self-confidence. I certainly didn't see myself as special.
One day, one comment from one teacher changed all of that.
On an ordinary afternoon in marketing class, Ms. Xanthe Riley (now Mrs. Meyer) pulled me aside and suggested I partner up with a friend to compete in a local marketing competition. I wasn't in the habit of saying no to teachers, so I nonchalantly agreed, figuring a free field trip to the local mall (event location) could do me no harm.
Little did I know that my brief exchange with Mrs. Meyer would set me on a course that fundamentally changed my life... unleashing confidence I never knew existed and propelling me into my chosen profession.

"You ignited a spark in me to pay it forward with other women seeking development and achievement."
Perhaps the most important thing I learned in my exchange with Mrs. Meyer is the importance of mentoring, coaching and supporting young women in their development.

#ThankaTeacher, Role Model, Coach, Mentor, Catalyst, Believer
You may not remember me because we haven't talked in 16 years. Regardless, I want to tell you that you changed the course of my life. At a critical - and tenuous - moment in my development, you believed in me, challenged me and supported me.
I will never forget how you went out of your way to encourage my only extracurricular participation in four years of high school. As a senior gearing up for college, I felt pretty set in my ways, but you helped open my eyes to new possibilities.
Looking back on your influence and what's happened since then is a story I've been wanting to share with you for more than a decade...
In early 2000 you paired me up with my good friend Christina to compete in the local DECA marketing competition. Our category was a marketing improvisation challenge and we dominated (at least, that's the memory). From there we went on to compete at State and eventually moved on to Nationals. I was even awarded a scholarship at State. I recall being elated and stunned when my name was announced in a room of a thousand other students. To this day, it's one of my fondest memories.
From that experience, I gained back the confidence I lost (and many girls lose) during adolescence. I also discovered my passion for marketing which led me to the Missouri School of Journalism and a rewarding career in public relations. You deserve credit here for helping me see I could - and should - reach for big goals.
Finally, and not least of which, you introduced me to my future husband. Did you know that? I met him at State and we began dating in college. If it was not for that marketing competition, we wouldn't have met and we wouldn't have our precious memories, our wonderful son, our fun adventures today living in New York City or our exciting future ahead of us.
In short Xanthe, I'm not overstating it when I say you were a major catalyst in my life. I still have the Oh The Places You'll Go! book you gave me at graduation. I didn't feel worthy of it at the time, but I do now and I treasure it.
Greater than any tangible gift, you ignited a spark in me to pay it forward with other women seeking development and achievement.
I never had the courage to stop by the high school in the years that followed to share my thanks in person. I was afraid you wouldn't remember me.
I'm indebted to you and so very grateful for the interest you took in a teenage girl searching for something more.
Becky (Marxer) Ericson
Class of 2000
Calling all HuffPost superfans!
Sign up for membership to become a founding member and help shape HuffPost's next chapter