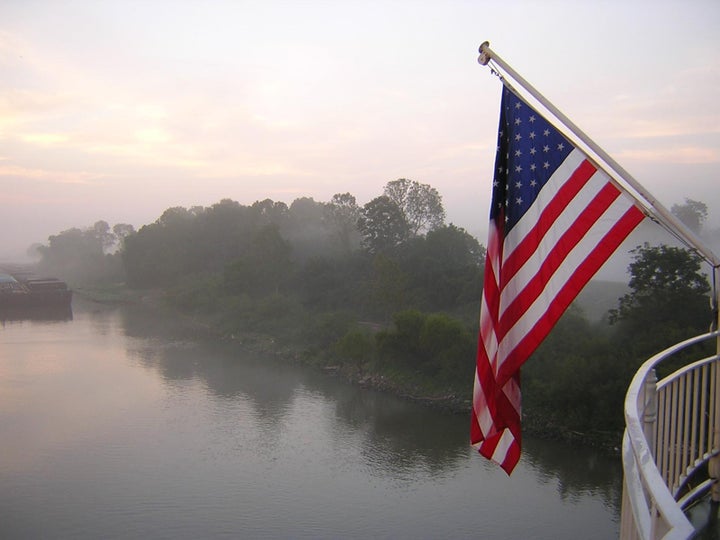 Deep within the White House rambles or storms a tall, paunchy, florid-faced man for whom the words and attributes "gracious, kind, forgiving, humble, self-deprecating, reasonable, generous, appreciative, thoughtful, artful, empathetic, ethical, and moral" are far beyond his limited vocabulary and short intellectual grasp. Keep those words in mind.
I'd like to use this pre-Thanksgiving column to express my thanks to a man who does know those words and values, who did express them in ways befitting the underlying goodness of Americans in uniform who sacrifice nobly, and without any need for self-affirmation.
But first, let me cite, from this morning's Washington Post, a man of completely opposite traits…a public servant for whom I have no desire to express my thanks before tomorrow's meal.
"President Trump began the day before Thanksgiving on Twitter, calling out those who he claims have not, in fact, given him their proper thanks.
His target, again: LaVar Ball, who Trump had previously called "very ungrateful" for the president's help in resolving a shoplifting charge in China for his son, LiAngelo, and two other University of California at Los Angeles basketball players.
It had been nearly two full days since Trump last mentioned the elder Ball by name — and in the intervening hours, Ball had been on CNN, saying that he had nothing to be thankful for when it came to his son and his president.
"How'd he help? If he helped, I would say thank you," Ball told CNN.
As for who had helped free LiAngelo Ball from China, the president said Wednesday: "IT WAS ME."
[At the National Museum of the Marine Corps]
"With this short amount of time I have to speak to you tonight, I couldn't possibly sum up the historical battle of Marjah.
"I am comforted, though, by the fact that the men in this room don't need a summary because you were right there beside me. You felt the incredible heat of a 100 percent humidity day and the cool waters of a muddy canal. You felt the weight of 100 pounds of gear, ammo and water at your back, the weight of knowing as Marines we are and forever will be the first line of defense for our loved ones, our nation and above all, freedom.
"I stand here today extremely proud of you all. I'm proud of the job you did in the face of what most cannot even fathom. I am more than honored to call you friends, fellow Marines and brothers. You stand as an example for others and for what's best for not only our nation but the rest of the world.
"The United States military member is a beacon of hope in dark places for suffering people around the world. Many have paid the ultimate sacrifice. Many gave their limbs to help people have lives free of oppression and full of freedom and prosperity.
"Even though there are dark days and have been dark days since our deployment, and long nights, remember what Gen. [George S.] Patton said: 'It is foolish and wrong to mourn the men who died; rather, we should thank God that such men lived.'
"Be proud of who you are. Be proud of what you did in that country. You are alive today and have been blessed with this opportunity of life. Don't waste it. Live a life worth living, full of meaning and purpose, and one that will make the fallen who are looking down on us proud.
"For the families of the fallen, Blue Star families, active duty families, retired, and all military families and service members, I thank you for your service. You don't hear enough, 'I appreciate your sacrifice and what you go through here at home or half a world away deployed.'
"To everyone here tonight, I thank you for having me. I'm extremely honored to stand in front of you and I'm very humbled that you wanted me to speak to you here tonight.
"Marines, I'm proud to have worn the same uniform as you.
"Never forget that when no one else would raise their right hand, you did. You sacrificed and became part of our nation's history and our Marine Corps legacy for taking part in the historical battleground of Marjah. Thank you so much. I really do appreciate it."
"I really struggled with the idea that I would, not have to, but most likely be encouraged to wear my medal. And I say struggled because, let me just say that I don't want to wear this. I don't like wearing this.
"But I do because, you know, if I can inform one person of what we do and what we're about, or what we sacrificed over there, I do it for that. I wear it for all of you.
"And I just hope that you know that no matter where I'm wearing it, it's not because I want to. It's putting on a good face, trying to attach something good to the Marine Corps, to contribute and help people understand our side of life, what we go through, what we're about. And everything we've done from past generations until now, the great job we've done to keep our freedom, to keep our men alive.
"So I wore it tonight for you. Feel free to come up after and touch it, whatever you like. It's your medal."
One man says, "IT WAS ME!"
Another man says, "I wear it for all of you…It's your medal."
For whom should Americans be truly grateful?
Happy Thanksgiving. Semper Fi. And thank you all for your service.
Related
Popular in the Community