My son is graduating elementary school this spring. As part of the fifth grade culmination celebrations, his teachers have asked that I write a "proud letter" to him full of memories of his time at the school and stories of his growth since kindergarten, all intertwined with my expressions of love and pride. It's a great privilege to have the opportunity to let one of my favorite people know just how proud of him I am. In a few weeks I will sit down and write this letter in earnest, and when I do, I'm sure I will shed a tear or two.
But in the meantime, every time I start to draft a sentence or sentiment in my mind, I get stuck on the fact that I can't possibly write a proud letter to my son, without first acknowledging the appreciation I have for his teachers over the last six years.
While I'm certainly proud of the person my son is and even more proud of the person he is on his way to becoming, my husband and I can't take all of the credit. For nine of the twelve months of the year, from kindergarten through fifth grade, Jack has spent more of his waking hours at school than he has at home. At age 11, over half of his lifetime has been shaped, defined and guided by the teachers and staff at school. We couldn't be more grateful for each and every one of them.
These educators have not just filled our child's head with knowledge, but they have filled his heart with a passion for various subject matters. And more importantly, they've instilled in him a lifelong love of learning. Jack has the gift of curiosity and knows that the best questions are not the ones that lead us to an answer, rather the ones that lead us to the next question.
I know that teachers are pulled and yanked in more directions than ever today from paperwork and procedures to testing requirements. While I can only imagine that their workload is ever expanding, I appreciate that his teachers have still made the time for the special hands on learning opportunities like releasing butterflies, building volcanoes, having a state fair and doing an immigration study. These programs follow a teaching philosophy that Jack quotes often. He's learned it from a poster hanging in his fourth grade teacher's classroom and references it at least once a month, as I suspect he will for the rest of his life, and think fondly of her every time he does: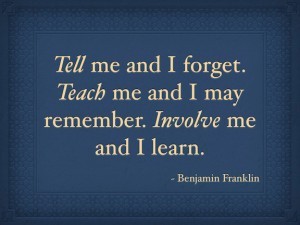 The classroom walls, hallways and landscape of the school have become so familiar that it has become a second home for our kids. When one thinks of a home, warm thoughts come to mind that evoke special memories. Some memories can be so vivid that we can almost sense the sounds, smells and feel of that space. We feel comfort and security at home. We feel loved at home. The school is a beautiful building, but it feels like home to our kids not because of the brick and mortar of the place, but because of the friendly faces that fill the hallways. All of these feelings of home exist because the principal, teachers and staff have created the spirit of home for not just Jack, but for all of the students.
I believe that the teachers and staff truly know my child. They know what motivates him and how to foster his interests whatever those may be, from the more common to the more unique. They've grown his confidence by building upon his natural talents and interests be it art, science, reading or social studies. Jack considers the greatest achievement of his lifetime to be the day that he ran 100 miles in a PE program. He spent years working towards that goal. Those teachers and that program provided a defining moment for this kid, just as there are so many defining moments created during these years at school.
The secretaries somehow managed to know his name and our names and cheerfully tracked him down for me so many times when I was worried that he was lost at school pick up. He was always there, just delayed at his locker. I never needed to be worried. Jack was never lost. The adults in his school don't just see my child, they know him and see right into the heart of who he is.
The teachers and staff have taken the time to know not just Jack, but to truly know us as an entire family. I'll never forget the hug that his first grade teacher gave me on the eve of my youngest child's birth day. It was the day before school started and I had just met her twenty minutes earlier. I was scheduled to give birth to Jack's youngest sister on his first day of first grade, so my heart was in two places. In fact each and every day that I send my child to school my heart is in two places. As seasoned nurturers, the teachers know this and have reassured me that their arms are more than capable to protect and carry my most precious cargo.
While Jack has grown up with the teachers and staff over the last six years, my husband and I have also grown up as parents. Jack is our oldest child, so I've spent over half of my lifetime as a mother in a partnership with these teachers. The teachers have provided patient support as I've found my own footing in these tricky waters of parenthood. I still cringe when I remember how I asked his kindergarten teacher about not just the school-related subjects of reading and phonetic awareness, but also about the non-school-related subject of riding a bicycle with two wheels. She gave such a sincere response that I took it to heart as if it came directly from a parenting book. Be it good feedback or not-so-good feedback, my husband and I have taken every comment, every grade and every thought that the teachers have expressed on behalf of our children as true words of wisdom from the experts that they are.
I know these amazing individuals have their own families to grow and nurture, but I hope they understand what an important place they hold in our family and so many families in the community.
Because of them, our children will navigate the world and the people and experiences they encounter in a particular way. As my son pulls upon the memories of his school years and the lessons he learned at that time, a part of every one of his teachers will be in him as he gives, parents, teaches, leads, follows, travels, goes, stays, advises and listens.
To these wonderful teachers and staff -- you are among the heroes of my son's childhood. Thank you for what you've instilled, what you've preserved and what you've inspired! When Jack entered the kindergarten door six years ago he brought a piece of my heart into that school. And when he exits the 5th grade door in a few weeks, that same piece of my heart will stay and remain with all of you. Thank you.