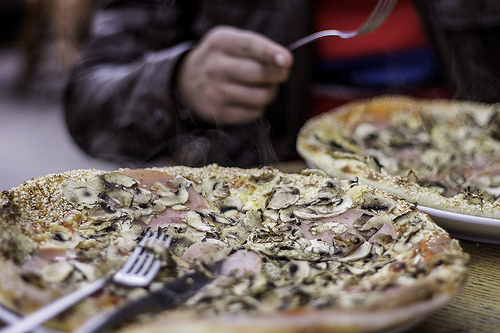 I have to admit you are right, Christian Mingle; it can be tough out there on the dating scene, trying to find someone who shares your interests and core beliefs. And your success rate at allowing like-minded people to reach out and connect with one another is indeed inspiring. However, I am delighted to report that I have already found God's match for me, and it is pizza.
But don't worry, it's all good, because I feel pretty certain that God really did intervene in helping me make the life-affirming choice to hook up with pizza as my soul mate. First of all, it was comfortable and real, because pizza and I had been together so long already. Then came the morning when I opened the fridge and there she was, cold and congealed from the night before, yet every bit as lovely. (I can't believe I'm getting all teary-eyed just remembering it.) In fact, it seemed almost as if she was more beautiful with the thin slices of pepperoni now virtually grafted into the hardened layer of mozzarella; with the now seemingly impenetrable crust she often uses to try and hide from the world when left overnight.
I don't feel at all ashamed to say that pizza revealed itself to me spiritually in that moment, and I thank God for making me aware enough to see it. And my relationship with pizza grows more profound each day. The moment of revelation in the iciness of the refrigerator was followed by a new and profound realization: that pizza yields even more to my heart when she's hot.
I hope you don't mind if I quote from Corinthians, but I would like to share with you how much this well-known passage applies to pizza.
Love is patient, love is kind. (So totally pizza)
It does not envy, it does not boast, it is not proud. (Like pizza would even think of doing these things.)
It does not dishonor others, it is not self-seeking, it is not easily angered, it keeps no record of wrongs. (Pizza, pizza, pizza, pizza.)
Love does not delight in evil but rejoices with the truth. (There is no way that being amazingly delicious is evil, and that's the truth.)
So, anyway, like I say, big ups to your whole organization and I think it's awesome that good people can find a safe and loving place to make meaningful connections. I, however, am one guy who will be taking myself off the mingle market. It would be dishonest to string anybody along and claim that I am still looking for God's match for me when I have so clearly found it already. And besides, if I was to misrepresent myself, how could I ever look pizza in the eye again?
I'm so grateful for being guided toward knowing that my lifelong relationship was meant to be with pizza. It's my little slice of heaven.
More of James Napoli's comedy content for the Web can be found here.