"A family needs a father to anchor it."- L. Tom Perry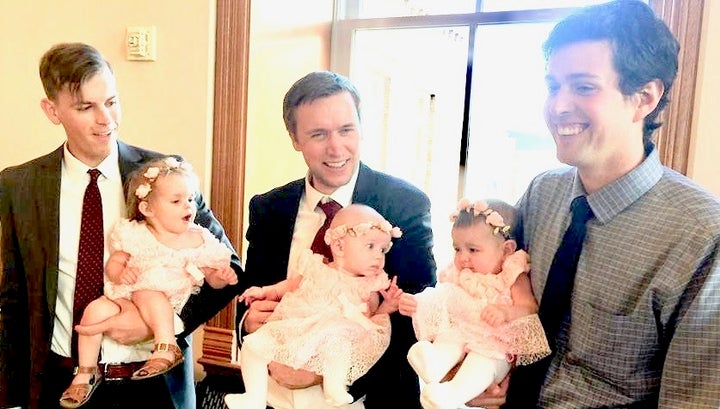 A few years ago I was jogging at a resort in Laguna Nigel. My feet fairly flew down an enormous hill of gradual, curving descent that ran parallel to the beach. The sun was high and the sky a brilliant blue, showcasing fluffy, billowing white clouds. Was this heaven? No, it was Iowa* California. But it kind of felt like heaven, because every few minutes or so, I passed a similar scene: dads playing with their children. There were dads building castles in the sand and dads wielding gentle and loving command. Lots of waves were crashing and dads and kids were splashing. This is starting to sound like Dr. Seuss, but with his love for children, he would have fit right in on this beach.
Each "Dad vingette" brought a few tears to my eyes. I love dads. I love my son and sons-in-law who are outstanding dads. I love my Dad. I love the dad who did a terrific job raising my husband, the best dad I know. When the kids and I would ask my husband what his favorite part of each work day was, his answer was always the same: "Coming home". This was when his favorite job-being a fun, loving, patient and kind dad-began. He isn't perfect, but the kids and I think that he is not all that far away:). He is a standard bearer for dads.
Good, Trying Hard Fathers of Young Children,
Are you some of the best things that have ever happened to humanity? Decidedly, Yes.
Studies indicate that with you, fully installed and well operating inside your families, wonderful things are far more likely to happen. These include:
1. Your children will have better verbal skills, intellectual functioning and greater academic enjoyment and success.
2. Your children will be more emotionally secure. They will struggle with fewer physical and mental symptoms associated with stress, including anxiety. As they grow older, they will make better social connections.
3. Your children will be able to better use humor as a smart strategy for dealing with the challenges of life.
4. The fun "roughhousing" to which you are naturally drawn will help your children learn how to regulate their feelings and behavior.
5. The cherishing of your daughters will impact their positive sense of self worth, and help them to find men to marry that will also cherish them.
6. Your children will take healthy risks and be better at thinking independently.
7. Your sons will follow your fathering footsteps, changing generations, and thus the world, for good.
You rock!! You are steady rocks. Your families lean on you and look to you for protection and provision, for guidance and love.
Without you, as you likely know, families suffer.
In 1960, only 10% of families did not have a father in the home. Today, this is the case for over 40% of families. Studies show that children from fatherless homes are far more likely to be poor, to become addicted to alcohol and other drugs, and to serve jail time. Even obesity is now indicated as a possible connected outcome of growing up in a fatherless home.
Please know how grateful we are. You may not always get the recognition that you deserve. But society depends on the millions of small, unheralded things you do every day to bless the lives of your families. You helped to create life, and then you spend your lives helping others create beautiful lives worth living.
We also have a Dad we can't physically see: our Heavenly Dad. Millions of people don't get to have a good connection to their earthly fathers. But there can be great comfort in having a connection to the father of our deepest selves: our spiritual selves. We all have a mutual father in heaven, the father of our spirits, our Heavenly Father. He is always looking out for us. He is always good. We can trust Him. We don't remember Him well right now, because we were sent here to earth to walk by faith. There is a "veil" between us. But "whispers" can reach through the veil. Life is short for us all, and we will see Him again.
This is one of my favorite quotes:
"Nothing is going to startle us more when we pass through the veil to the other side than to realize how well we know our Father and how familiar his face is to us." ***
How great will that be? We'll be home, all the way home to heaven. Home is where all the families gather. All of the dads we have have ever loved will be there.
So keep up the great work dads. You change the world for the better.
Your love reminds us of heaven.
Thank you for trying to bring some heaven home, every day.
P.S. Here is a Father's Day video for you (I love this!!):
P.S.S. For fun and funny reading for dads or future dads, check out this link to The Art of Manliness Blog below:
*Field of Dreams movie reference
**https://www.psychologytoday.com/blog/the-long-reach-childhood/201106/the-importance-fathers
***("Jesus Christ—Gifts and Expectations," in Speeches of the Year, 1974, Provo: Brigham Young University Press, 1975, p. 313.)