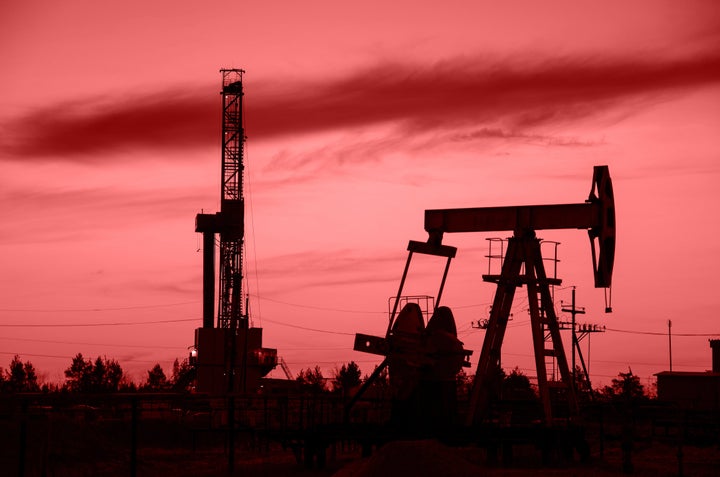 Cudos to the Democratic senators who voted as a bloc, the three Republicans who joined them, the disabled protesters participating in a die-in in front of Mitch McConnell's office who were dragged from their wheelchairs by capitol police, and the countless Americans who called and faxed and wrote letters and tweeted and rallied and marched and lobbied. Now, it's time to do it all again, only this time to save the planet.
It'll be hard. There is no one bad idea, no single terrible bill or vote to organize around. There are lots of them. Saving the planet will require more than getting the U.S. back in the Paris Climate Agreement or stopping the Interior Department from sacrificing millions of acres of public lands for fossil fuel extraction.
The planet is suffering death by a thousand cuts. We must provide the triage needed to stop the considerable bleeding yet find ways to do more than simply stabilize the patient. We must find ways to make it stronger than it was before the assaults began. To succeed, we must leave the planet as invulnerable to future assaults as possible.
Too often, crucial wins for those of us who fight fossil fuel extraction and infrastructure projects amount to nothing more than maintaining or restoring the status quo. A pipeline didn't get built. A state banned fracking before it began. A bad policy was never implemented. A polluter was forced to pay to remediate the environmental damage they'd already done. It is impossible to even begin to calculate how much blood, sweat, and tears have gone into every one of those victories. Their importance is not to be diminished in any way. We absolutely need to keep fighting and winning those battles. It's just that those victories won't stop the planet from warming to catastrophic levels at this point.
We need to stop defeating pipelines, wells, and mines and make them obsolete instead. In other words, we need to build what's next.
Mitch McConnell will be bringing S. 1460, the Energy and Natural Resources Act of 2017, to the floor any time now for a vote. It's a dreadful bill, as one might expect, but it's more than just a bad bill. It's a bad bill created with no other context than the fossil fuel industry's wish list. And since it was written with the industry in mind, it's no surprise that it lays out no vision for what's next. In fact, the renewable energy portion of the bill doesn't mention solar or wind. Some provisions are just downright terrifying, like the one that allocates $35 million to research and development of methane hydrates, a terrible twofer that would release massive amounts of methane into the atmosphere after damaging oceans to extract it.
Among the things S. 1460 does is expand the authority of the Federal Energy Regulatory Commission. A pair of bills that just passed the House expands its authority, as well. One of them takes away the presidential authority over U.S. border crossings that Obama used to stop the Keystone XL pipeline and gives it to FERC. The Senate bill would require other federal and state agencies involved in pipeline reviews to "give deference" to the commission's review. All of this is coming at a time when the commission is under pressure by Senator Maria Cantwell and Representative Frank Pallone, ranking members of the Senate and House energy committees, to more fully investigate the colossal construction failure by Energy Transfer Partners on its Rover pipeline that has spilled millions of gallons of chemical-laced drilling mud in Ohio. FERC approved the pipeline as one of its last acts before Norman Bay's departure in February. The five-member commission has been without a quorum since then and lost its fourth member at the end of June when Colette Honorable's term ended.
A coalition of more than 200 organizations has been calling for congressional hearings into the commission that has rejected one pipeline in the 30 years it has been tasked with reviewing natural gas pipeline proposals. FERC's track record is just one of many concerns the coalition has raised. Among others is the commission's position that addressing climate change is not in its purview.
Things will go from bad to worse at FERC if President Trump's nominees are approved by the full Senate, another vote that McConnell could schedule any time now. The two nominees who have already been through their hearings before the Energy and Natural Resources committee are rabidly pro-fossil fuel.
And so we find ourselves in the all-too-familiar position of needing to fight like hell to maintain the status quo. We need to defeat S. 1460. We need keep Neil Chatterjee, Robert Powelson, or any pro-fossil fuel nominees from being given the power to approve the pipelines that will guarantee continued development of the fossil fuels that will do us in.
If the countless Americans who took action to save healthcare speak out now, we can do much more. We can demand better of our government. We must. We get no do-overs on climate. We don't get to set the clock on climate. We have no time for partisan wrangling over what is politically "gettable" when it has no relevance to what we actually need. We have no more time for a dreadful energy bill than for a slightly better one that nibbles around the edges of the problem.
We don't need an industry wish list and a cast of characters in Congress or on commissions who'll do everything to fulfill them. We need an energy plan and must demand nothing less.
Calling all HuffPost superfans!
Sign up for membership to become a founding member and help shape HuffPost's next chapter
BEFORE YOU GO