As we grow into independent women, we often have a fear or hesitation about becoming our mothers or hearing her "words come out of our mouths" I, however, never had any resistance to growing up and "turning into" my mother.
My mom is an incredible woman. Her peers admire her and her family thrives because of her strength. In my eyes, my mom is a hero and I'm not alone in this view. Her students love her and cry when it comes time to leave her class. Her community respects her generosity and regular contribution.
She didn't have anything handed to her, yet she built a life around her values and priorities-a life full of love and adventure.
I was privileged to be raised by such a mother and, it is only fair as we celebrate Mother's Day, that I share some of the most important things I've learned being raised by a strong woman. And many of these things have impacted my success as an entrepreneur.
1. Being resourceful is the key to achieving anything
As an entrepreneur, you know that resourcefulness is your greatest resource. I learned that at a young age, from how she worked all through her teens in the cafeteria to pay her own tuition so she could attend the private high school, to the way my mom could find a coupon for anything everything while raising three kids.
Even if there is a lack of conveniently available resources, this is not a reason something can't be done. This simple concept has dramatically impacted the way I approach a challenge in my business. Resourcefulness can be the difference between being stuck in scarcity or finding a way through the greatest obstacles in front of you.
2. Go above and beyond, do more than what is expected of you
One great memory I have of my mom is when I went to school with her (she's a high school Special Ed teacher) on the last day of class one year. She moved all of her kids from their small classroom into a conference room and she had a little ceremony where each of the kids in her class got an engraved trophy with a "most improved in" mention. She gave a little speech on the remarkable growth each student had made during that school year and then handed them their trophy with their name on it, all of their classmates applauded, and it was wonderful. Wow, no wonder I'd been hearing all my life that everyone loved my mom at her school!
My big takeaway from this experience was the importance of going above and beyond, versus just doing what is expected or asked of you. People will never forget how you make them feel through a personal gesture of recognition. This is why I spend a small fortune sending personalized gifts to clients and sending handwritten cards to students in my courses. I now call some of my most dear clients great friends, I have formed lifelong relationships, and receive word-of-mouth referrals creating opportunities one can only dream of in business. I attribute a lot of this from my go-above-and-beyond approach, which I learned from my superstar mom.
3. Be independent
Not only did I attend an all-girl liberal arts high school, my mom also attended that same school herself. If there was one thing the feminist in my mother taught me, it was the importance of always being able to support myself, so I didn't have to be dependent on someone else.
Like in business, you have to be independent because you can't rely on someone else to "do your pushups for you." No one can create a business you love, except you. Having a deep-rooted sense of independence and an "I'll-figure-it-out" attitude has proved to be one of the greatest blessings on this journey of entrepreneurship. I realize that if I want something, the only person who can take action toward it is me.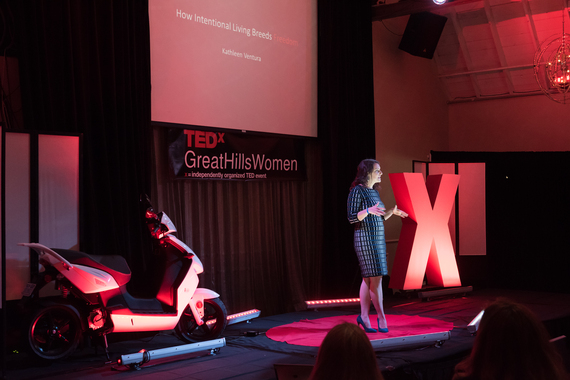 4. Prioritize education
My parents would have sacrificed just about anything for my brother, sister and I to have the best education possible. My mom's own education was also so important that she went back to school in her late 40s to complete her Masters in Education. (I was so proud to be at her graduation!) Through her example, I've never stopped learning and investing in my own education.
I have prioritized trainings and workshops in order to build a toolbox of refined coaching skills that have helped me stand out in my industry. I consume education every single day on successful business practices through all avenues possible-mentors, courses, books, masterminds, classes and conferences. Prioritizing learning and education throughout my life has enabled me to confidently step into my power and bring my work to the world.
5. Don't let the little things stop you
This is one of those simple little lessons that has a huge influence on perseverance in times of adversity. My mom believes in being able to laugh at yourself and not taking things too seriously. This is one of those lessons that was taught through her behavior more than her instruction. In business you are going to hear "no" more often than you hear "yes", there are going to be lots of little things -from negative comments on a blog post to being turned down for a speaking gig opportunity- that can stop you if you allow them to do so. I learned long ago that there is no point in giving those little things a second glance.
6. Get away from the negative people
The funny thing is, I now preach this to my own tribe of empowered women on a regular basis! When you are on the journey of life chasing big dreams, there is zero space for negative people with toxic energy. My mom's example of having a no-tolerance policy for negative people has always enabled me to make guilt-free decisions when it comes to gracefully stepping away from those kinds of people. Surrounding myself with winners has no doubt been one of the defining reasons I've experienced rapid success.
7. Surround yourself with amazing friends and nurture those relationships
This was another thing I learned from my mom by the way she behaved more than something she actually said. She always prioritized quality relationships with her girl friends. She has groups of friends from high school, the church community, work and the neighborhood that still get together regularly, attend each other's kids' weddings and bring homemade meals over when there is a death in the family.
I am blessed because, since I have also prioritized strong relationships with women in my life, I now have some of the most inspiring successful women in my industry as dear friends. Not that these friendships are in someway directly advantageous to my business's success, but they are the ones who genuinely understand me and we authentically support one another.
8. Always try new things
My mom was one of a few women from her university who did her student teaching in Europe (long before Skype was a thing), she volunteered at homeless shelters and the NICU unit at the local hospital, she jumped off a cliff attached to nothing but a bungee cord in Costa Rica with me and walked the Disney 10k dressed up like Minnie Mouse last year.
I have been more willing to try new things as an entrepreneur because I grew up trying new things constantly-from teaching English in Central America to riding my bike across the U.S. In business, you must be willing to step outside of your comfort zone pretty much every single day. Having such an amazing mom has everything to do with my success in the world of entrepreneurship and beyond.