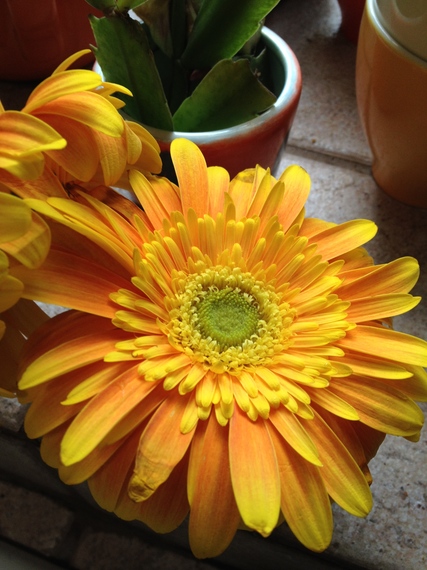 Before we became parents, we had parents. I'd be lying if I said my mom and I had an easy relationship. It was often contentious, frustrating and hurtful. (As much for her, I'm sure, as it was for me.) But we also knew how to be good together.
She's been gone 20 years, and now that I'm Granny Annie, I think about Mom more often. And always in the spring. The fact that I love and care for a garden comes from being her daughter. Maybe it seems a small thing to know a freesia from a forsythia, a hydrangea from a hyacinth. But let me tell you something: My acute awareness of plants provides me -- no, compels me -- to pay attention and celebrate color, light, form and fragrance. If they were all "just flowers," I'd miss most of the show. Seeing at that level ain't small potatoes, so thank you, Mom.
In honor of Mother's Day, I crowd-sourced the following question: What lesson has your mom left in your head and heart? Here are a few of the gems I got in reply:
Don't take too long to shuffle the cards. It drives people crazy.
Don't be so dramatic.
Don't be like me.
Don't waste money, water or electricity.
It can't hurt to ask.
Be kind to children.
Always put your best foot forward whatever you do.
Go for whatever you want in life.
Creativity is a good thing.
Do for each of your children what they need.
When you go to dinner at someone's house, bring some cake.
When you get a gift, write a nice Thank You note. Do it now!
Taste it, you might like it.
Enjoy life today, you could be hit by a bus tomorrow.
Aging is in the mind of the beholder.
Always remember you are beautiful and you can do anything.
I believe that people, including our parents, come into our lives for a reason. Even in a less-than-wonderful childhood, there are positive lessons we can take from our relationship with our mother. In honor of Mother's Day, why not acknowledge the helpful things you learned from Mom? Now think about the long and short-term choices you make in relation to your own children. That's a legacy you're handing them. Hopeful it's a life-affirming one.
REAL LIFE. REAL NEWS. REAL VOICES.
Help us tell more of the stories that matter from voices that too often remain unheard.