WASHINGTON ― In his final speech as president, Barack Obama issued an impassioned call to action and urged Americans to be wary of several "challenges to our democracy" in the coming years.
Speaking to thousands of people in his hometown of Chicago last week, Obama reiterated a central theme of his presidency ― that "change only happens when ordinary people get involved, get engaged and come together to demand it."
At Thursday's sold-out "Thanks, Obama" event, whose name is a tongue-in-cheek reference to a popular meme about the president, hundreds of supporters and well-wishers gathered near downtown Washington to applaud him on his final day in office. Most attendees who spoke with The Huffington Post said they took the president's words to heart, saying that they planned to organize and stand up for their rights during Donald Trump's presidency.
"When I was first hit with the despair of the results of the election, I immediately thought, when I've had times in my life when I've had similar despair, the thing that got me through that was to take action ― to take positive action every single day," said Maria Illingworth, a Virginia artist who brought her two young daughters.
Illingworth wasted no time after the election. She immediately signed up to work at a domestic violence women's shelter and volunteered for a Meals on Wheels program to help take care of the elderly ― groups she said she believed wouldn't "thrive" during Trump's presidency.
"Yesterday, I spent an evening with the Democrats of Arlington County," she added, who were hoping to combat impressive Republican gains across local and state party offices across the country.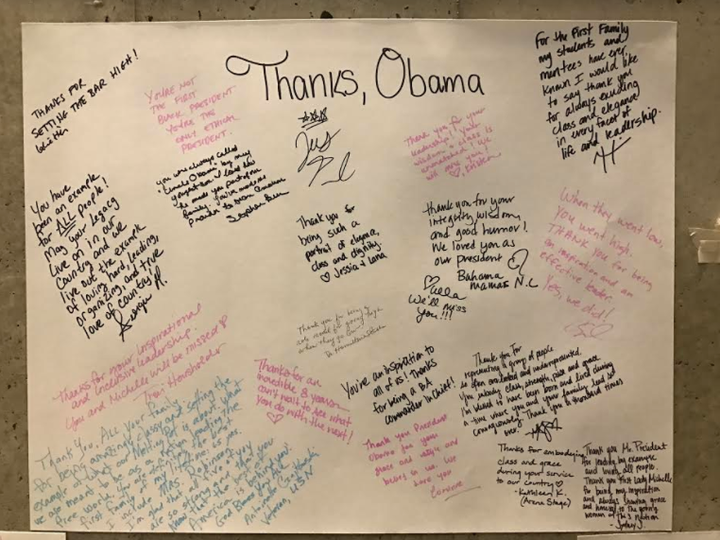 "Thanks, Obama" was the brainchild of Bejidé Davis, a 29-year-old attorney in New York City, who wanted to express her gratitude to the president with a friendly gesture ― a "clap out." After last year's Democratic National Convention, Davis created a public Facebook event hoping to draw some of her friends. By the election, tens of thousands of people indicated they wanted to attend.
"It really started to resonate with people: 'This is more important now than ever, we have to thank him while we can,'" Davis told The Washington Post last week.
More than 700 people gathered Thursday at the Arena Stage theater to give Obama one final thanks. They wore "Thanks, Obama" T-shirts and Obama campaign pins, hats and stickers. Many wrote notes of appreciation on a "thank you" wall set up by organizers, crediting the president for his example as a good father and his work on issues such as LGBTQ rights. On social media, many used the hashtag #ThanksObama to express their appreciation. A Snapchat "geo-filter" was also set up for people to share photos with their friends.
At one point, a Hawaiian dance took place in honor of Obama's birthplace. The band also played Bob Marley's song "No Woman, No Cry," but incorporated the lyrics "No Obama, No Cry" instead.
At 7 p.m., Davis led the crowd in a sustained and thunderous standing ovation in honor of the president. The clap-out was streamed live on Facebook, Instagram and Periscope to users across the country.
Rose Amolo, a consultant who immigrated to the country from Kenya, said she didn't believe America would see another president like Obama. She added that she would heed the president's parting message.
"I'm not sitting on the sidelines," she said, explaining that she intends to become involved in advocacy groups focused on protecting women's reproductive health rights. 
The president's words didn't inspire everyone to action, however. A young woman who identified herself only as "Sam" said she appreciated the "science nerd" in Obama. As a professional working in the medical research field, Sam described the president as a kindred spirit. In coming years, she said, she would focus on being "a very rational voice to the forefront of different conversations, particularly in science, to make sure rational voices aren't squashed."
But Sam said she probably wouldn't engage in the kind of action the president described ― the same kind of energy and organizing Democrats will need from young people if they are to regain their political footing. 
"It's just not what I usually choose to do," she said. "I don't like convincing people of my opinion. I don't like putting my opinion on other people, I guess."
Calling all HuffPost superfans!
Sign up for membership to become a founding member and help shape HuffPost's next chapter