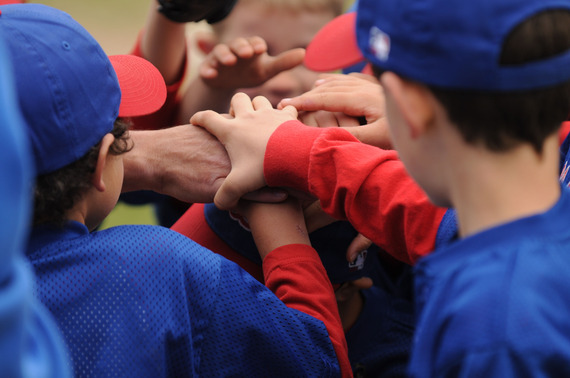 A little over 30 years ago I happened to be reading Newsweek magazine. When I reached the back page, there read the headline "Strike Out Little League" by Robin Roberts.
Robin Roberts was a Major League Baseball starting pitcher who pitched primarily for the Philadelphia Phillies (1948-61). He spent the latter part of his career with the Baltimore Orioles (1962-65), Houston Astros (1965-66), and Chicago Cubs (1966). He was inducted into the Baseball Hall of Fame in 1976. He died in 2010.
That article in Newsweek changed my life. Having seven kids, who all grew up playing youth sports, and my wife and I seeing a lot of things that we didn't like, I couldn't wait to read the article. There was one quote by Mr. Roberts that really stuck with me. Mr. Roberts wrote: "More good young athletes are turned off by the pressure of organized Little League than are helped. Little Leagues have no value as a training ground for baseball fundamentals." I knew from things that happened when our kids played that there were some obnoxious and overbearing parents, but by and large they had a great experience playing youth sports. I wondered why he was so negative about kids' sports programs.
About this time, I was the administrator for a youth sports organization in Wilmington, Del., that had about 15,000 kids in all sports on a year-round basis. I would begin to hear and see stories about coaches and parents that mirrored Robin Roberts' comments. Coaches would get completely out of control while berating the officials and preaching win-at-all-costs to kids as young as six years old. Parents would drive their kids unmercifully in the desire to see them make it to the professional level in sports.
Mr. Roberts gave me the courage with his comments to know that I wasn't alone while thinking to myself, "How do we let this nonsense go on?"
I wrote to Robin Roberts to tell him how proud I was that he would have the courage to come out and tell people what needed to be said. I told him that his comments in the article gave me the motivation to take action and do something about it. I never heard back from him and, for reasons I felt later on, the reason he never responded to me was that he must have borne the burden of hearing from many people who criticized him for attacking an American institution like Little League Baseball.
Not long after reading the article, I came to the decision that someone needed to address the issue of parent abuse of kids in sports. Enough was enough. My first step was to create a training program for all parent coaches in the leagues. I even mandated it for the close to 800 volunteers in our program in Wilmington. The idea was met with bedlam and the leagues threatened to boycott the program and in addition have me fired. My bosses backed me up and the program went on. That was more than 30 years ago and I'm proud to say that the coaches training program continues today. It's not about telling parents how to coach the Xs and Os of sports but more so on how to keep sports in perspective for kids while keeping it safe and fun.
That program in Wilmington was the forerunner of what is today the National Youth Sports Coaches Association, a training program of the National Alliance for Youth Sports that has reached more than 3 million parents and coaches in youth sports, urging them to make sports safe and fun for kids.
I often wonder if Robin Roberts ever knew that, at least for me, he was the impetus of helping change the attitudes of those parents who ruin, for so many kids, what would have been a great, fun experience in their lives. Thanks to Robin Roberts parents today are more informed that sports for kids is exactly that... sport for kids!
Popular in the Community