From the first day of freshman class in 1964, Sr. Robert Joseph showed her preference for poems over prayers. When she entered the room, thirty of us stood, made the sign of the cross and began the usual prayer, "O Jesus, through the Immaculate Heart of Mary…"
She stopped in her tracks and raised her hand. "None of that," she said. "Pass these down," handing out freshly minted mimeo sheets to every kid in the front row. The familiar smell of fresh ink wafted through the classroom as we distributed the papers.
On the sheet, in perfect Palmer Method handwriting, were the days of the week. Under each day was a short poem. Emily Dickinson, e.e.cummings, William Shakespeare, Christina Rosetti, Elizabeth Barrett Browning. Our job, she informed us, was to stand up every day at the beginning of class and recite the poem of the day. No prayers.
Within a month or two, we had memorized them all. We quoted snippets in our out-of-school conversations with burgeoning pride. The boys on Craner's Corner would sometimes utter a line from Shakespeare just to show off when the girls walked by.
On a cold March day, we all stood when the bell rang and started to recite from e.e.cummings:
i thank You God for most this amazing day:for the leaping greenly spirits of trees and a blue true dream of sky; and for everything which is natural which is infinite which is yes
(i who have died am alive again today, and this is the sun's birthday; this is the birth day of life and of love and wings: and of the gay great happening illimitably earth)...
Halfway through, Sister Columbine, the principal, entered the room. When we finished the poem, she announced that Sister Robert Joseph would be gone for a few days. She had flown to Alabama and joined the march from Selma to Montgomery with Dr. Martin Luther King. Everyone gasped. She was solemn. Not pleased. Not proud.
Our own city had erupted in race riots that year, and violence between the students at St. Anthony's and Roosevelt High was so severe we had police on the streets keeping whites on one side and blacks on the other. The school district changed the times our schools were let out, and forbade any lingering along the way.
The news coverage from Selma was terrifying. We watched the evening news as fire hoses and dogs were let loose on the marchers. Pictures of hatred filled the newspapers. We were stunned and anxious till she returned to our homeroom, the hem of her habit tinged with dirt, her shoes caked with the dust of Alabama soil. Sr. Robert Joseph had been warned not to talk about her days on the march, so the class went on as if nothing had happened. But silence about an incident never weakens its pulse. It was a pivotal moment in the lives of her students—where we learned the meaning of "turn the other cheek" and where we watched someone show us how to be "our brother's keeper."
Years passed. The imprint remained. Sister Robert Joseph and I reunited and began a deep and beautiful relationship. After twenty years a nun, she left the community. She reclaimed her birth name, Margaret Lalor. We traveled through Europe. We worked in factories together, crossed the country together, forged a living together. She was my partner, my mentor, my mirror.
She turned eight-four the other day and I called her to ask what happened in Selma. She said she was afraid most of the time, with police everywhere eager to arrest. "And the march was so tiring. I'd have to sit on the curb every once in awhile, just to take a break."
"Even in the airport, when the march was over, the police were rounding up and arresting people," she said. She was afraid and huddled in a corner when Coretta Scott King came over and took her hand. She walked Sr. Robert Joseph over to Martin Luther King and asked his men to disperse and make room. "Martin, this sister wants to meet you."
Dr. King took her hands and asked one thing, "Where have you Catholics been?"
Margaret and I are no longer Catholics, for it's a church whose doors are closed to some, and we are among them. Social justice has not penetrated that fortress and probably never will. Ensconced in a memoir that tells this story, I went looking for an image to illustrate the piece. I wanted something better than the yearbook headshot, her face framed tightly in her Josephite habit.
I googled "nuns in Selma" looking for a generic shot of nuns in the march. I went through dozens, many of which I'd seen in print, decades ago, when the issue was live. Just when I was ready to give up, I clicked on one last image and there it was, her in the flesh, Sr. Robert Joseph sitting on the curb, an icon for justice, flag in hand.
None of us can literally connect the dots in our lives, but we do know, and we will never forget, the sparks that kept our own flame burning. I would not be who I am today if Sr. Robert Joseph hadn't marched in Selma. I would not have become a social activist. I would not have learned that faith is a verb and calls for action. I would not be writing a memoir were it not for those poems, those lines that guide me: "I thank you God for most this amazing day" and "All is not taken, there are left behind living beloveds…"
God is a presence that shapeshifts constantly, but Margaret Lalor is one of those living beloveds I will cherish always.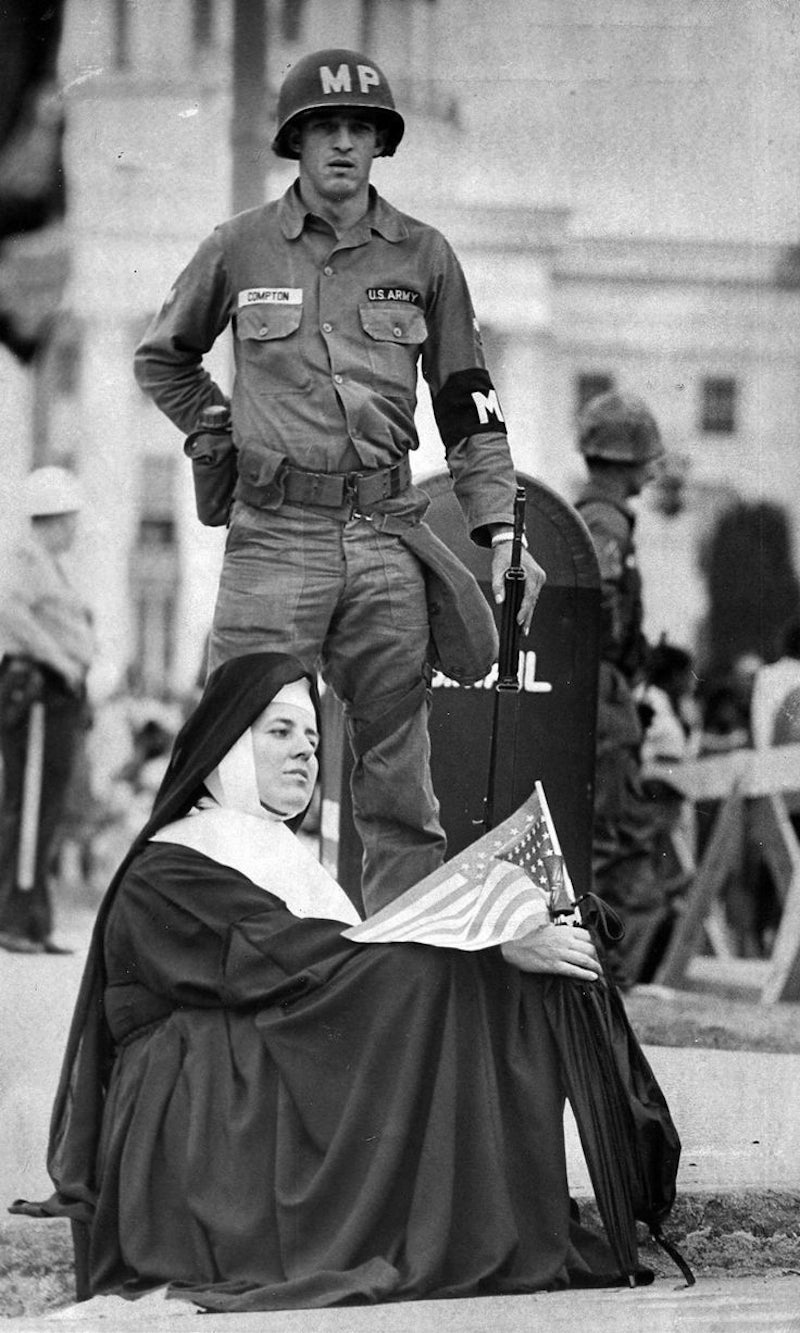 REAL LIFE. REAL NEWS. REAL VOICES.
Help us tell more of the stories that matter from voices that too often remain unheard.
This post was published on the now-closed HuffPost Contributor platform. Contributors control their own work and posted freely to our site. If you need to flag this entry as abusive,
send us an email
.