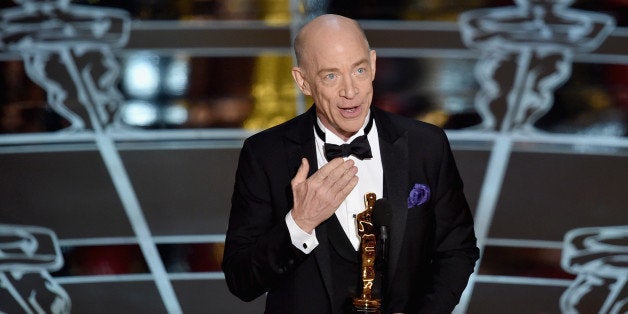 This year's most interesting Oscar acceptance speeches ended with references to issues like suicide, wage equality and equal rights for women, racism and whistleblowers. The awardees who took that route produced some great lines. In accepting the award for Best Adapted Screenplay, for example, The Imitation Game's Graham Moore urged emerging gay youth to "stay weird, stay different." In accepting with Ellen Goosenberg the award for Best Documentary Short, Crisis Hotline's Dana Perry declared that "we should talk about suicide out loud."
If you understand Spanish, you'll have caught a member of the screenplay team for Birdman thanking all of Argentina. Someone on that same team thanked a dog too, which raised them in my estimation. What another speech lacked in eloquence, it made up for with humanity. In accepting the award for Best Supporting Actor, Whiplash's J.K. Simmons enjoined us to call our parents. We're not to text or email them. We're to use our phones. (Sprint helpfully offered to cut our Verizon bills in half during the show.) Simmons seemed to realize after all this that he hadn't yet thanked his own parents. Rather than calling, he went ahead and did it right there on the stage in front of America. Do as I say, not as I do.
Another noteworthy speech came when Selma's John Stephens and Lonnie Lynn accepted the award for Best Original Song. Perhaps there wasn't time for this, but Lynn (whose stage name is Common) made a beautiful analogy between the change our country needs and the Edmund Pettus Bridge where Martin Luther King Jr. marched. Contrast Lynn's comments with another speech that broke acceptance speech grammar. In accepting the award for Best Live Action Short, The Phone Call's Matt Kirkby and James Lucas tossed in Britishisms like "crikey" and "buggers." But they rambled, trying too hard to seem nonchalant, and their speech was dull. I think most were.
Why are so many acceptance speeches so dull? As a linguist, I suspect it's the grammar -- the rules dictating their composition. That awardees are supposed to get to the stage and speechify in under a minute means that this grammar doesn't have many moving parts. The vocabulary isn't much to speak of either.
Thank everyone you can think of. Never mind using notes you've prepared ahead of time or memorizing your list. (In the case of the acting professionals, this seems astoundingly short-sighted. But it's part of their speech act.) Stumble about instead, charmingly if you can manage it. Start with the Academy of Motion Picture Arts and Sciences, hit a few colleagues and supporters related to the film itself, and then move to your own family. If you're a fast talker, are willing to jettison some individual thanks or brave enough to quarrel with the orchestra, comment on a social issue (ideally related to the film in some way).
In addition to the brave ones in the 2015 cohort who referred to social issues, I'd like to mention Reese Witherspoon's 2006 acceptance of the Best Actress award for her work in Walk the Line. The speech was long and breathy, and it followed the grammar. But at the end, Witherspoon used a June Carter quote to great effect. Apparently, Carter responded to questions about how she was doing with "I'm just trying to matter." Witherspoon applied that line to herself and wrapped up very graciously. Rhetorically, this speech moved around, and that made it interesting.
But short might be safer. Among my own favorite examples of extreme brevity is Alfred Hitchcock's 1968 acceptance of the Irving G. Thalberg Memorial Award. He leans in to the mic after a very slow approach to it and intones "Thank you." Then, foiling both his escort and the orchestra, he leans in to the mic again, adding "Very much indeed."
Alas, most awardees follow the grammar. Still, I'd rather watch the Oscars than the Super Bowl. For me, the latter is hours of boredom interspersed with a few commercial highlights. The Oscars, on the other hand, is hours of entertainment interspersed with a few dull acceptance speeches.
Popular in the Community