My boyfriend once gave me a watch for Christmas. I broke up with him. I hate watches. Boyfriends are supposed to know if their girlfriends are scared of time. Now, many Christmases later, I realize he probably bought it in a moment of last-minute despair. That's how obligatory gift giving goes. We think forever about the perfect gift, we try to go personal, and then we're out of time and we buy a watch. Or a candle. Or a picture frame.
I've always wanted to be that really considerate gift-giver who notes each friend's nuances and under-the-breath comments that lead to responses like 'How did you ever remember I love Gérard Depardieu posters?' or 'Oh wow, I've always wanted a Japanese egg boiler!'
I'm not that person. Last year I gave everyone a scarf. And this year I'm stuck again. There are too many alcoholics in my family for wine, and I can't tell if the Obama Chia Pet is racist. I'm at a loss, and it's eating away at me in a very unnatural way.
The wise men should be ashamed of themselves for spawning this commercialized gift-giving season. As the first Christmas gift givers, they set a horrible precedent. Frankincense and myrrh? Come on! A baby does not need incense. And myrrh is an embalming oil -- absolute wrong occasion. Those had to be re-gifts or desperate en route decisions. Or perhaps the myrrh was one wise man's attempt at ironic foreshadowing. Either way, total white elephants.
Thanks, "wise" men. Now look where we are. We're stuck in a commercialized spiral of gift-giving, and we must give. The obligation has forced us to give less-than-thoughtful items: generics, if you will -- gifts you can store under your bed all year just in case. They work for everyone: Snuggies, bath soaps, teddy bears wearing Santa hats, chocolates, and, yes, scarves.
Nobody likes to open a generic. "Thanks for not thinking of me," they might say. Mary, after giving birth in a manger, surely felt slighted by the incense and embalming oil. I could think of, say, a hundred gifts better than frankincense and myrrh. A blanket, perhaps? A cot or chair? Maybe some aspirin for the lady who had just given birth naturally?
Those wise men surely got their due because, trust me, it's not comfortable giving a generic either. Once the box is opened, both parties know. They stare and share weak smiles. Hugs are exchanged. Then the giver usually changes the subject quickly to euthanasia or elephants. When my whole family opened those scarves last year, it was a room full of disappointment. I quickly struck up some Cambodian holocaust dialogue.
I'm not suggesting here that we're all materialistic and require elaborate presents. I'm suggesting that we all deserve thought. Because that's what counts. Since it seems like there's really no time to think in December, let's just forgo the presents. Let's get me and those wise men off the hook. Let's just be honest with ourselves and our families and say, "I'll get you something really meaningful when the time is right."

Or let's all just give cash.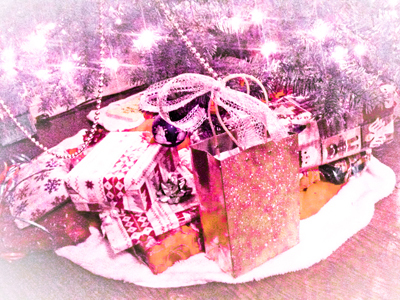 Photo courtesy of Adrienne Elisabeth Photography
Related
Popular in the Community