My ex got custody of Thanksgiving in the divorce. Our son would be spending Thanksgiving with his father in New Hampshire, and I'd be all alone on that special Thursday in November that Americans usually spend with family.
My friend Mark was in the same boat. On Thanksgiving, his daughters would be with his ex.
"Let's spend Thanksgiving together," I suggested.
We dubbed it "Divorced Person's Thanksgiving." It sure wasn't traditional. It wasn't a large family group, just the two of us. And it wasn't a feast. Both of us are light-eaters and mediocre cooks. The last thing we wanted was to spend the day in the kitchen. We did want to acknowledge the holiday, but neither of us liked turkey enough to want to actually cook one. However, Mark makes delicious chili. So we decided to go with turkey chili.
It turned out to be a lovely day. I read out loud to Mark as he cooked. The chili was outstanding. We relaxed in front of the fire with our books, then walked to the library where I work to empty the book drop. A stroll home was followed by coffee and pumpkin pie.
We did our best to distract ourselves from the fact that our kids weren't there. But I missed my son. (Although I can't say I missed getting stuck in holiday traffic, dealing with family tensions, and over-eating.)
That was 13 years ago. Mark and I have spent almost every Thanksgiving since then together. The turkey chili, over time, has morphed into vegetarian chili, and then vegan chili. And Mark and I, over time, have gone from being good friends to being more than just good friends. Otherwise, our holiday hasn't changed. We continue to enjoy a quiet meal, followed by an afternoon relaxing by the fire.
And emptying the library book drop has become as much a part of Thanksgiving as pumpkin pie.
I always miss my son on a day that's usually about family. (Although now that he's grown up and married, it's because he spends the day with his wife's family.)
But when Thanksgiving rolls around, Mark and I always enjoy each other's company, grateful for another good year.
Last year, because Mark was temporarily living in West Virginia, I realized that I'd be on my own for Thanksgiving. My sister's hospitable in-laws would undoubtedly have welcomed me to their table. (I'm not only good company, I'm a first class dish-washer.) But did I really want to spend hours on the road to get to Long Island, and spend the day in a large group, even a large group of people I love?
I'd come to relish my quiet, relaxing at-home Thanksgiving.
Besides, someone had to stay home to take care of Captain, the Yorkie-poo, to whom certain Long Island family members were allergic.
I decided that I'd get myself a fabulous turkey sandwich from the deli, and pumpkin pie from my favorite bakery. I'd get a turkey sandwich for Captain too. He'd be very thankful to sink his tiny teeth into some delicious holiday poultry.
Although I felt good about my decision, as Thanksgiving approached, I realized that, even though Captain can be excellent company, I was really going to miss Mark. Thanksgiving isn't just another Thursday. And while Divorced Persons Thanksgiving isn't the way most folks would choose to observe this holiday, if I didn't spend the day with Mark, it just wouldn't be Thanksgiving.
I phoned him. "I know it's a really long drive and you weren't planning on coming in for Thanksgiving," I said. "But I'm really going to miss you."
"I'll be there," he promised.
Once again, we enjoyed chili, and pumpkin pie, and each other's company. (And Captain enjoyed his turkey sandwich.) Our celebration may not be traditional, but my feelings of gratitude for this wonderful day surely are.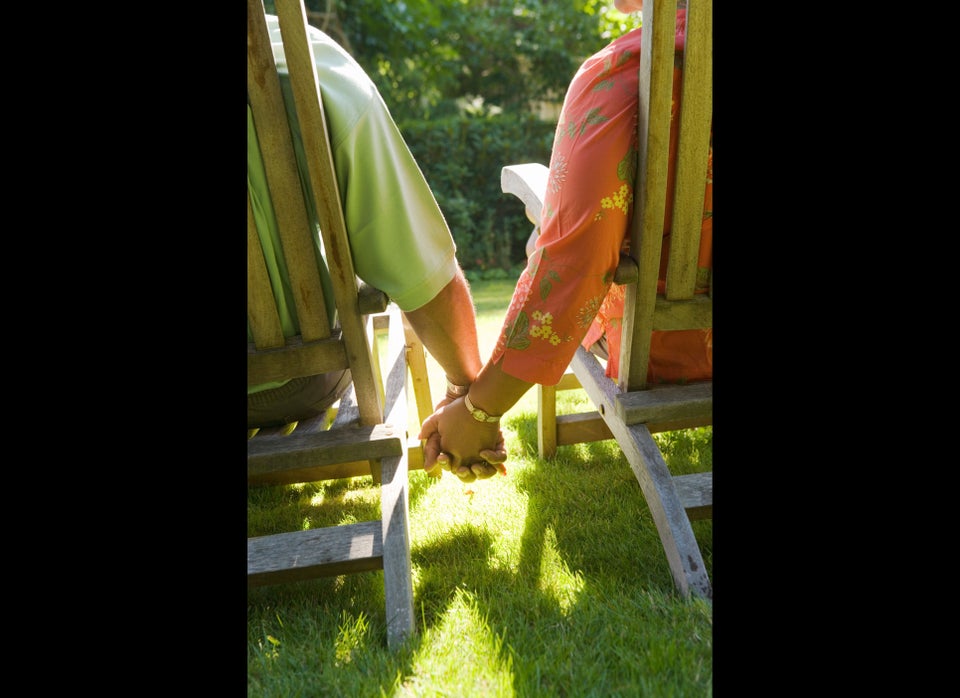 How To Tell Your Adult Kids You're Dating Again
Popular in the Community