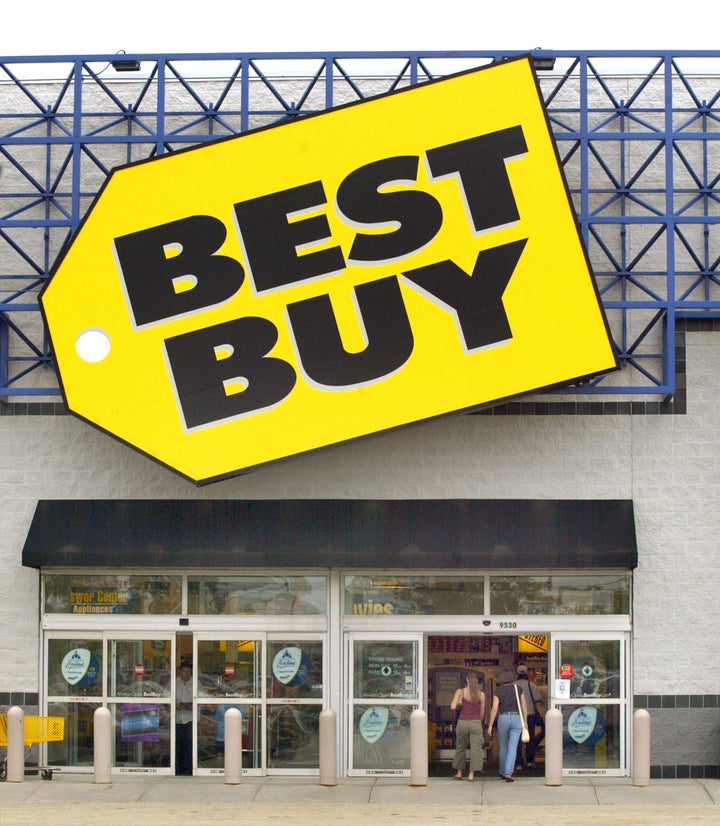 In yet another sign of worker frustration over a shortened Thanksgiving holiday, an employee at a Best Buy in Tampa has launched a petition against his employer's decision to open earlier for the Black Friday shopping spree this year, claiming the midnight opening time will eat into workers' holiday time with their families.
The petition on Change.org, attributed to 8-year Best Buy veteran Rick Melaragni, comes on the heels of a similar, high-profile petition launched last week by a Target employee in Nebraska. The latter petition has racked up more than 150,000 signatures.
Melaragni, who works as a Geek Squad technician, told HuffPost that he and his Best Buy co-workers were "blindsided" by the company's decision to open doors earlier this year for the crush.
"Of course, everyone was upset," said Melaragni, a 25-year-old Boston native. "We thought we had higher standards than other retailers. And customers are telling us the exact same thing. If they want a good deal, they're missing out on Thanksgiving, too," since they'll have to get on line on Thanksgiving Day to beat the crowds.
The petition, which has around 8,000 signatures as of this posting, reads in part: "A full holiday with family is not just for the elite of this nation -- all Americans should be able to break bread with loved ones and get a good night's rest on Thanksgiving!"
Minnesota-based Best Buy appears to be merely getting in line with the rest of the retail world with its early start time. Although most big-box stores have traditionally opened in the wee hours of Black Friday, several have moved their times up to midnight or even late Thanksgiving Day. Walmart will be opening at 10 p.m. this year -- the earliest its stores have ever opened.
Kelly Groehler, a BestBuy spokeswoman, noted that CEO Brian Dunn, once a store employee himself, "fully appreciates" the feelings of Melaragni and others, adding that Dunn will miss much of the holiday himself as he helps stores in Minnesota gear up for Black Friday. In a statement on the matter, the company said, "This year, customers have told us -- and our competitors -- that they plan to shop on Thanksgiving Day, and earlier than ever on Black Friday. We therefore made the difficult decision to move our opening Black Friday to midnight. We know this decision changes Thanksgiving plans for some of our employees, and we empathize with those who are affected."
Although retailers say they're simply responding to consumers' desires, the shift has managed to annoy many employees and consumers alike. Some shoppers told The New York Times last week that they will forgo the bargains this year as a manner of protest, feeling the retailers have overstepped their bounds and broken an unspoken holiday agreement.
Like Best Buy, Target has moved its opening time up to midnight, requiring some employees to arrive as early as at 11 p.m. of Thanksgiving day. In a statement posted on The Consumerist, a Target spokesperson said the company would be paying workers a higher holiday wage, adding that management "does our best to work around the schedules of all of our team members, making every effort to accommodate their requests."
Melaragni said that some Best Buy employees will have to come in as early as 8 or 9 p.m. on Thanksgiving, since they'll be setting up a viewing of a Harry Potter movie for the eager shoppers waiting outside the store.
Melaragni himself has been scheduled to come in at 7 a.m. on the morning of Black Friday, and is spending Thanksgiving with family in Florida. But he said he's offered to switch shifts with any co-workers scheduled to come in Thanksgiving night who have children they'd rather spend the holiday with.
"There are some [co-workers] who say, 'I'm just thankful to have a job,' " Melaragni said. "And I am, too. But there's a line that you don't cross."
Related
Popular in the Community