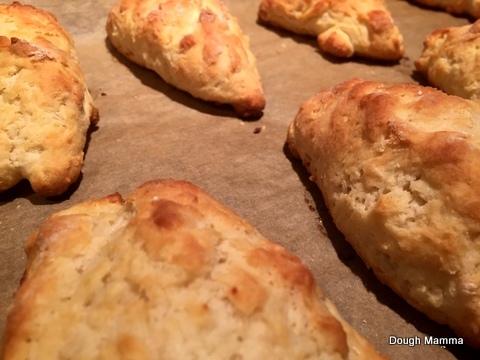 By now you may be knee-deep in "de-friending" folks over the election, or quite possibly planning your relocation to Canada, eh? Considering that off-grid home in the middle of the woods yet? If so, I know a guy...
Perhaps the last thing on your mind is Thanksgiving dinner, but I've got more bad news for you, Thanksgiving is days away. Boy how time flies when the world appears so uncertain.
Biscuits can be a challenge despite their simple ingredients and mixture method. Even the best recipes can produce "dry and crumbly", or "too doughy and flavorless" results. The ratio of flour to butter vary little among recipes, it's the actual preparation that makes the most difference. The trick? Handle the dough as little as possible.
Basically you want to treat your dough like the neighborhood cat, a couple of gentle pats, then let that thing go. You"ll look at your sticky dough and curse me, thinking, "how can this possibly come together?" Simply flour your counter generously, scrape your dough out with a spatula and drop it onto your floured surface, pat the top to form a circle, cut and bake. Voila.
Happy Thanksgiving!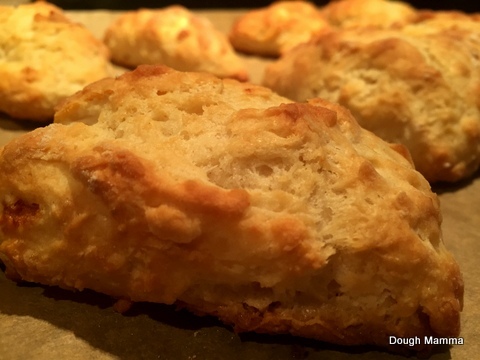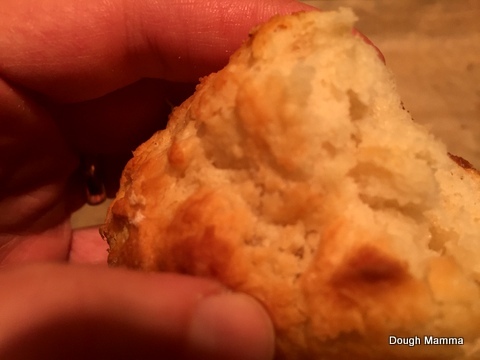 Title: Thanksgiving Biscuits
Author: Doughmamma
Prep time: 15 mins
Cook time: 15 mins
Total time: 30 mins
Serves: 8
Notes:Handle the dough as little as possible. Once your dough is in a circle, cut into slices (like a pizza) and place on a parchment lined baking sheet. Dust your knife and spatula with flour before handling dough. Cutting the biscuits into triangles allows for less handling or re-rolling scraps, which can cause a dry biscuit. You can get crisper biscuits if you layout your biscuits further apart on the cookie sheet before baking. If you want a higher rise, but slightly less crisp, place them closer together on the cookie sheet prior to baking. High Altitude Adjustments: Increase heat to 450 F and cook for 15 minutes, reduce Baking Powder to 1½ tsp, reduce butter to 7 Tbsp
Ingredients
2 cups of All-Purpose Flour, plus more for counter tops
1 Tbsp of Baking Powder
1 tsp salt
1 tsp of sugar
8 Tbsp (1 stick) of chilled butter, cubed
1 cup of buttermilk, cold
*optional, 1 Tbsp of freshly minced thyme or rosemary
Instructions
Preheat your oven to 425F. Line a cookie sheet with parchment paper.
In a large bowl, whisk your flour, baking powder, salt and sugar.
Add your cubed butter to the bowl and mix using a pastry cutter, until the mixture resembles coarse sand with butter the size of peas. Alternatively, you can use your food processor and pulse a few times.
Now add your cold buttermilk (and herbs, if using) and mix again, just until evenly incorporated.
Using a spatula dusted with flour, scrape out the dough onto a floured counter top (using roughly ¼ cup of flour for dusting).
Pat the top of dough with floured hands and gingerly form a circle.
Using a flour dusted knife, or a pizza cutter, cut into triangles.
Carefully lift them onto the lined cookie sheet and bake for about 15 minutes or until golden brown speckles appear.

Serve warm. Best eaten right away.
Related