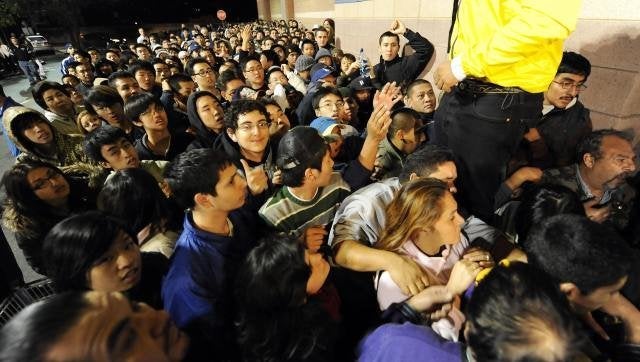 * 30 pct said they shopped on Thanksgiving - Reuters/Ipsos poll
* 29 pct said they shopped on Black Friday
* First time for 32 percent of Thanksgiving in-store shoppers
Dec 5 (Reuters) - Opening their doors and offering sales on Thanksgiving did more than give retailers an early start to the holiday shopping season - the holiday actually may have drawn more shoppers than "Black Friday."
Thirty percent of Americans surveyed in a new Reuters/Ipsos poll said they shopped either online or in stores this past Thanksgiving Day, slightly more than shopped on the day after, which is typically the biggest shopping day of the year.
Of those who said that they shopped in stores on Thanksgiving, it was the first time for nearly one-third of respondents, suggesting that moving sales events into the evening and even earlier on the holiday wooed shoppers.
"People are adjusting to the changes and they're not as upset that it's on Thanksgiving, I guess," said Jharonne Martis, director of consumer research for Thomson Reuters.
Retailers including Gap Inc and Sears Holdings Corp held special sales during Thanksgiving Day itself, while chains such as Wal-Mart Stores Inc's Walmart and Target Corp waited until after the country had digested holiday meals to offer their big discounts. Walmart started its specials at 8 p.m., the earliest start ever, while Target opened its stores at 9 p.m. on Thanksgiving for the first time.
A total of 30 percent of 3,815 respondents said they shopped on Thanksgiving, while 29 percent said that they shopped on Black Friday. Twenty percent of shoppers said they visited stores on Thanksgiving and 15 percent said they shopped online that day. People could choose more than one response.
To be sure, the difference in Thanksgiving and Black Friday shoppers is one percentage point. But the results are the latest data that hammer home not only how much more important Thanksgiving Day is becoming, but also how Black Friday shopping has receded a bit.
Black Friday is still a huge day for retailers but is losing significance as chains start promotions earlier in the week both in stores and online. ShopperTrak, which measures foot traffic at stores across the country, estimated that sales fell 1.8 percent on Black Friday itself yet rose 2.7 percent for the overall weekend, which included Thanksgiving day.
Shoppers continued to keep an eye on their finances, with 38 percent of Black Friday shoppers saying they spent less than they had budgeted, 47 percent staying right on budget, and 15 percent going over budget, according to the Reuters/Ipsos poll. Nearly one-third said that they spent less on Black Friday than they had that day in 2011.
"Consumers are very cautious and careful about their spending habits," said Martis. "One thing the recession taught them is to always save for a rainy day and now we're seeing that also correlates with their shopping habits."
Forty-three percent of 1,300 respondents polled from Nov. 29 to Dec. 3 said they plan to spend less on jewelry than they did during the 2011 holiday season, while only 7 percent said they plan to spend more on jewelry. That highlights the pressure on chains such as Tiffany & Co Inc, Zale Corp and Signet Jewelers Ltd.
Meanwhile, 21 percent of those 1,300 respondents said they plan to spend more on food this holiday season, while roughly a third said they planned to spend less on clothing, toys and electronics this season versus last year.
Superstorm Sandy was also cutting into shoppers' budgets, with almost three of out of every 10 of the 423 people surveyed in New York, New Jersey and Connecticut saying that the storm cut into their holiday shopping budgets either a little or a great deal. Nationally, that figure was 9 percent.
DEPARTMENT STORES WIN ON BLACK FRIDAY
More than 20 percent of the Black Friday shoppers said they spent less than $50 that day, while nearly 20 percent spent $100 to $199.
Department stores were the top destination on Black Friday, with 46 percent of the 1,100 who said that they shopped that day visiting those stores. Discount chains were next, with 39 percent of Black Friday shoppers, and electronics stores garnered visits from 30.2 percent of those who headed out on the busy day.
Thanksgiving fell on Nov. 22 this year. The findings regarding Thanksgiving and Black Friday shopping are from an Ipsos poll conducted for Thomson Reuters from midnight on Nov. 22 through Dec. 3, 2012, with 3,815 American adults interviewed online. Results on spending within categories versus last year come from 1,300 respondents polled from Nov. 29 to Dec. 3.
Results are within the poll's credibility intervals, a tool used to account for statistical variation in Internet-based polling. The credibility interval was plus or minus 1.8 percentage points for questions answered by the full panel of 3,815, 3.4 percentage points for the questions answered by the 1,100 who said that they shopped on Black Friday, and 3.1 percent for the 1,300 asked about spending within categories.
The poll is the latest in a series that Ipsos will conduct during the holiday season. (Reporting by Jessica Wohl in Chicago; Editing by James Dalgleish)
Calling all HuffPost superfans!
Sign up for membership to become a founding member and help shape HuffPost's next chapter
BEFORE YOU GO
PHOTO GALLERY
Black Friday 2012