Here at HuffPost Taste, we're firmly of the belief that the best part of Thanksgiving is the leftovers. (Oh and gratefulness. Right.) Specifically, a plateful of leftovers that have been mashed together and covered in gravy, allowing the unexpected flavor pairings of cranberries, stuffing and mashed potatoes to brilliantly collide. But what if you can't wait until the day after Thanksgiving?
Well, that's when you make a Thanksgiving Cake. Or, as we like to call it, a Thankscaking. Get ready to fall in love with something you might currently think sounds disgusting.
This crazy suggestion came from the mind of HuffPost Taste editor Julie Thomson, who we perhaps thought had gone insane for a moment. But upon reflection, the idea of a Thanksgiving cake is sheer perfection: Build layer upon layer of your favorite Thanksgiving sides, allowing the textures and flavors to meld together in one delicious bite. It's like the day after Thanksgiving, without the waiting.
Here's how we made it happen: A layer of cornbread, topped with cranberry sauce, topped with a layer of stuffing cake (!), topped with gravy and creamed spinach, topped with another layer of cornbread. Then we iced the whole thing with mashed sweet potatoes, topped it with mashed potato piping, and decorated it with cranberries and French-fried onions (you know, for the "green bean casserole effect"). But of course, you can build yours however you want. This is America, after all.
We'll be the first to admit that we were wary of how it'd go down, but we were freakishly surprised by its deliciousness and beauty. First of all, it builds like a dream. Secondly, it TASTES like a dream. And passersby in the HuffPost newsroom thought it was a legitimate dessert cake (making it the fodder for a spectacular prank this Thanksgiving, if you're looking to mess with someone).
For the full step-by-step instructions, read on ...
Step 1: Cornbread Layer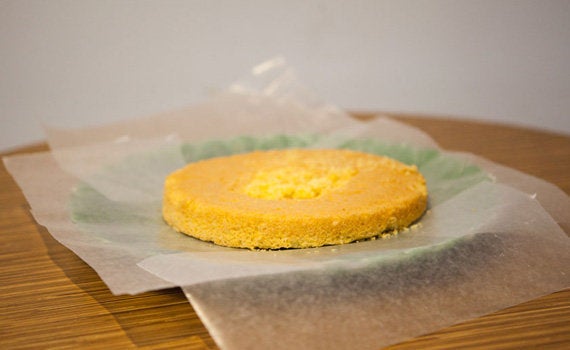 Julie R. Thomson/The Huffington Post
Step 2: Cranberry Sauce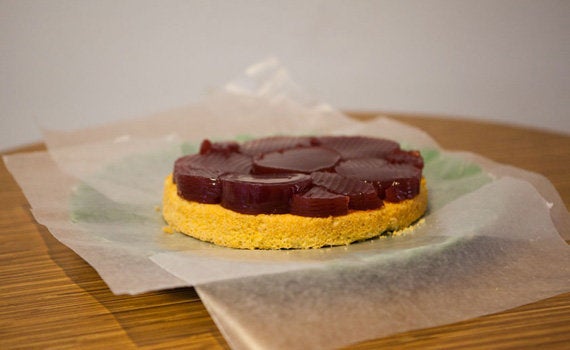 Julie R. Thomson/The Huffington Post
Step 3: Stuffing Cake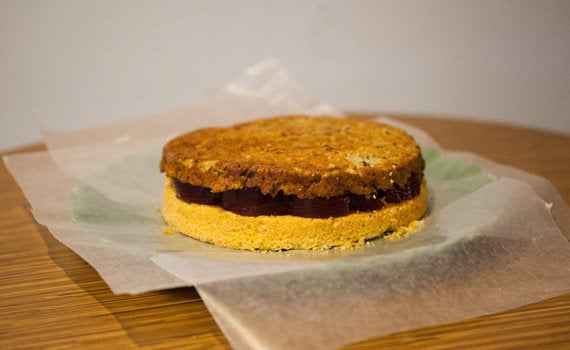 Julie R. Thomson/The Huffington Post
Step 4: Gravy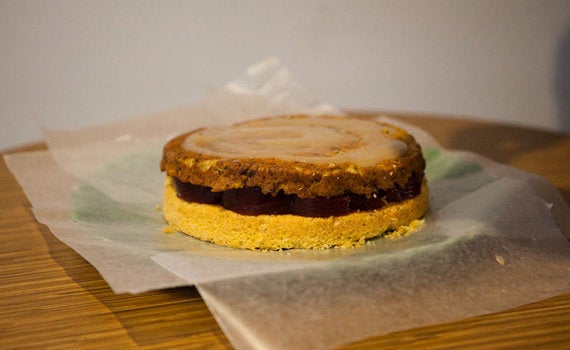 Julie R. Thomson/The Huffington Post
Step 5: Creamed Spinach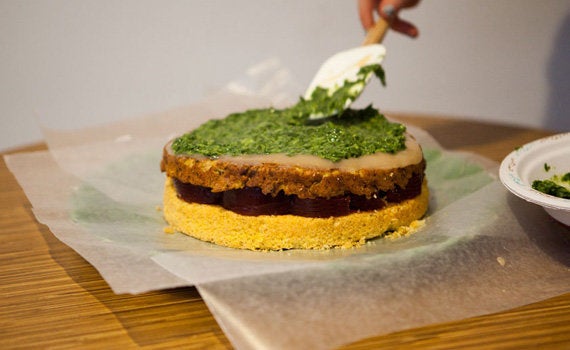 Julie R. Thomson/The Huffington Post
Step 6: The Second Cornbread Layer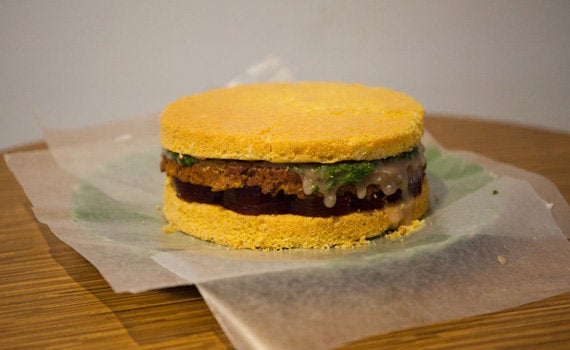 Julie R. Thomson/The Huffington Post
Step 7: Ice The Cake With Sweet Potatoes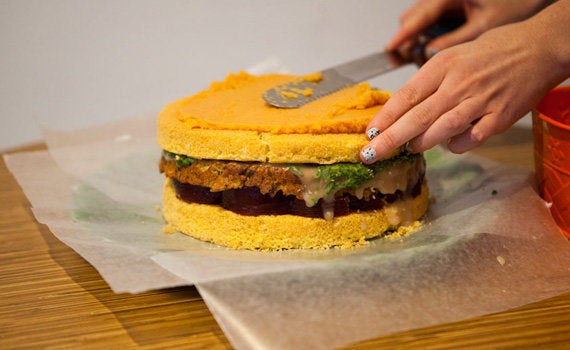 Julie R. Thomson/The Huffington Post
Step 8: Smooth It Out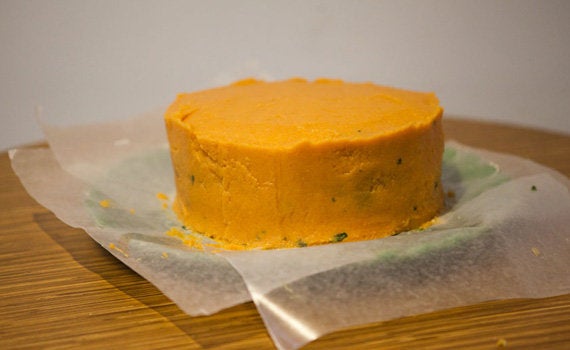 Julie R. Thomson/The Huffington Post
Step 8: Pipe On The Mashed Potatoes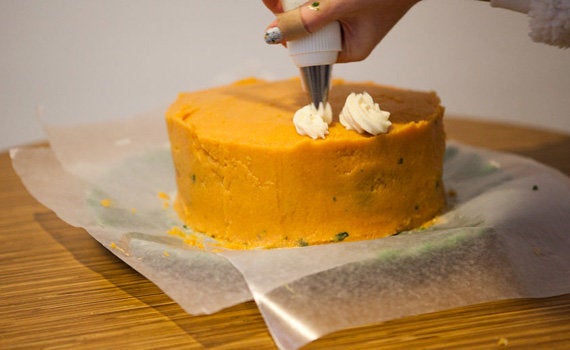 Julie R. Thomson/The Huffington Post
Step 10: Finish It Off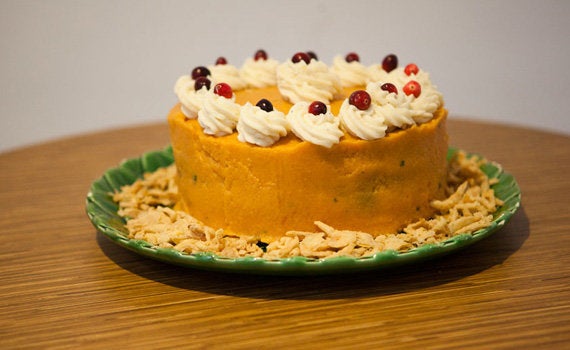 Julie R. Thomson/The Huffington Post
Before You Go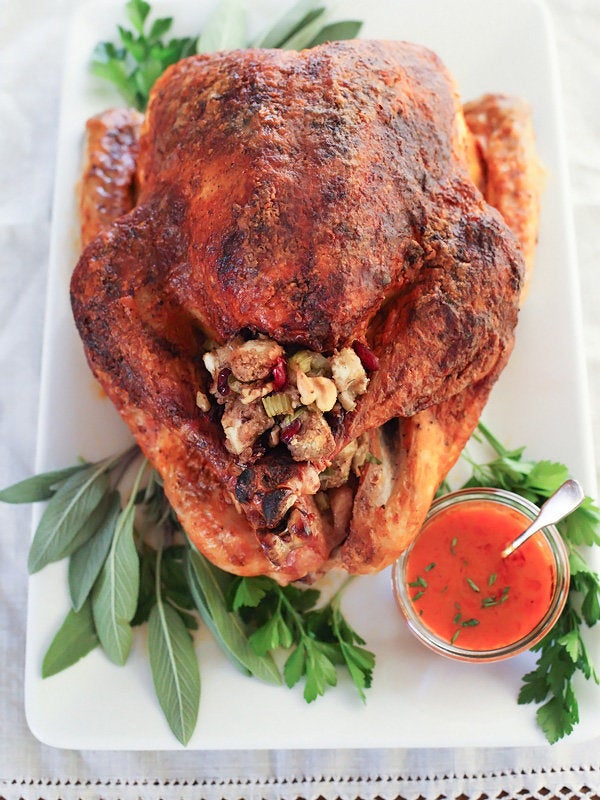 Thanksgiving Turkey Recipes