"Keep stuffing portions under one cup (the size of a baseball)," Blatner says. "Traditional recipes contain a stick or two of butter."
"Instead of filling your plate with every side option, pick your top three," she suggests.
"This dessert sampler contains more calories than a typical Thanksgiving meal," Blatner says. "Variety stimulates appetite." Try to choose one favorite instead of taking bites of everything.
"I love how you can still see the plate," Blatner says. The biscuit alone adds up to close to half the calories, she points out.
"This is a visually balanced plate," Blatner says. "Lighten it up by steaming veggies and roasting potato wedges."
Oil and bacon can turn a perfectly healthy food into an indulgent one. "Roast vegetables with cooking spray and season with herbs for added flavor," Blatner suggests.
Blatner recommends serving yourself half a slice of your favorite pie and topping and pairing it with decaf coffee or herbal tea "to slow down and savor the experience." Want more pie? "Eat the filling and leave behind the buttery crust to save calories and fat," she says.
"This plate contains four starchy foods," she says. "Pick one potato (white or sweet) and add on an extra scoop of roasted veggies."
"Add more than four green beans!" says Blatner. Cutting back on sides such as potatoes or stuffing will free up more room for veggies.
Side salads are a smart idea -- but these add-ons appear to outweigh the greens, Blatner points out. "Go for mostly greens with a touch of topping," she says. "This plate takes in all the flavors of the season -- in sensible portions."
"This plate is almost 50 percent turkey," she says. "Cut it in half and fill its spot with a salad or fruit."
Move the whipped cream to the side of the plate, instead of on top of the pie. "Your eyes may tempt you to cover the top of pie with whipped cream," Blatner says. "Make a little go a long way by dabbing your fork into the whipped cream for each bit. This will save you 60 calories."
Blatner recommends forgoing the roll with butter, since it's something you can have anytime of the year, not just Thanksgiving.
"Like leg meat? Remove the skin to save 40 calories per drumstick," she says.
"Mac and cheese is available year-round," Blatner says. "If you're craving cheese, go for the rice."
This piece of pie has more calories than a Big Mac, according to Blatner. You can cut the calories almost in half by going for slice of pumpkin, which clocks in under 300.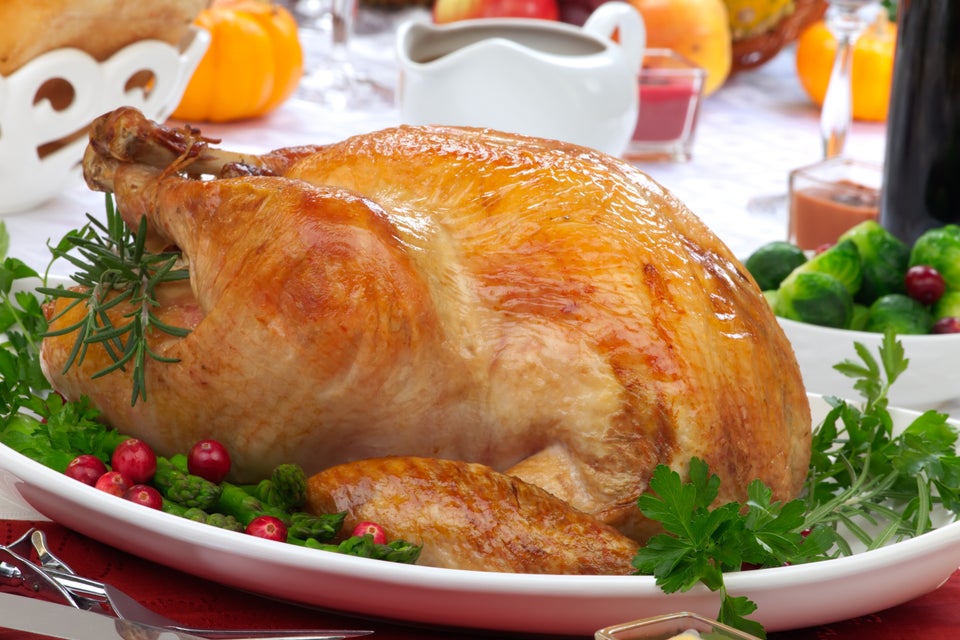 Thanksgiving Nutrition Myths