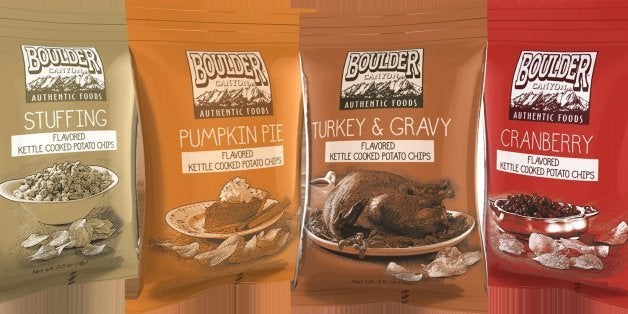 The flavors of Thanksgiving are not easy to replicate, nor are the emotional attachments we have to our favorite Thanksgiving foods. Nothing can substitute for the dream team of moist, salty, smoky turkey with crispy skin, and rich, savory gravy. And nothing can take the place of stuffing. Nothing. Any imitation of Thanksgiving food would surely be blasphemy, so we wait patiently all year long until that one special day in November (and as many days of leftovers as we can stretch) until we can gorge ourselves on all our favorites. If you're incapable of waiting, however, we've got good news for you: there's a company making Thanksgiving-flavored potato chips that actually taste exactly like Thanksgiving.
The chips come from Boulder Canyon Foods, and the flavor profiles are uncanny. From Turkey and Gravy to Cranberry, Boulder Canyon's kettle-cooked potato chips taste like the real deal. The Stuffing flavor tastes likes stuffing, the Pumpkin Pie flavor tastes like pumpkin pie...

(And the snozberries, if they were a flavor, would definitely taste like... you get the idea.)
Here's the line up of Boulder Canyon's "Thanksgiving Feast" potato chips: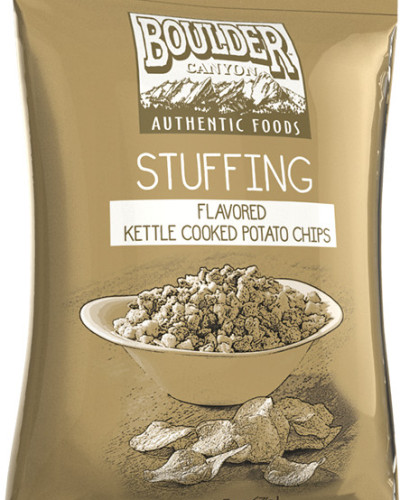 These chips taste like so much like stuffing it's shocking. Subtly salty with a touch of onion and rosemary, they just ARE stuffing.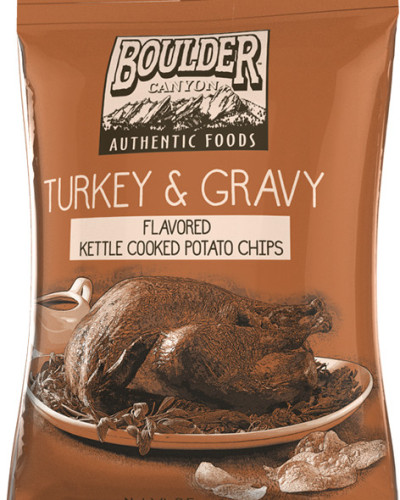 Molasses, onion powder and a mysterious but brilliant mix of spices makes these chips taste just about as close to turkey and gravy as we imagine any chips could. They're amazing. We'd eat them all day.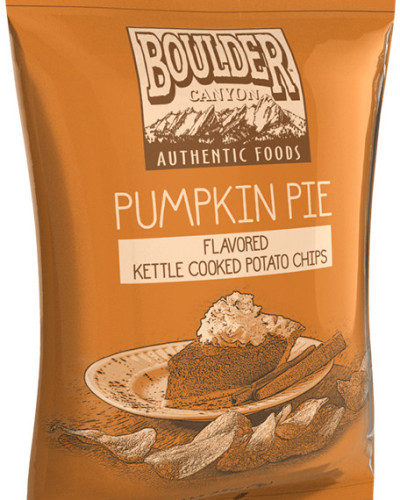 Thank you, Boulder Canyon Foods, for not making Pumpkin *Spice* chips. These Pumpkin *Pie* chips are made with cinnamon, nutmeg, molasses, and pumpkin -- not pumpkin pie spice -- and they're great!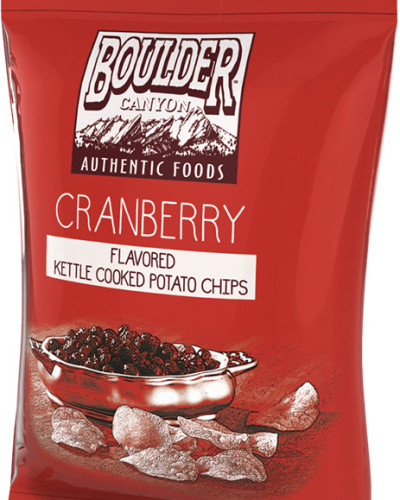 The cranberry powder on the chips lingers on your tongue for a slightly tart and sweet aftertaste, reminiscent of cranberry sauce but not overpowering. We thought we were going to hate them, but they're actually really good, and like any chip that has a layer of powder on top, they're totally addicting.
The chips come in a four back of 2.5 ounce bags, and you can by them at Target this month only for $4.99 per 10 ounce package.
Popular in the Community