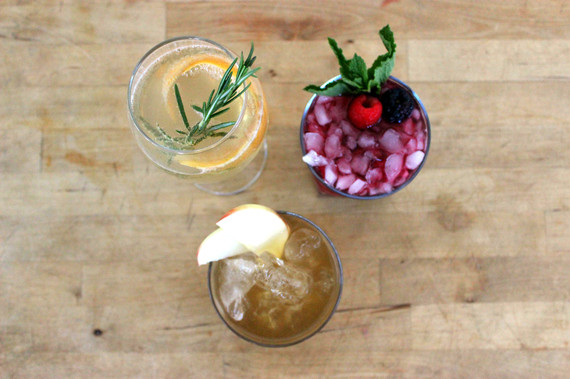 Last year just before Thanksgiving, someone asked me if I could recommend a punch recipe that would take a long time to prepare. I believe his exact words were "I want a 30-minute punch." I was a bit taken aback, mainly because I didn't understand why. I'm used to recommending simple recipes that won't scare people off. But the more I thought about it, I understood what we was after. Thanksgiving, and the holidays in general, is as much about preparing a meal as it is eating it. So if something requires a little more labor, you can put that much more love into it.

So with that in mind, here are some Thanksgiving-themed cocktail recipes that require more of a culinary approach. They don't necessarily take 30 minutes, but each requires some additional preparation beforehand, which is well worth the effort.
Port of Call -- This is one of the first cocktails I ever created at Clover Club and probably one of my most popular. It is literally the holidays in a glass. If you're really gung ho you can make your own cranberry preserves, but you can also buy them or substitute for them with cranberry sauce. If you do the latter, you may need to add a bit more cinnamon syrup to taste.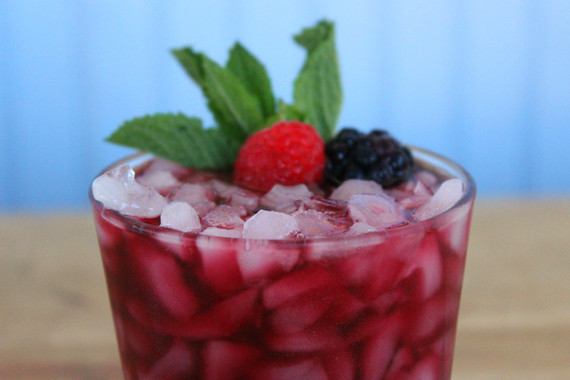 1 oz gin
1 oz Ruby Port
¾ oz lemon juice
½ oz cinnamon syrup
tablespoon cranberry preserves
Combine all ingredients in a shaker, add ice.
Shake and strain into a rocks glass over crushed ice - regular ice is fine too.
Garnish lavishly with a blackberry, raspberry and mint sprig.
-- If you read my blogs you've seen this recipe, I use it all the time. But here it is just in case. I recommend making a larger batch using it throughout the holidays and winter.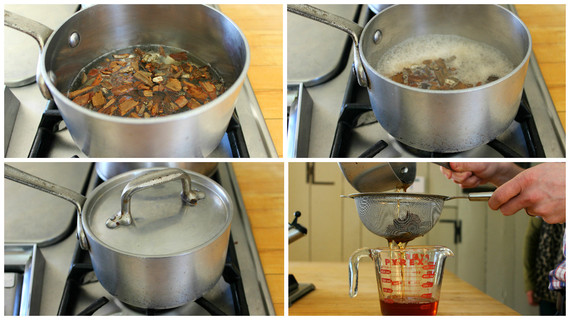 1 cup sugar
1 cup water
1/3 cup crushed cinnamon sticks or cinnamon bark.
Combine ingredients in a small pot and bring to a boil.
Remove from heat and let sit for 3 hours up to overnight.
Strain out the cinnamon and refrigerate.
1 cup whole cranberries
1 cup sugar
1/2 cup water
In food processor coarsely chop the cranberries, don't puree.
Over the stove, combine ingredinets and stir until sugar is dissolved.
Bring mixture to a boil for about 2-3 minutes.
Lower heat and simmer for 25 minutes, occasionally stirring.
Remove from heat, let cool. Refrigerate.
Port of Call as a Punch: -- To make this in a large batch, combine everything in a pitcher, stir in the preserves, or better yet use an immersion blender, then strain out the solids. Add about 1-2 tablespoons of water per drink (since you won't be shaking with ice) and pour over ice in rocks glasses.
William Brewster Punch -- Serves 16 -- I served this at Thanksgiving last year. It was a huge hit, pear, rosemary and Champagne play very well together. It's named after an original Mayflower passenger. He was separatist, so I'm not sure he'd take part in drinking it, but still, his name sounds really cool. The pear brandy might be a little tougher to find, but more upscale liquor store should carry it, just make sure it's real pear brandy, not a sweetened pear liqueur.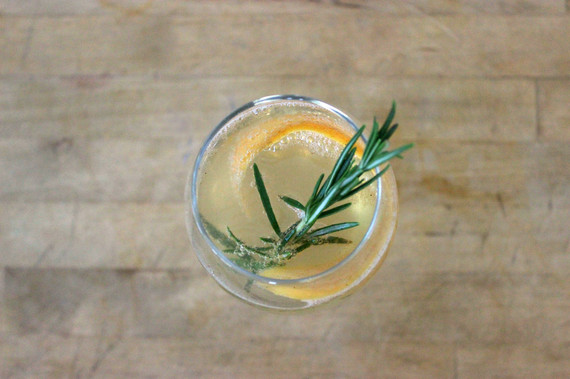 2 cups pear brandy -- I use Clear Creek Williams Pear
2 cups rosemary syrup*
3/4 cup lemon juice
1/2 cup soda water - or still water
2 bottles chilled Brut Champagne
rosemary sprigs and grapefruit peels for garnish
In a punch bowl combine the pear brandy, lemon juice and rosemary syrup over a large cube of ice. This can be done a little ahead.
When the party starts pour in the Champagne and briefly stir.
Garnish with a long grapefruit peel and rosemary sprigs.
Serve in punch or wine glasses.
-
3/4 cup rosemary leaves, removed from the stem and coarsley chopped
2 cups boiling water
sugar
Steep the rosemary in the boiling water for 45 minutes.
Strain out the rosemary and add equal parts sugar to water - it'll be a little less than 2 cups.
Stir to dissolve and refrigerate.
Farmhouse Sour -- Whiskey is always a good choice for Thanksgiving. This is a newer recipe I came up with, the figs give it a nice fruity lift that's balanced out by the bite of the ginger. You can also make it as a punch using the same method I described for the Port of Call above. I'll be honest, I bought the fig jam. But if you want to make your own go for it!
2 oz rye whiskey (bourbon will work too)
¾ oz grapefruit juice
½ oz lemon juice
½ oz ginger syrup*
tablespoon fig jam
dash Angostura bitters
Combine all ingredients in a shaker.
Shake and strain into a rocks glass over fresh ice.
Garnish with an apple slice (or two).
-- This syrup is amazing, though to make it you need a juice extractor to get the ginger juice. It's really only the only tool that'll get the desired result. There are other ginger syrup recipes that involve simmering ginger in simple syrup, similar to the cinnamon syrup method above, but this one has a much stronger, spicy, ginger flavor. By all means, try the recipe with a different syrup, though it may require some tweaking. In which case, trust your instincts!
Ginger root -- 2 or 3 large pieces will make enough for a group of 10-15.
Sugar
Roughly peel the ginger (you can skip this step if you want, the syrup will just have more of an earthy quality).
Roughly chop the ginger and run it through a juice extractor.
Strain the ginger juice through a chinose.
In a saucepan, add 2 parts sugar to 1 part ginger juice.
Over low heat, stir until sugar is dissolved. Refrigerate.
That should do it. Happy Thanksgiving all! Cheers, and happy mixing.
Popular in the Community