As we gather around the table with our friends and family this Thanksgiving and share all of the good things in life we are thankful for, serve some tasty cocktails for every generation gathered.
Better by the batch, pitcher-full or punch bowl, especially if the relatives are coming.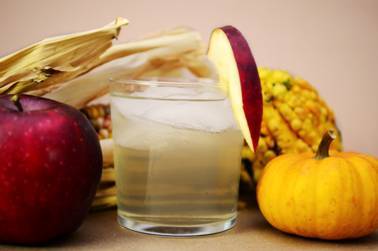 Cider Delighter
Light and refreshing, a perfect start to a holiday full of feasting!
Serves 4
4 oz. Vikingfjord Vodka
2 oz. Allspice Dram liqueur
1oz. freshly squeezed lemon juice
4 oz. sparkling apple cider
dash or two of Baked Apple Bitters
Combine ingredients in a cocktail shaker filled with ice. Strain into ice filled rocks glasses. Garnish with apple slice if desired, and serve.
Appletastic
Tastes like a caramel apple with vanilla and citrus tones, mixing deliciously with tangy sweet apple notes. I make a batch of these just for Uncle Peter.
Serves 4
6 oz. Absolut Vanilla
2 oz. Tuaca liqueur
6 oz. apple cider
1 oz. freshly squeezed lemon juice
Combine all ingredients in a shaker filled with ice. Shake and strain into glasses. Serve. Note: this cocktail is also delicious warm with a dash of cinnamon.
Gingersnap Cocktail
A deliciously sweet and satisfying cocktail evoking the flavors of the season.
Serves 4
4 oz. The King's Ginger (ginger liqueur)
4 oz. Vikingfjord Vodka
1 oz. simple syrup
Dash each, cinnamon, nutmeg, ginger
In a cocktail shaker mix all ingredients together. Strain into glasses. Garnish with gingersnap cookies. Serve.
Mulled wine
Perfect for warming up after the annual Thanksgiving football game. Or better yet, bring a thermos-full to the backyard.
Serves 6
1 bottle Chianti such as Villa Cerna
4 oz. Grand Marnier
Juice of 2 fresh clementines
5 Allspice berries
3 Star anise
2 Cinnamon sticks
1 tsp. ground Ginger
1 tsp. Lemon zest
In a medium saucepan combine all ingredients and simmer on low for up to 1 hour. Strain berries, star anise, and cinnamon sticks from pan. To serve: transfer into heat resistant pitcher or ladle from saucepan.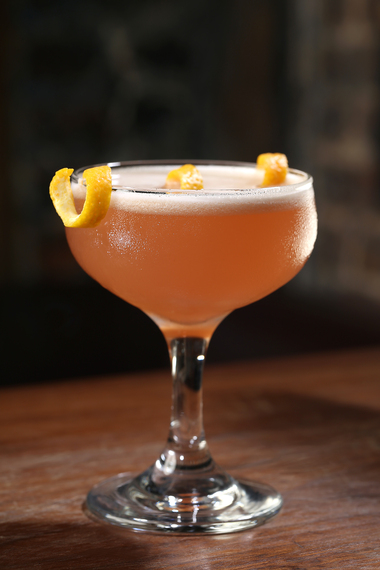 The Loose Goose
Perfect by the fireside visiting with friends far and near. Make a batch or two, I heard Aunt Betty is coming.
Serves 4
8 oz. Wild Turkey whiskey
4 oz. limoncello
8 oz. freshly squeezed orange juice
Dash Orange bitters
In a cocktail shaker filled with ice, mix all ingredients well. Strain into ice filled glasses, garnish with lemon wheel if desired, and serve. Better get Aunt Betty first.
1621
Deep and rich, with cherry and orange mixing with the Pisco. The seltzer adds the perfect light finishing touch.
Serves 4
8 oz. Pisco Portion
4 oz. cherry brandy
2 dashes orange bitters
Orange seltzer to top
Combine first three ingredients in a cocktail shaker filled with ice. Strain into glasses. Top with orange flavored seltzer. Garnish with a cherry and serve.
The Standish
The sage-infused simple syrup, while easy to make is the backbone to this festive holiday libation. Try a batch before or after dinner.
Serves 4
8 oz. Tangueray Gin
2 oz. sage-infused simple syrup
8 oz. Lemon-lime soda
In a cocktail shaker filled with ice mix the gin and simple syrup. Strain into ice-filled glasses and top with lemon-lime soda. Serve.
Sage infused simple syrup: In a bowl mix 1 cup simple syrup with 8-10 sage leaves. Place in microwave for 30 seconds. Stir. Cook for 30 seconds more. Take out and let sit for 20-30 minutes. Strain out sage leaves.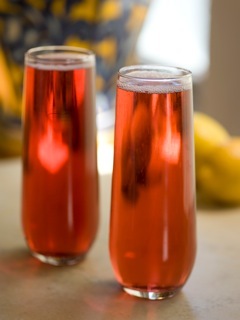 Treaty Toast
My friends and relatives always ask if I'll be serving these cocktails over the Thanksgiving holiday. I say, "You must have a celebratory libation to toast the harvest celebration between the Pilgrims and Indians."
Serves 4
1 bottle Veuve Clicquot champagne, chilled
8 oz. pomegranate-cherry juice
4 oz. Grand Marnier
In a small pitcher mix the pomegranate juice and Grand Marnier.
Pour a dash of juice mix into each champagne flute filling each glass approximately 1/3 full. Top with champagne. Garnish with raspberries if desired. Serve.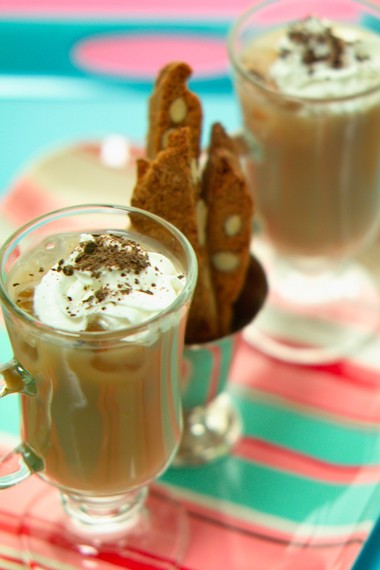 Coffee Nation
This year I'm adding a bit of coffee mixology to the dessert menu with a coffee liqueur made with tequila blanco. Its distinctive flavor earns a spot at the high table. Have it straight, with cream and nutmeg, or pour it over vanilla gelato.
Serves 2
4 oz. Cabo Diablo
8 oz. Coffee
Dollop of Fresh cream
Sprinkle of nutmeg to top
In coffee glasses pour coffee and Cabo Diablo. Place a large dollop of fresh whipped cream on top of each. Sprinkle nutmeg on top and serve.