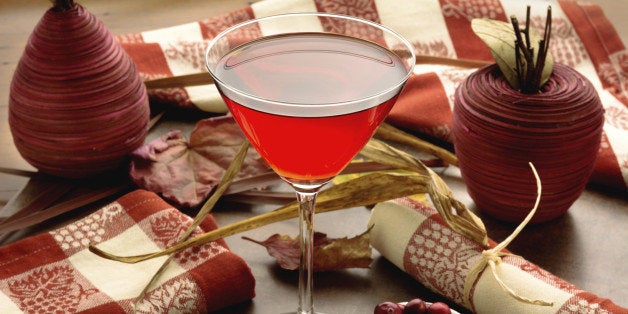 OMG the relatives are coming! While you're trying to figure out how you got stuck with hosting again, mix up a cocktail and relax. And just be thankful its once a year. But if Uncle Bob is coming, you'd better make a pitcher-full.
Here are some tasty cocktails that have seasonal touches from happy hour to dessert, something for everyone to be thankful for.
Butterscotch Martini
Smooth and sweet, perfect for your holiday happy hour.
Serves 4
8 oz. Grey Goose Vodka
4 oz. Grand Marnier
8 oz. Pear nectar
2 oz. Butterscotch Schnapps
In a cocktail shaker filled with ice, mix ingredients well. Strain into martini glasses and serve.
Pilgrims Margarita
Refreshing and light, a just right cocktail for over indulging on the sweet potato pie. Not to mention this is George Clooney and Rande Gerber's tequila, so you know they'll be drinking these.
Serves 4
8 oz. Casamigos Tequila
4 oz. Triple Sec
4 oz. Cranberry juice
2 oz. Orange juice
Splash lime juice
In a cocktail shaker filled with ice, mix ingredients. Strain into ice filled glasses, garnish with cranberries if desired, and serve.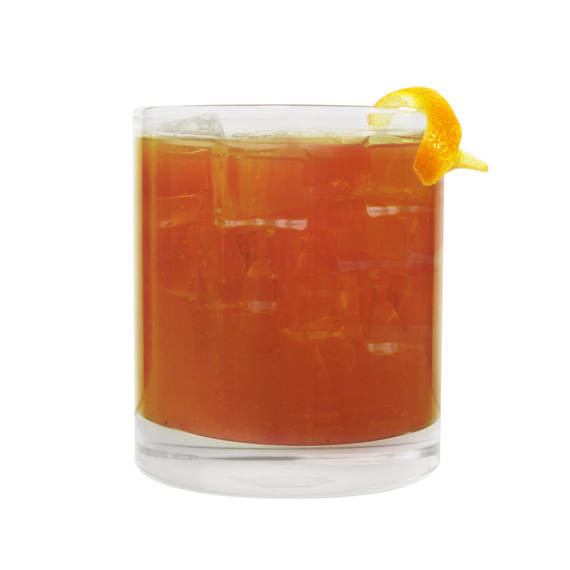 Pumpkin Sour
Just the right tang of pumpkin to balance the deep rich Bourbon. Aunt Sally would love these.
Serves 4
8 oz. Basil Hayden's Bourbon
4 oz. Freshly squeezed Orange Juice
2 oz. Freshly squeezed Lemon Juice
2 oz. Maple Syrup
2 oz. Dark Rum
2 Tablespoons Canned Pumpkin Puree
3 dashes Angostura Orange Bitters
1/2 tsp. ground cinnamon
Orange peel for garnish
Preparation:
1. Combine all ingredients into a cocktail shaker, add ice and shake vigorously
2. Strain into a rocks glass over ice.
3. Garnish with a twisted orange peel.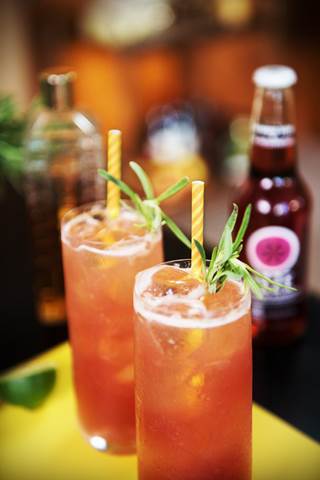 Blackberry Blitz
Delightful flavors of the season, this is a favorite big batch cocktail.
Serves 4
8 oz Maker's Mark bourbon whiskey
4 oz fresh squeezed lime juice
4 dashes Peychaud's bitters
8 oz IZZE Sparkling Blackberry
Rosemary sprig for garnish

Combine first three ingredients in a cocktail shaker over ice and shake vigorously. Pour into a Collins glass filled with ice and top with IZZE Sparkling Blackberry. Rub a sprig of rosemary between your fingers to release aromatics and add as garnish.
Fall Sangria
Perfect for the football game and cheese platter before the big bird. Try making a batch to sip while you prepare all the fixings.
SERVES 4
1 bottle dry red wine, such as Merlot or Pinot Noir
11/2 cups Cointreau
1/2 cognac
1/4 cup orange juice
1 honey crisp apple , sliced
1 lemon, sliced
2 cinnamon sticks
2 cups seltzer, chilled
Combine the wine, Cointreau, cognac, fruit, and cinnamon sticks in a pitcher and chill for up to an hour to allow flavors to marry. Add the chilled seltzer slowly and serve.
Recipe taken from Sparkle & Splash, by Colleen Mullaney, Sterling Publishers, 2014
Champagne Cocktail
Serve a champagne cocktail to make your guests to feel special. It's the holidays after all, and champagne makes everything a little brighter, must be all those bubbles.

Serves 4
1 bottle Moet & Chandon Champagne
8 oz. St. Germain Liqueur
8 oz. Pomegranate juice
4 dashes orange bitters
Splash fresh lime juice
Orange twists for garnish of desired
In a small pitcher mix the liqueur, juices, and bitters. Chill for at least 20 minutes. Pour evenly into the bottom third of each glass, Pop the bubbly and top off each glass. Garnish with orange twist if desired and serve.
Coffee Talk
Whew, you made it through dinner, now they won't leave and Uncle Joe is getting out his guitar, time to make a batch of these splendid coffee cocktails.
Serves 4
4 oz. Patrón XO Cafe Incendio
4 oz. Patron Reposado
2 oz. Strong coffee or espresso
1 oz. Honey
1 oz. Freshly squeezed Lemon Juice
5 Cloves
Garnish: Cloves
Muddle cloves in a shaker until broken into small pieces. Add the rest of ingredients and ice. Shake and strain trough a fine strainer into a chilled coupe glass. Garnish with cloves, and serve.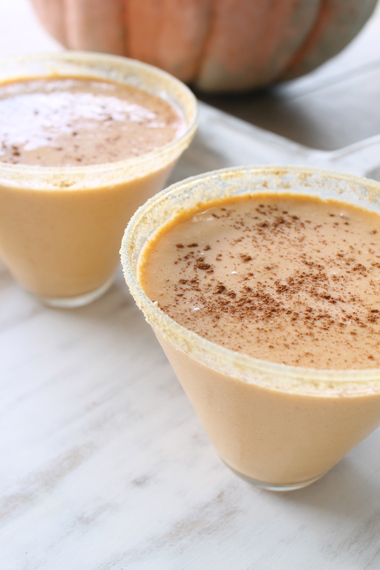 Pumpkin Delight
Who needs pie when up can serve this decadent cocktail for dessert? Or, maybe just a small piece too, its Thanksgiving after all.
Serves 4
1 cup chilled SVEDKA Vodka
1 pint pumpkin gelato
1/2 bottle ONEHOPE Sparkling Wine
1 cup ice
Ground cinnamon (for garnish)
4 ground honey graham cracker crumbs (for rim)
Combine all ingredients in a blender and blend until smooth and frothy.
Rim chilled martini glasses with graham cracker crumbs.
Pour mixture into glasses and top with sprinkle of cinnamon, and serve.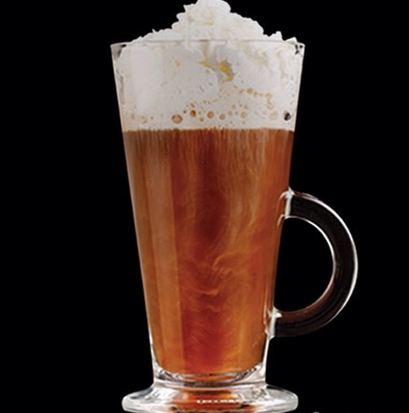 Black Velvet Baked Cinnamon Apple
This will give you and your guests reason to linger at the table. Smooth and rich, a perfect way to top off the turkey.
Serves 4
8 oz. BLACK VELVET Cinnamon Rush Whisky
16 oz. hot apple cider
Whipped cream for topping
Cinnamon sticks for garnish
Pour whiskey among 4 glasses, top with warm apple cider. Top with whipped cream, garnish with a cinnamon stick and serve.
Related