Let's face it, the sweet potato is not the most gorgeous veggie in the cornucopia. If Disney were sketching out a new fairy tale with anthropomorphized vegetables, the homely sweet potato would most likely be cast as the Ugly Stepsister, or even the Troll Under the Bridge.
But beneath that gnarly exterior lies a vegetal heart of pure platinum. In fact, the Center for Science in the Public Interest declared the sweet potato to be the highest ranking vegetable in the Kingdom in overall nutritional value - with a numerical rating almost double that of its nearest competitor! So I would propose that the more appropriate casting would be the Prince Who Saves the Day...
Nor is the sweet potato any Johnny-Come-Lately; it has been consumed since prehistoric times, with relics over 10,000 years old turning up in caves in Peru. Native to Central and South America, it was borne back to Europe by Christopher Columbus after his first voyage to the New World. It was spread to the Philippines by the Spanish, and to Africa, India & Southern Asia by the Portuguese in the 16th century; at the same time, it was being cultivated in the southernmost areas of what would become the United States.
Though there are over 400 varieties, ranging in color from white through cream, yellow, orange, pink, and even deep purple, the most commonly-seen versions are the white and the yellow-orange. Oh, and by the way - those "yams" you buy every year at Thanksgiving? They're actually sweet potatoes. True yams are starchy and not sweet, rarely available in American markets, and can grow up to 100 pounds each!
The Prince Who Saves the Day
Our unexpected Hero derives his prowess from unique root storage proteins with significant anti-oxidant properties. He is overwhelmingly supplied with Vitamin A in the form of beta-carotene, plus a mega-dose of Vitamin C, not to mention significant fiber and a jolt of B-6. These powerful antioxidants allow him to joust with free radicals, averting the disasters of atherosclerosis, diabetic heart disease, and colon cancer. And their anti-inflammatory effects aid in combat against asthma and arthritis. Vitamin B-6 is his trusty sidekick, reducing homocysteine levels and vanquishing the risks of heart attack and stroke.
Recent studies indicate that our Prince is also a stalwart defender of you folks who are exposed to cigarette smoke. A common carcinogen in cigarette smoke that causes Vitamin A deficiency is offset by a rich source of that vitamin, such as sweet potatoes, and can help to ward off emphysema. A Strong Protector indeed!
No one can say the sweet potato is not versatile, though its uses in America tend to be limited. It is served dried with peanut sauce for breakfast in Uganda, or combined with cassava flour and served with smoked fish. In Japan, it is fermented into an alcoholic beverage called imo-jochu; in South America, the juice of the red variety is combined with lime to make a dye for cloth; and in the American South, it is baked into a sweetened pie.
When buying, choose tubers that are firm and unblemished - no cracks, bruises or soft spots. Avoid those in a refrigerated case - that alters the taste. And by the same token, store them in a cool, dark, well-ventilated place - but not the fridge. Store loose or in an open paper sack, not plastic. They'll keep like that for up to 10 days.
And though Thanksgiving will always require a classic sweet potato casserole, it's time to try some new ideas as well - and get sweet potatoes into your diet year-round. They're just too good not to!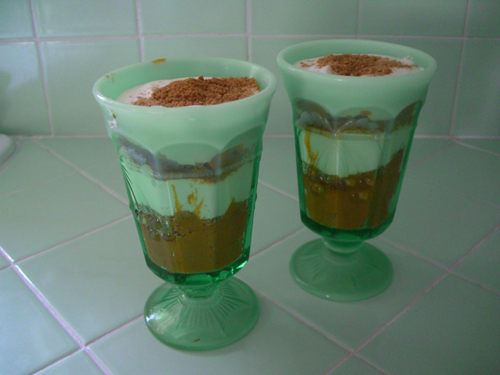 If you can find organic sweet potatoes, you can eat the skin too - they make terrific appetizers, baked and slathered with a little butter and lo-fat sour cream... Non-organic ones must be peeled, as they are likely to have been treated with dye or wax.
Ana's Sweet Potato Ginger Parfaits
I created this for my friend Ana, who is a private trainer with a healthy sweet tooth. These festive treats provide a satisfying coda to an intimate Thanksgiving dinner!
2 large sweet potatoes, @ 1 lb. each
2 tablespoons organic brown sugar
1/4 cup unsweetened soy milk
1 tablespoon organic blue agave nectar
1/2 teaspoon cinnamon
2 tablespoons minced crystallized ginger
8 ounces softened lo-fat organic cream cheese
8 ounces vanilla non-fat organic yoghurt
2 tablespoons organic honey
1/2 teaspoon vanilla extract
2 teaspoons grated orange zest
1 tablespoon Cointreau liqueur (optional)
1/3 cup crushed ginger crisp cookies
Roast the sweet potatoes in a 375 degree oven until soft, about 45 minutes.
While still warm, scoop out insides; put in food processor, add brown sugar, and puree until sugar has melted, about 30 seconds. Add soy milk, agave nectar, and cinnamon, and puree until smooth and light, about 1 minute. Transfer to bowl, fold in ginger, let cool to room temperature.
In a medium mixing bowl, combine cream cheese, yoghurt, honey, vanilla, orange zest and Cointreau; beat on high speed until light and fluffy, about 2 minutes.
Divide half the sweet potato mixture among four 8-ounce parfait glasses, sprinkle a half-tablespoon of ginger crumbs over each. Divide half the cream cheese mixture among the glasses, and sprinkle another layer of crumbs. Repeat again with a layer of each, and end with a slight sprinkle of crumbs on the top. Cover and chill for at least 2 hours.
Sweet Potato & Caramelized Onion Casserole

An intriguing and simple twist on a holiday classic... I served this every year for 16 years at Elizabeth Taylor's family Thanksgiving...
6 lbs. orange sweet potatoes, peeled & halved
1 large yellow onion, halved & sliced thin
4 tablespoons organic unsalted butter
1/4 cup blood orange olive oil
1/4 cup superfine sugar
2 tablespoons brown sugar
1/4 cup chopped pecans (optional)
Place sweet potatoes in large pot with cold water to cover; bring to a boil, and cook until soft but not falling apart, about 25 minutes. Drain, and mash vigorously.
Meantime, cook the onions, butter, orange olive oil and sugar in a large skillet over medium heat, stirring often, until onions are soft and slightly golden, about 20 minutes.
Fold the onions and their liquid into the mashed sweet potatoes. Transfer to a deep baking dish, smooth out, and sprinkle the top with the brown sugar and pecans. (Can be prepared to this point up to 2 days in advance. Bring back to room temperature before heating.)
Heat in a 350 oven until thoroughly warmed through and lightly browned on top.