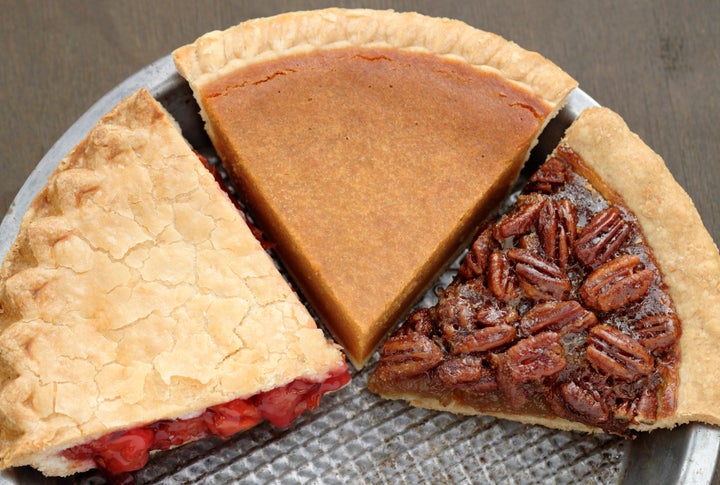 Is there any slice of the news-consuming populace that is catered to more disproportionately than the Thanksgiving Arguers?
And once again, most Americans won't need such advice.
In a new HuffPost/YouGov poll, just 28 percent of those planning to be part of a Thanksgiving gathering say they're even somewhat likely to discuss politics, with 11 percent predicting they're at least somewhat likely to get into a fight about it. But only 4 percent think such a tiff is very likely.
Similarly, only 4 percent say they've changed their plans at all to avoid politics wrecking the festivities, although that small group detailed plenty of drama they have to deal with in the era of President Donald Trump.
"Trump has torn my family apart," one Hillary Clinton voter wrote in the poll, noting that he'd only be seeing his wife's family over the holidays due to political disagreements with his own relatives. Another is skipping her in-laws' dinner because "I desperately need a mental health break from family" due to politics.
Two years ago, one poll respondent memorably noted that her sister was planning to attend two separate get-togethers ― one with her family, all Trump supporters, on Thanksgiving Day, and another on Saturday with her husband's family, all of whom voted for Clinton.
Although most people aren't going to such extreme lengths to avoid disagreement, relatively few are sitting down to dinner with their political rivals, either. In the new HuffPost/YouGov poll, just under a quarter of Americans with Thanksgiving dinner plans said they would be sitting down with supporters of both Trump and Clinton. Those planning to attend politically mixed dinners were more likely than the rest to expect a fight, but not by all that much ― 20 percent said it was at least somewhat likely an argument would break out.
The poll numbers are broadly consistent with HuffPost/YouGov polling in 2016 and 2017 ― even immediately after the presidential election, only a minority of the public wanted to hash out its consequences over turkey. It also lines up with a newly released Quinnipiac poll that finds 61 percent of voters hope to avoid discussing politics over Thanksgiving, with just 28 percent excited by the prospect, numbers also largely unchanged since last year.
 "[M]aybe just bite your tongue and pass the Brussels sprouts," Vox's Dylan Scott wrote Wednesday, summarizing the earlier years' findings. "Everybody else is."
Use the widget below to further explore the results of the HuffPost/YouGov survey, using the menu at the top to select survey questions and the buttons at the bottom to filter the data by subgroups: 
The HuffPost/YouGov poll consisted of 1,000 completed interviews conducted Nov. 15-19 among U.S. adults, using a sample selected from YouGov's opt-in online panel to match the demographics and other characteristics of the adult U.S. population.
HuffPost has teamed up with YouGov to conduct daily opinion polls. You can learn more about this project and take part in YouGov's nationally representative opinion polling. More details on the polls' methodology are available here.
Most surveys report a margin of error that represents some, but not all, potential survey errors. YouGov's reports include a model-based margin of error, which rests on a specific set of statistical assumptions about the selected sample rather than the standard methodology for random probability sampling. If these assumptions are wrong, the model-based margin of error may also be inaccurate. Click here for a more detailed explanation of the model-based margin of error.
Calling all HuffPost superfans!
Sign up for membership to become a founding member and help shape HuffPost's next chapter