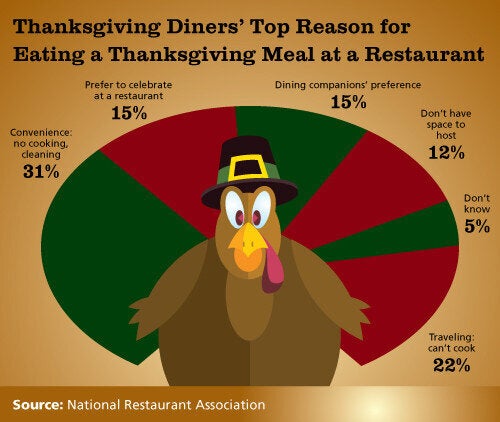 This year, the National Restaurant Association estimates that 14 million Americans will dine out for Thanksgiving, and an additional 16 million Americans will order take-out to supplement their Thanksgiving feast. The NRA surveyed 1,011 American adults and the projections are based on economic analysis and research conducted over the last two decades by the National Restaurant Association.
Although the number of restaurant diners seems high, it only constitutes six percent of the public. Fifty five percent of American adults plan to eat at their own home this Thanksgiving, despite the fact that average Thanksgiving meal price this year has shot up 13 percent due to rising food costs. Forty six percent plan to eat at someone else's home and three percent don't plan to have a special meal.
Besides the convenience factor, consumers' reasons for dining out on Thanksgiving are because they are traveling and don't have the ability to cook (22 percent), they prefer to go to restaurants on special occasions (15 percent), somebody else is hosting and they prefer to dine out (15 percent), and they don't have enough space to host a Thanksgiving event (12 percent).
Similarly, convenience was the main factor for those using take-out for part or all of their Thanksgiving meal. Other reasons included the fact that they aren't good cooks (15 percent), they don't have time to prepare food (10 percent), and the taste and quality of restaurant food is better (3 percent).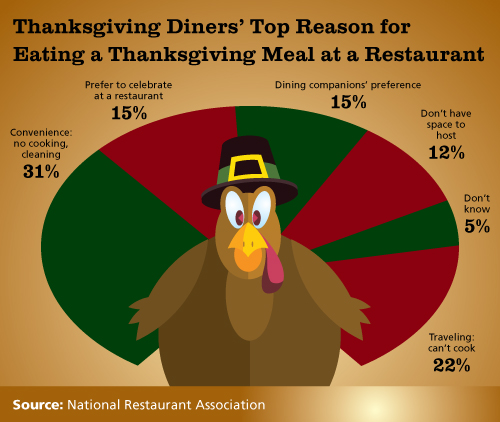 Support HuffPost
The Stakes Have Never Been Higher
Related
Popular in the Community