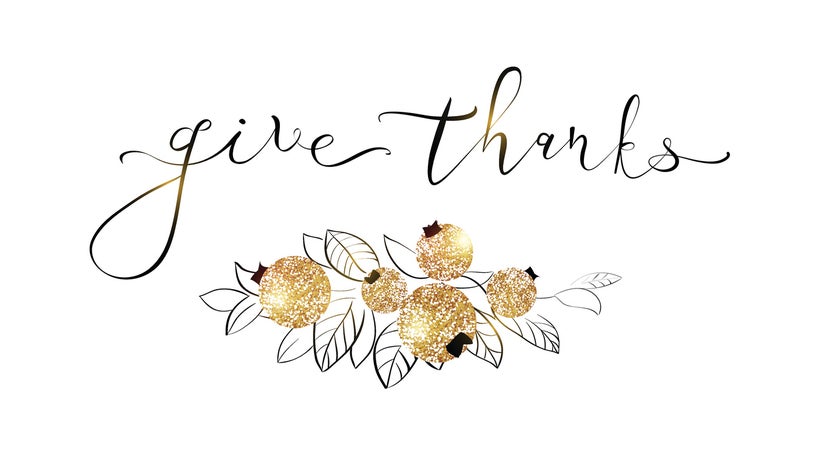 On Thanksgiving Day, friends and family come together to share a meal and perhaps a football game with people they love and admire. Part of the ceremony is showing your host how much you appreciate their effort and hard work. The host has most likely been cleaning, cooking, rearranging furniture and getting ready for this day for the past few weeks. How can you do your part to make this Thanksgiving special for all?
Offer to Bring a Dish
Your host may appreciate a casserole or special dessert for the feast. Some hosts prefer to take care of everything while others will welcome help from their guests. Say something like, "I am so grateful for being included in your Thanksgiving plans. What can I bring?" If you have an allergy, let the host know so she will make provisions. This is also a good opportunity to cook or bake a dish you are sure to enjoy, in the event you have trouble finding something on the menu you can't eat.
Never Arrive Without a Small Gift
A guest should never arrive empty-handed. If you know the host well, you have a pretty good idea of their preferences, so you can select something which you are certain they will enjoy eating or using. On the other hand, if you aren't very familiar with your host, bring something "safe" such as a set of pretty coasters, decorative finger towels, a bottle of wine (unchilled), a box of chocolates or a good bottle of olive oil. Always include a gift tag, so the host will remember who the gift was from.
Arrive With a Great Attitude
You will have plenty of time to get familiar with people you don't know and catch up with others you haven't seen in awhile. Make only pleasant conversation and steer away from volatile topics such as politics, religion and gossip. It will admittedly be difficult to avoid these topics all together, but do your best to concentrate on positive conversation. Your host will greatly appreciate you keeping the ball rolling as she attends to her duties and other guests.
Sit Where Your Place Card is Located
While it may seem harmless to switch seats so you can sit next to your favorite aunt, your host has a reason for sitting you next to your quiet cousin or loud Uncle Harry. You will be throwing a wrench in her seating chart if you not so discreetly change the flow of her diagram. There may be some family dynamics you aren't privy to or your host has high hopes you can keep the conversation rolling on your side of the table.
Make Only Positive Remarks
You may be tempted to say something you think is humorous about the crunchy stuffing or soggy sweet potato pie. Unless it's a compliment, refrain from light-hearted jabs about the rubbery turkey or something which seems to have gone awry. Your host could be sensitive about the fallen soufflé and may easily be reduced to tears.
Stay for Dessert
Instead of speeding off after the main course to enjoy sweets at someone else's home, plan your time so you don't make other guests feel uncomfortable or rushed. Mentioning you have to be somewhere else after dinner makes the host and guests feel anxious and hurried. If you do have to scoot out after dinner, let the host know in advance and leave discreetly without any big fanfare.
Ask If You Can Help Clean Up
Some hosts will gladly give you an apron and some gloves so you don't burn your hands in the scorching hot, sudsy water. Others will tell you to relax in the living room and enjoy the game. Abide by your host's request but at least offer your services to help clear the table or rinse off dishes.
Thank the Host In Writing
Nothing feels better to a host than hearing what a success the holiday festivities were. Write a quick thank you note on a pretty note card and drop it in the mail. If you are good friends, shoot her a text later in the evening or the next day, showering her with praise. You will surely be invited back when you are remembered as a thankful and appreciative guest.
REAL LIFE. REAL NEWS. REAL VOICES.
Help us tell more of the stories that matter from voices that too often remain unheard.
This post was published on the now-closed HuffPost Contributor platform. Contributors control their own work and posted freely to our site. If you need to flag this entry as abusive,
send us an email
.