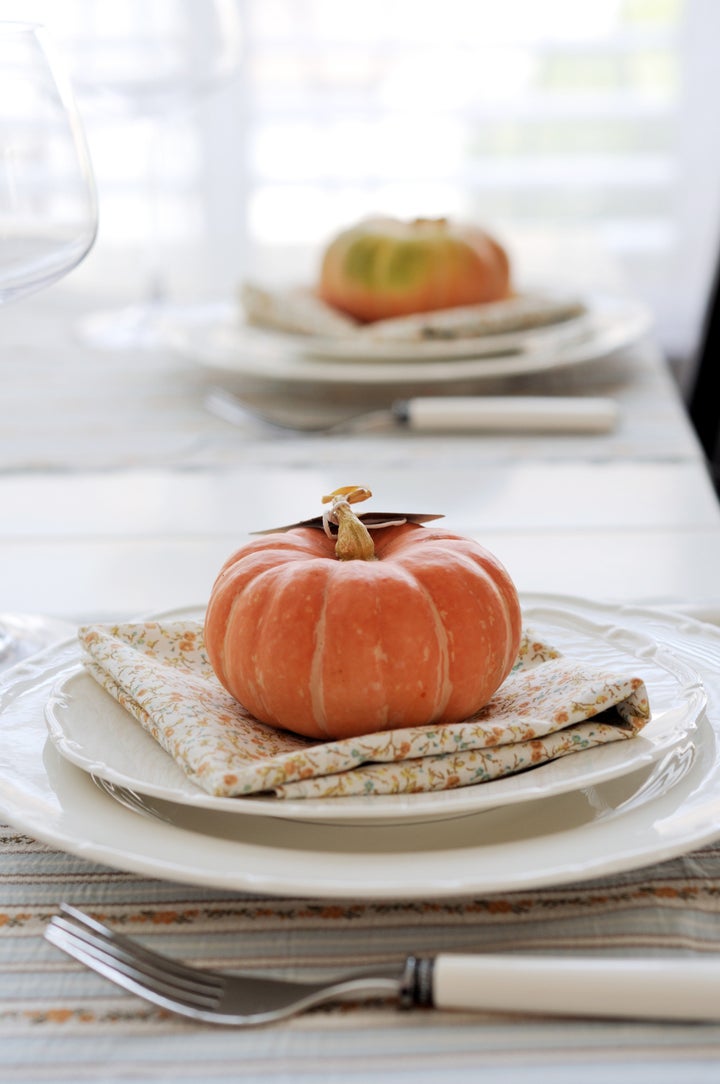 Thanksgiving is my favorite holiday. It's everything cozy -- autumn's chunky sweaters, deep red wine and warm cider, hearty food, a roaring fire and most of all, close family and friends --jammed into one wonderful day.
I cook for days, mostly alone, and with little stress develop a fairly traditional menu, including an array of dishes that I know most guests at our table -- foreign, health-conscious and kids included -- will enjoy. With abandon, I sauté and carmelize, roast and bake and love practically every minute of it. Just like my mother once did.
This year, however, Thanksgiving will be different, a sort of unfortunate transition, as it will be the first one without either of my parents present. My father passed away six years ago, and my mother, who is still alive, is not invited. It's not to say that I don't want her here, because I do. But I'm choosing not to have her join because her acute anxiety, depression and alcohol problem have reached such an intense level that I don't feel like subjecting myself, my family and our friends to her behavior. It may sound cold, but truthfully, I am full of sadness about it and not sure if it'll feel like a relief or a gaping hole come next Thursday.
This year, I will celebrate a version of Thanksgiving with my mother -- one day early. My husband, kids and I will go to the assisted living community where she lives and celebrate with her on Wednesday. I'm not sure that she'll notice or care that she's not with us on the actual day. But all I'll have to do is remember the difficulty of a previous thanksgiving to remind myself that I'm doing the right thing.
This is how it went previously.
Thanksgiving arrived, and although I wondered if my 24-pound turkey, which I'd named Matilda, would ever actually be done (she took about six hours), my hopes were high for a lovely day. My husband and kids played basketball out front in our driveway, and my dog trailed me, sensing when I was going to use the turkey baster and hoping she'd get to lick a drip of anything meat-related. Following an urge to blast some loud music, I decided to be a bit zen and put on Mozart instead of Dave Matthews. The day was going without a hitch.
And then, my mother arrived. At 77, she looked good physically, and I was glad to see her. But the predictable was only moments away.
"Can I please have a glass of wine?" she asked.
"You can have one glass, with dinner, so just wait until then," I answered.
My mother, a French native who has always loved wine, grew to love it too much about ten years ago, and her love morphed into an addiction which continues to plague me at every event -- both big and small, mundane and celebratory.
Moments later, a friend chased me through the kitchen, clutching a glass and obviously uncomfortable as my mother followed closely behind her.
"Here, Caren," she said. "This belongs to your cousin but your mother was drinking it when he got up to go to the bathroom. I thought you may want to know."
I looked at my mother-turned-child, and like the stern authority I needed to be -- lest she get drunk, slur her words and become an embarrassment to her grandchildren -- I told her: "NO! You can have some wine with dinner and you need to wait."
We sat down at the table. She kicked back a glass of Sauvignon Blanc, and without hesitation, asked for more. Her request for more wine was relentless and continued throughout the meal. And dessert. While we talked Thanksgiving trivia and my son told some turkey jokes, friends began passing the bottles to the other end of the table, trying to make the temptation a little less for my mom. She followed me into the kitchen, asking again and again, until finally, I picked up the phone.
"I need a taxi. How long will it take?" I inquired, trying to breathe deeply and keep calm. Ten minutes later, I ushered her into a taxi. She complained that she didn't want to leave, but I stood firm. I was just trying to cut my losses before it got worse for both of us.
Once she was gone, I could finally relax, but not without feeling brokenhearted. I wanted my mother to be here, to share in a beautiful family tradition that we'd always shared -- despite her not being born in this country. For years, she had seamlessly hosted a house full of people, where being grateful went along with a table laden with scrumptious food.
But she's not the adoring mother I once knew. I miss that mother. But I still love Thanksgiving.
Related
Popular in the Community