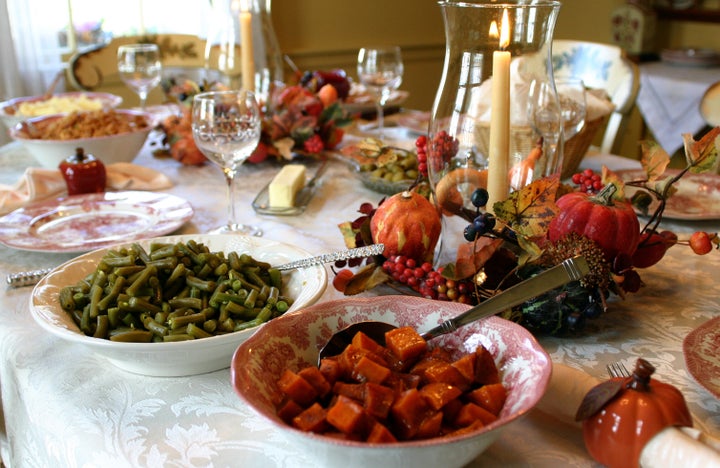 This Thursday, families around the country will gather to give thanks for our blessings and feast on a classic American meal.

As a home entertaining expert and TV chef, food is very important to me. Food safety practices are a top priority. If you send your guests home with a foodborne illness, do you think they'll remember how good the food tasted? On Thanksgiving, there are many ways that you can inadvertently serve items that are harmful to your guests. It is extremely important to understand food safety, especially when it comes to cooking a turkey.
For instance, thawing a turkey on a kitchen counter may be faster than thawing in the refrigerator, but it is unsafe (for turkey, meat or poultry products). According to the U.S. Department of Agriculture, there are only three ways to safely thaw a turkey: in the refrigerator, in cold water, or in the microwave according to the manufacturer's instructions. To thaw your turkey in the refrigerator, you must allow 24 hours for every five pounds of turkey. So you may want to consider this when planning your trip to the grocery store. To speed up the turkey thawing process, use the cold water method. Submerge the turkey in its original wrapper in cold water, changing the water every 30 minutes. It will take about 30 minutes per pound to thaw. Once thawed, cook the bird immediately.

It is also safe to cook a turkey from the frozen state. Just keep in mind that the cooking process will likely take about 50 percent longer than the recommended time for fully thawed or fresh turkey, and it probably won't taste quite as good either. If you plan to brine your turkey prior to cooking it, you must brine it in the refrigerator or in a cooler so that the temperature of the bird does not rise above 40 F.
Brining is a top Thanksgiving trend, but I'm a turkey traditionalist. Instead of brining, make a compound butter with herbs and rub it on the breast meat under the skin and then baste during cooking. You'll still get a juicy turkey and will have more flavorful pan drippings for your gravy.

While the turkey may be the star of the Thanksgiving menu, the sides are many people's favorites. I'm southern. We don't do "stuffing." We do "dressing" in my home state of Alabama. My fav? Cornbread and sage. Whether you call it stuffing or dressing, did you know that you should not stuff a turkey the night before you cook it? Stuffing a turkey early can actually cause bacteria to develop on the stuffing which could lead to food poisoning.

The safest practice would be to cook your stuffing in a separate casserole dish. If you must stuff your turkey, only do so right before you plan to cook it. If you want to find ways to save yourself time on Thanksgiving Day, prepare the wet and dry ingredients for your stuffing separately and refrigerate on Wednesday night. Then on Thursday, just prior to putting your turkey in the oven, combine the stuffing ingredients and place them inside the turkey or in a separate casserole dish. Don't forget that you can also save time on Thanksgiving Day by setting your table beforehand.
The most important safe food tip to remember is to make certain that the internal temperature of the turkey is at 165 °F (stuffing inside the bird must also reach 165 F). If you are cooking two birds at once, you must cook each bird to 165 F. Remember that the smaller bird will reach temperature first.
Many people believe that a turkey is ready when it is a golden brown color and its juices run clear. While it may look delicious and ready to serve, it actually might be under cooked or overdone. The only way to know if your bird is perfectly cooked to 165 F is to use a meat thermometer, checking the bird's temperature at the innermost part of the thigh and wing and thickest part of the breast.

Foodborne illness, what we commonly call food poisoning, is a serious public health threat in this country. In fact, the CDC estimates that about 1 in 6 Americans (48 million people) suffer from food borne illness each year. The result is approximately 128,000 hospitalizations and, sadly, an estimated 3,000 deaths annually.
Food safety is such an important issue to me that I have partnered with the Food Safe Families campaign, which aims to raise awareness about the risks of foodborne illness while educating consumers to take specific actions to reduce risk and develop safe habits. You can find more tips for a safe Thanksgiving by going to: www.foodsafety.gov/ or calling the USDA Meat and Poultry Hotline at 1-888-MPHotline. The hotline is open weekdays from 10 a.m. to 4 p.m. ET and from 8a.m, to 2 p.m. on Thanksgiving Day. You can also access "Ask Karen," an online database of answers to specific questions related to preventing foodborne illnesses.
Wishing you and your loved ones a safe and very Happy Thanksgiving!
Martie Duncan was a finalist on Season 8 of Food Network Star. She produces a featured web series on MyRecipes.com and writes about food, recipes and entertaining for her own website, www.MartieKnowsParties.com.
Popular in the Community