Americans from coast to coast are gathering together with family this week to celebrate Thanksgiving, feasting on staples like turkey, cranberries and pumpkin pie. In Chicago, we also delight in a delicious local treat: Jim Mullen's apple sauce.
Jim is a successful Chicago entrepreneur living the American Dream. But that wasn't always the case. He used to be an officer with the Chicago Police Department. And one terrible night 15 years ago, he was shot in the face in the line of duty.
The damage to Jim's nervous system destroyed his ability to walk or even use his hands. As a quadriplegic, he became dependent on wheelchairs, breathing machines, and the constant care of nurses. Yet these obstacles could not hinder Jim's spirit. With a classic American drive, and free legal help from University of Chicago law students at the Institute for Justice Clinic on Entrepreneurship, Jim was able to triumph after his tragedy.
He always loved his mother's apple sauce and knew that we would too, if we simply had a chance to try it. The sauce is unique: It's thick and spicy and, as the jar says, tastes like apple pie without the crust.
With a computer that translates his speech into text, Jim corresponds with brokers, distributors and grocery stores about his product. As he puts it:
"My apple sauce will last a long time even though it has no preservatives like those other thin, watery apple sauces. But once you open a jar you won't worry about the shelf life because you'll gobble it up in one sitting."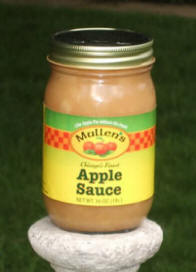 People love Officer Mullen's Apple Sauce. It's now sold in grocery stores throughout the Chicagoland area as well as online at MullenFoods.com. And a portion of the profits go to the Chicago Police Memorial Foundation.
Jim's growing business has, unfortunately, been forced to deal with another American pastime: bureaucracy. Chicago's maze of rules for small businesses could have easily prevented Jim from getting off the ground.
As it turns out, Chicago (like most local governments) prohibits a small business from selling food made at home. If he hired people to make the sauce in a licensed kitchen, he would need to get a food establishment license. Even then, he would have to comply with the city, state, and national laws that make it very difficult to make jams or preserves or anything with a vacuum seal in a retail food establishment. He might even have to throw the apple sauce away just two weeks after it was made.
These legal requirements made it nearly impossible for Jim to get his business started by making small batches of apple sauce. Fortuitously, he eventually found a processing plant that was willing to make small batches for his first orders, and he teamed up with University of Chicago law students to find his way through the regulatory maze. Even so, it is expensive and risky to start out with the steep costs of a processing plant.
While Jim succeeded, there are countless other Chicago-area entrepreneurs who get tangled in red tape--regulations that seem to serve no purpose other than keeping good people out of work.
Consider IJ clinic client Flora Lazar. She runs a candy-making business out of a local commercial kitchen, where lots of entrepreneurs rent space to get their businesses started. When she started, city officials fought her at every turn--first telling her she could not get her own license because the kitchen already had a license and then telling her to stop operating because she had not gotten the license they previously said didn't exist.
Health inspectors even showed up at her kitchen and promptly opened up all of her bags of frozen, locally-grown produce, dumped them into a garbage can and doused them in bleach. Coincidentally, a Chicago Tribune reporter was there working on a story about the city's culinary scene and caught the outrage on video.
To open something as simple as a cupcake business in Chicago, entrepreneurs must work in a commercial kitchen, pay $260 to spend 33 hours on a food sanitation course, buy a Food Sanitation certificate, a $660 food establishment license and pass countless inspections.
Especially in such tough economic times, people may be shocked to discover the lengths to which the city of Chicago goes to discourage entrepreneurs that are trying to create jobs for themselves and others.
The bottom line is that people like Jim Mullen and Flora Lazar should not be forced to jump through so many hoops. Economic liberty empowers us to dream big and make a real difference in our lives as well as our families and communities at large.
At Thanksgiving, we express our gratitude for our freedoms, our families, and our feasts. We should also be thankful for brave people like Jim Mullen and Flora Lazar, who work hard to support their families and provide us with delicious new foods to enjoy. We must be vigilant to ensure that they will always have the freedom to do so in America.
Elizabeth Milnikel is the Director of the Institute for Justice Clinic on Entrepreneurship at the University of Chicago Law School.
REAL LIFE. REAL NEWS. REAL VOICES.
Help us tell more of the stories that matter from voices that too often remain unheard.