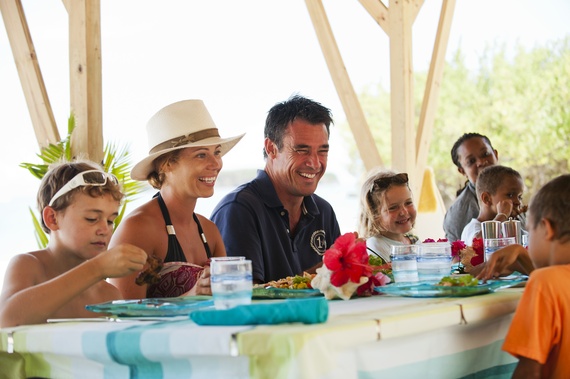 I'm from the UK so Thanksgiving isn't a holiday I grew up celebrating, but with so many Americans coming to Mustique, it has become a tradition my family and I look forward to each year. A lot of guests stay in some of the incredible villas on the island and work with private chefs to prepare special meals for their family, but we also get big crowds at The Cotton House -- we're all like one big family. It seems everyone has an idea of the way Thanksgiving dinner should taste, but whether you're on the beach in Mustique or holed away in a snow-covered cabin, here are some tricks to add a little island flavor and make your dinner a raving success!
I've found that the best way to cook a 10lb turkey is in a cold oven. Using this technique will take a minimum of four hours but its well worth the wait... we're on Caribbean time, man! The aroma coming from the oven is sensational, with the island spices, limes, and coconut oil creating a aromatic delight thats a great twist on the boring, traditional turkey.
To cook your turkey, season with salt pepper per usual, but here on Mustique I like to add a little local twist with some spices from the islands, including cinnamon, nutmeg and allspice. Then cut three large limes or lemons in half and place inside the turkey. Finally, pour coconut oil over the entire bird. Turn the oven to 240 F and immediately place the turkey in, baking for one hour.
To keep the turkey moist and help turn the skin a beautiful golden brown when baking, the key is to baste religiously! You can do this by pouring the cooking juices that have collected in the bottom of the roasting pan back over the turkey. I recommend basting at least three times per hour. It will truly make a difference you can taste.
After the first hour, turn up the oven to 260 F for an hour, then 300 F for an hour, then up to 320 F for the last hour and a half.
Always take care to check that the turkey is cooked properly -- with this recipe it not a question of how long your turkey is in the oven, but at what temperature -- and there are a few ways you can test to ensure the bird is cooking through. You can push a small knife or fork into the deepest part of the meat, and if the juices are clear then its cooked but if there is any trace of pink, pop it back into the oven for another 20 minutes and then check again. You can also use a temperature probe or meat thermometer -- anything between 172 -- 194 F will be cooked nicely..
When you remove the turkey from the oven it should be a perfect golden brown with a deliciously rich flavor that will add some island flair to your table, no matter where you're celebrating. Happy Thanksgiving!