Thanksgiving celebrations are as varied and unique as the families who throw them. Some people veg out and watch football, while others put on fancy digs to stare silently across the table. Still, others can't be bothered and will simply roam the empty streets of their adopted hometowns hoping there is at least one restaurant open for dinner (something has to be open, right?). No matter if you're slogging it back home with the masses, making your first turkey yourself, or using the time to catch up on Homeland, we've got your sartorial situation covered.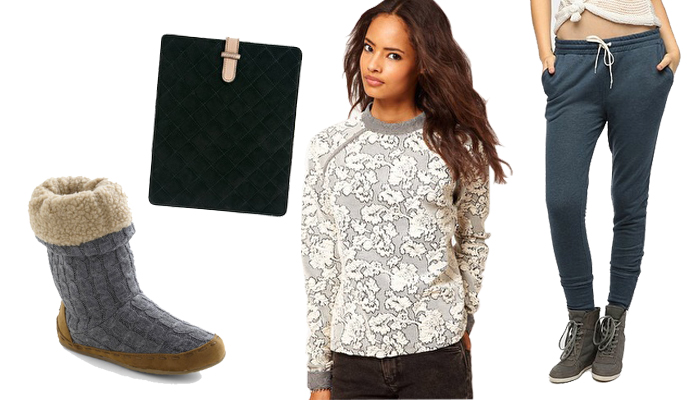 Lazy Family Dinner
If Thanksgiving Day means couch-surfing and football for you and your family, look no further than this fashionable spin on the sweatshirt look. Plus, a stylish iPad case -- since just because you love your family doesn't mean you don't want to tune them out.
On The Table: Quality snuggle time with your little brother
What To Wear: BDG Side Zip Pant, $39 at Urban Outfitters; Sweatshirt in Embossed Floral, $43.10 at Asos; Cozy Cachet Slipper, $49.99 at Modcloth; Quilted iPad Case, $35.18 at Asos.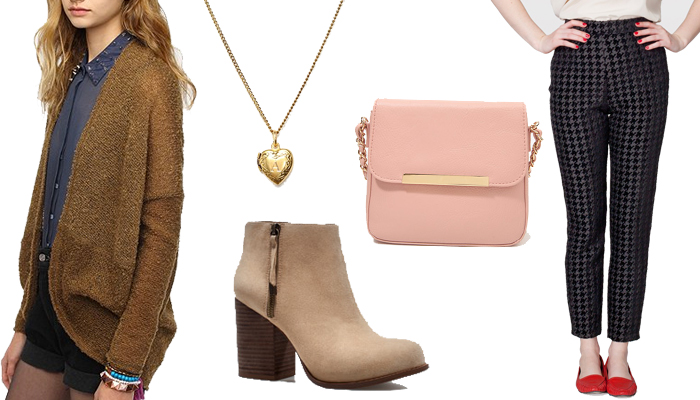 Meeting-The-Parents Dinner
Ah, meeting the parents. It's nice to be away from your family -- but now you have to learn all about someone else's. Get through it with a little grace and style by donning this sweet little number.
On The Table: The Jitters.
What To Wear: Houndstooth Capri Pant, $75 at American Apparel; Boucle Cocoon Cardigan, $44 at Urban Outfitters; Metal Trimmed Crossbody Purse, $19.80 at Forever 21; Initial Heart Locket Necklace, $18 at Urban Outfitters; Cowboy Ankle Boots, $79.90 at Zara.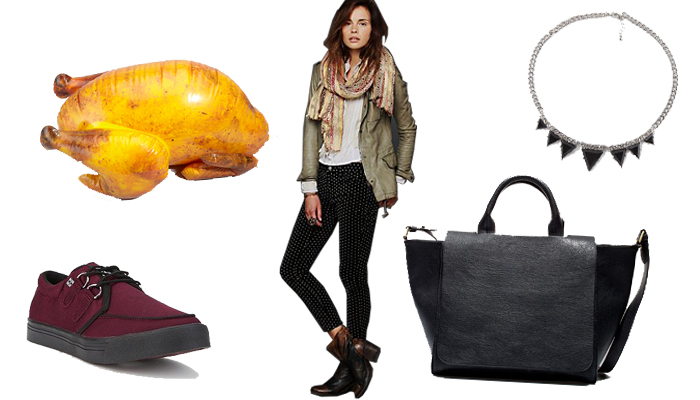 Orphan Dinner
Too cheap for the flight home? Or just so-very-over-it already? No matter, you and a few other brave souls can band together and eat cheeseburgers for dinner.
On The Table: Two words -- Inflatable. Turkey.
What To Wear: Dotted Velvet Corduroy Pants, $98 at Free People; Inflatable Turkey, $12 at Fred Flare; Skull Sole Twill Creeper-Sneaker, $65 at Urban Outfitters; City Bag with Flap, $49.90 at Zara; Graduated Triangle Chain Necklace, $6.80 at Forever 21.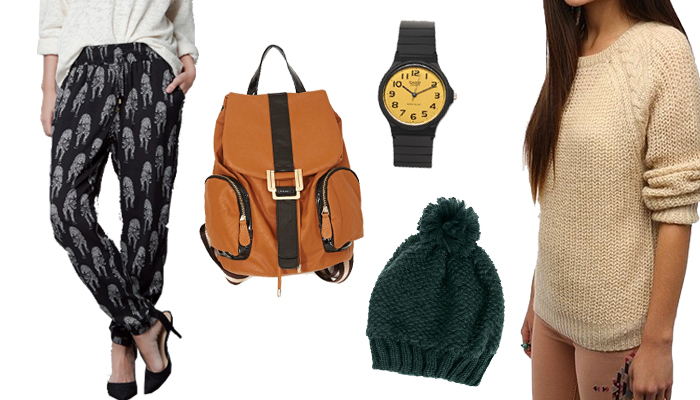 Just Off The Plane Dinner
It's true: If you fly in on Thanksgiving Day, you're more likely to get a better deal (and hopefully avoid some of the traveling madness). But, you've got to be ready to roll as soon as you land.
On The Table: Salted peanuts.
What To Wear: Bryant Backpack, $75 at Nasty Gal; Printed Trousers, $49.90 at Zara; Casio Analogue Watch, $35.18 at Asos; Whistles Seed Hat, $35.18 at Asos; Cable-Knit Raglan Sweater, $69 at Urban Outfitters.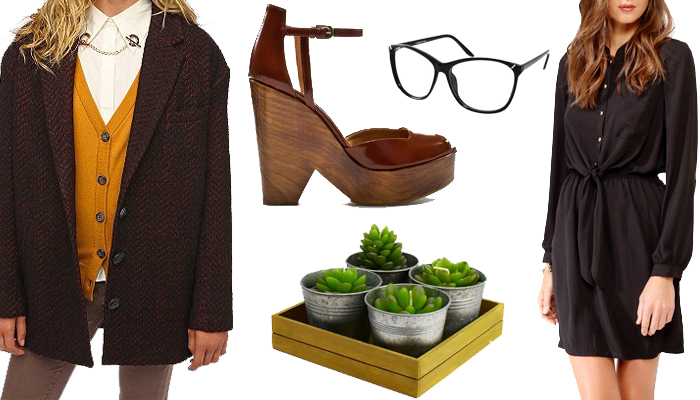 Local Artisanal Heirloom Dinner
So your friend lives in a gigantic loft, and all her parties look (and taste) like they fell out of Kinfolk. Which is lovely and all, but you can't really afford the Rachel Comey get-up to match the ambiance. That's where we come in.
On The Table: Foraged mushrooms.
What To Wear: AJ Morgan Paramount Clear Glasses, $26.39 at Asos; Antik Leather Wooden Wedge, $89.90 at Zara; Cocoon Coat, $99 at Urban Outfitters; Knotted Crest Button Shirtdress, $24.80 at Forever 21; Potted Succulent Candles, $48 at Nasty Gal.
Support HuffPost
A No-B.S. Guide To Life
Related
Popular in the Community