Sarg being a unique man, Sweet's story is a fascinating one. But it is really with her illustrations that she, an already much lauded illustrator, has truly outdone herself. Mixing primary sources, toys she made herself for the book, collages, assemblages, comics, drawings, paintings, and more, she has created a picture book biography like no other. Through her text and art the brilliant Sarg bounds to life in this book as do his ideas, his creations, and his stories. Balloons over Broadway is a book that will be enjoyed by everyone in the family --- be sure to have your copy on hand when watching this year's parade!
Thinking that many would enjoy knowing more about how this book came to be I asked Melissa if she'd be willing to answer a few questions and provide a few images. She did all that and more as you will see.
So everyone in America it seems spends Thanksgiving morning watching the Macy's parade and those incredible balloons. But I have to say it never really crossed my mind to consider how they came into being so your book was quite a revelation. What inspired you to do it? Was it the balloons first or Tony Sarg?
It was Tony Sarg that intrigued me first and I had the same response--how did this brilliant illustrator and puppeteer invent the character balloons? I knew there was a story there. The Macy's parade and Tony's life are so intertwined that parade was the perfect vehicle to tell his story.
Tony Sarg seems like such a larger-than-life figure. Did that make it a bit hard at times to write the book? I mean, did you have to pick and chose stories, winnow the text down a lot to get to the essence of his life in terms of the balloons? Was there anything you found especially hard to put in or leave out?
It's true, with a character like Tony Sarg, every story seems worth telling. In this case, the essence also had to be something that children could relate to. There were many stories I wanted to tell--how he sat in a theatre watching a puppet troupe perform for 50 nights in a row to learn their trade. And how at the end of the Macy's parade he released the balloons into the sky with a reward for their return.
But my favorite story is when a "sea monster" was sighted off the coast of Nantucket, (where Tony had a house). Luckily, Tony and some friends "captured" it and brought it onto the beach as everyone Nantucket watched. He had a great humor and was a bit of prankster. (The image of this event below is courtesy of the Nantucket Historical Association).
I'm curious about your research which was clearly extensive. You seem to have traveled, interviewed, made things, and read and read. Any especially memorable moments along this journey?
A few years into the research I was in touch with a man in his nineties who worked for Sarg at the 1939 World's Fair. It was remarkable to hear his stories of that time. Another was when I was visiting Nantucket for the first time (where there is a great collection of Sarg's work at the Nantucket Historical Association), I went to the public library which is in a gorgeous old building on a cobblestone street. It started to snow as I was looking through old newspaper clippings about Sarg and it was dawning on me what a legend he was. The whole place seemed magical.
Tell us a bit about creating the art. You mention it at the end of the book, but HuffPo readers might enjoy learning a bit about how you went about making it. Just a little bit, perhaps?
My studio is full of old toys, fabric and found objects I've collected. I started making quirky toys and paper-mache puppets using the materials I had on hand. People often ask which comes first, words or pictures, and in this case making these objects taught me about Tony's creative process and helped me figure out an angle to tell the story. I knew I wanted a 3-dimensional aspect to the art to give the feel of what Tony's studio might've been like. I recently made some fun Christmas ornaments based on the book for the Martha Stewart show with instructions on her website. They're miniature parade balloons.
What are you working on now?
I have a wonderful mix of non-fiction and picture books I'm working on and next year I have a picture book biography coming out: Mrs. Harkness and the Panda By Alicia Potter and Spike: The Mixed Up Monster by Susan Hood, about an axolotl which is as funny as its name.
Melissa, thank you so much for taking the time to answer my questions and to provide the following movie of Sarg in action as a puppeteer as well as a few more archival images of Sarg as well as a delightful collection of pages from your book for the slide show.
First, a little movie of Sarg, the puppeteer, in action:
And now a slideshow with a few more images of Sarg and several gorgeous spreads from Melissa's book.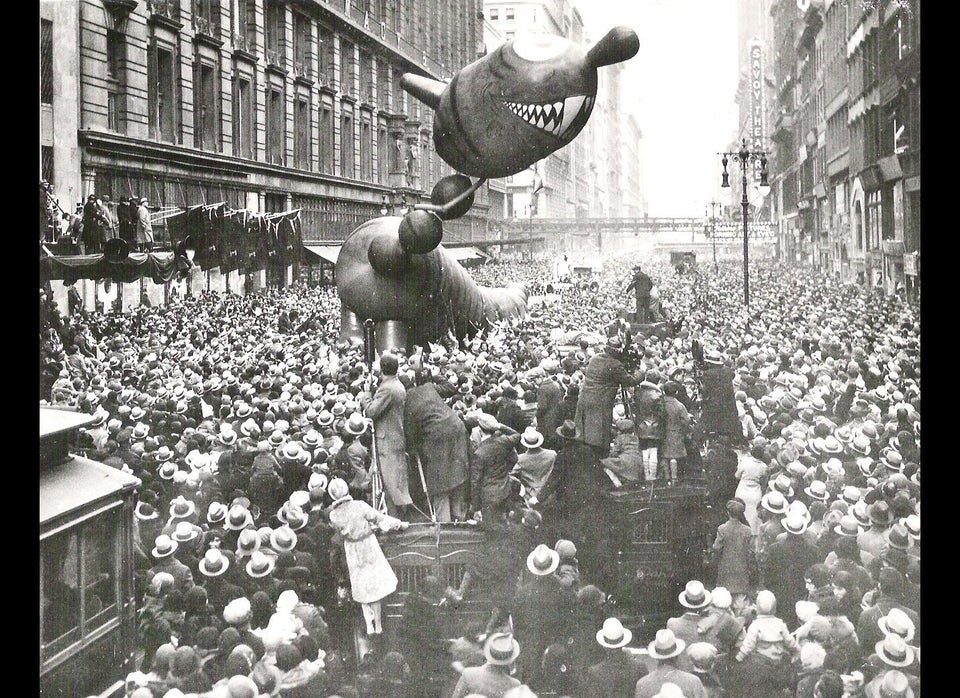 A Few Images of Tony Sarg and some spreads from Melissa Sweet's Balloons Over Broadway