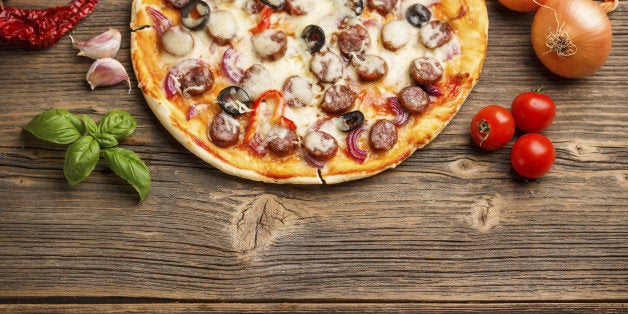 If you're going to have an anti-Thanksgiving, or perhaps looking for something to eat the night after Thanksgiving, it just seems like pizza is the right choice.
Pizza Fresca?
Motorino?
Eataly?
A dozen new others popping up all over Manhattan?
Two months ago, my hood being the Flatiron, Motorino would have been our first choice. Which is ironic, because the Motorino pizza makers, known as pizzaioli in Italy, are all Mexican (same with Pizza Fresca). Eataly flew their pizzaioli over from Napoli. I was very excited about this fact when Eataly first opened, kind of like the Cuban cigar concept, if a Cuban doesn't roll it, it's not a Cuban.
I have been to Napoli and eaten pizza and it is well deserved of its "best in the world" reputation. Although the Eataly guys were adorably charming in all their Neapolitan-speaking glory, the pizza left me disappointed. The crust was too thin, a bit soggy. Even after going back a few times, just to be sure, it lacked consistency. The sauce remained unmemorable, the ingredients underwhelming. Don't get me wrong, the pizza is good, but I will only get to eat a finite number of pizzas in my lifetime, and I'm going to make every last one of them count.
"Good" is not good enough.
Two months ago, enter Obica, a locale I probably would not have ventured into had it not opened up just around the corner from where I live (which also happens to be just around the corner from Eataly).
I was quite curious to see the sign being erected upon passing by one day. I stood and stared at it for a long while. Usually, for these rents, it's a Citibank that's going in, but this section of Broadway, between 23rd and 19th, is slowly becoming an eclectic oasis of food purveyors from older worlds (don't get me started on the baguettes from Maison Kayer, or the fried chicken at Barn Joo).
I'd been to the Obica in Rome (where it's spelled with a k not a c), as well as its outlet on Fifth Avenue. The Obica in Rome is lovely, outdoors, just off Piazza di Firenze, on a tangled intersection of narrow streets, with the occasional roaring Vespa. You go to Obica for the mozzarella. This is their thing, they are all about mozzarella. Smoked, aged, braided, cow, buffalo, Burratta. It's a chain, there are Obicas in Tokyo and London, where they import the mozzarella twice a week.
The next day I brought my husband over, and as we were standing there contemplating the menu they'd posted, the owner came out and invited us in to see how the renovations were progressing.
As my husband and Raimondo, the owner, beaming like the proud father of a newborn son, carried on in that gesticulating Italian, I did my best to add a point or two here and there. "I sometimes buy the imported mozzarella from Eataly..." Raimondo waved a hand and assured me that there was no comparison. I secretly hoped not, for I have eaten fresh mozzarella while in Napoli, Rimini, the Almalfi, direct from the bins and it tastes like no other, a soft thin outer layer, perfect consistency, the center bursting with raw, unadulterated flavor... add a splash of olive oil, a little salt, mamma mia... che buona.
My husband and I went to Obica to try the fresh imported mozzarella and nothing else. We rarely go out to Italian restaurants, my husband a first generation Italian, and like all true first generation Italians he does not go out to eat Italian food because the food is simply better when cooked at home.
So here we are at Obica. It is late, the place is half full. We are the only patrons sitting at the mozzarella bar (not to be confused with the bar bar) behind which there is a pizza oven. A tray of softly-rising mounds of dough as smooth as a baby's bottom (and almost as big) sit before us. Raimondo had given us a very intricate explanation of the trial and error process they went through to perfect the pizza dough, the imported flours (yes more than one), the water, the yeast, how they let it rise, the result being a crust that is crispier and lighter...
They, too, imported a pizzaiolo from Napoli, but this pizzaiolo does not want to make pizza like every other pizza maker, he wants to put his own mark on this pizza, and right away I'm thinking, this is not good. Don't fix what isn't broken. But after all that explanation, plus the fact that the pizzaiolo looks bored over by that blazing, empty oven because the Obica pizza reputation has yet to spread and no one is ordering pizzas, we order one, if only to see the man spring to life.
The Margherita, the true and ultimate test of a pizza.
My husband and I are meticulous when it comes to pizza. He has cooked many a pizza himself, in an Italian imported wood-fired oven that family members own out West. He has fired up dozens of pizzas, working to perfect his crust, sauce, the combination of spices, flavors, the cheese always proving to be the most difficult. The utmost care and love, no compromises, let's just say he has a nose.
Our pizza is served, the pizzaiolo feigning nonchalance. My husband notices immediately but only tells me later that the pizzaiolo had first cooked the pizza with just the sauce, then added mozzarella, cooked it for one more minute, always a constant turn. That's why the mozzarella was cooked to perfection, the basil fresh and not burnt. This, he told me after. I took a bite. Another to be sure. A pause for the surprise that was wholly unexpected. The shock. And then, how simple it all became. This was it. This was the one.
Jackie Townsend's second novel, Imperfect Pairings, was released in May of 2013. Her new novel, I've Loved You So Long, will be out in early 2015. Find out more about her books at http://jackietownsend.com.
Related